German chancellor Angela Merkel has met with the wife of a Chinese rights lawyer detained incommunicado for several months, during her trip to China.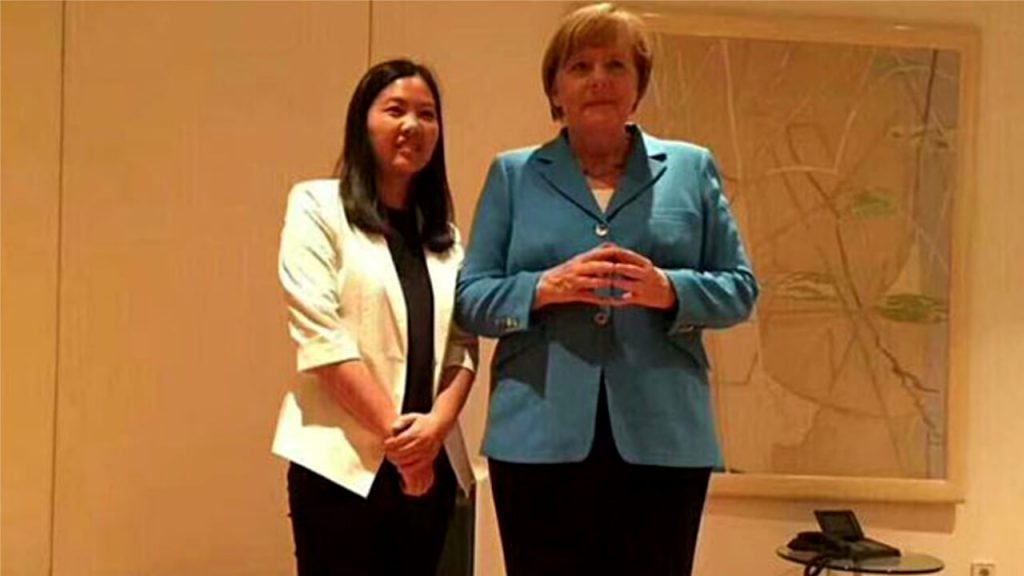 Merkel met with Xu Yan, wife of rights attorney Yu Wensheng, who was initially placed under criminal detention on Jan. 19, on suspicion of "obstructing public servants in the course of their duties," Xu and rights activists said via social media.
"The two sides exchanged views on the #HumanRights situation in China," Amnesty International research William Nee translated one tweet as saying.
After his detention, Yu was transferred from Beijing to Jiangsu's Xuzhou city with the addition of the more serious charge of "incitement to subvert state power," and has been held since with no access to a defense lawyer, or family visits.
Yu has been identified by London based rights group Amnesty International as being "at risk of torture" while he remains in incommunicado detention.
Repeated calls to Xu's phone rang unanswered on Friday.
Beijing-based rights activist Ni Yulan, a friend and supporter of Xu's, said she may be keeping a low profile while Merkel, who is leading a large business delegation on this visit, remains in the country.
"Xu Yan posted this photograph online, but then she didn't give any other details, such as the time of the meeting, or under what circumstances," Ni told RFA.
"I think it's a very positive development that Merkel is visiting China right now, because she and other German officials are very concerned about the human rights situation in China," she said. "They always meet with human rights workers and lawyers when they come to China, to try to understand the situation better."
Fellow rights attorney Tan Yongpei was less sure, however.
"There is no likelihood that the Chinese government will accede to Merkel's demands, so it's possible that this is going to be counterproductive, especially in the case of Yu Wensheng," Tan told RFA.
"There is no way that the Chinese government is going to let lawyers speak the truth; you will be safe only if you keep your head down," he said.
Concerns about Liu Xia
When Merkel met with Chinese Premier Li Keqiang on Thursday, she also raised concerns about Liu Xia, widow of late Nobel peace laureate and political prisoner Liu Xiaobo.
Although she has never been accused of any crime, Liu Xia has been held under house arrest or close surveillance since her husband's award was announced in October 2010, and suffers from severe depression.
She has repeatedly requested permission to leave China to seek medical treatment, but the authorities appear to be reluctant to allow this to happen.
In Beijing, foreign ministry spokesman Lu Wei said Liu Xia's case isn't a diplomatic matter.
"She is a Chinese citizen and the relevant authorities of the Chinese government will protect her legal rights according to our own laws and properly handle the relevant matters," Lu told a regular news briefing.
The meeting with Merkel comes after Xu received notification from authorities in Xuzhou that they wouldn't make any changes to her husband's status following repeated bail applications from his family and supporters.
"On May 22, I recevied notification of no changes to coercive measures," Xu told RFA earlier this week. "The defense lawyer was expecting this, but it's still very disappointing from the point of view of his family members."
"This means he will not be allowed to go home," she said.
China's embattled legal profession has been targeted with more than 300 detentions, summons, travel bans, and restrictions imposed on rights lawyers, activists and law firm staff since July 2015.
Rights lawyers who accept politically "sensitive" cases, or who are publicly outspoken on behalf of vulnerable groups, have also been prevented from practicing law because their business licenses are being revoked during a newly instituted annual review process.
Lawyers who try to defend clients held on suspicion of crimes ostensibly linked to "state security" concerns are also denied permission to meet with their clients, or are replaced by government appointed lawyers amid threats and pressure on the people who hired them.
Source: Copyright © 1998-2016, RFA. Used with the permission of Radio Free Asia, 2025 M St. NW, Suite 300, Washington DC 20036. https://www.rfa.org.