As the rest of the country prepared to welcome in the Chinese Year of the Dog on Friday, foreign diplomats have been paying visits to Chinese rights activists and the families of jailed human rights lawyers.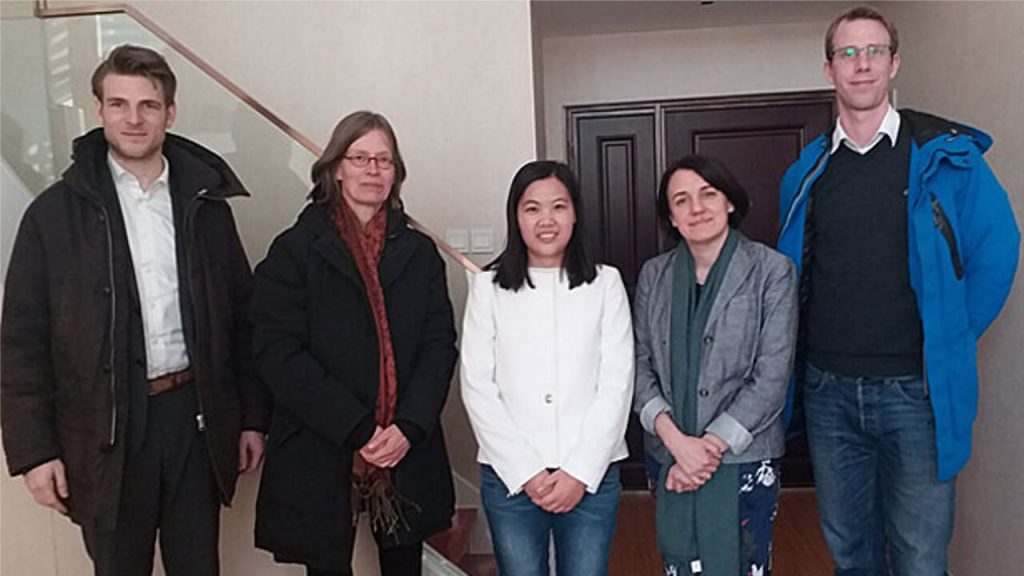 Diplomats from the United States, Canada, the United Kingdom, Germany, and other countries have been visiting activists and dissidents' families in and around the capital, including veteran rights activist Hu Jia, the wife of detained rights lawyer Yu Wensheng, and anti-eviction activist Ni Yulan.
A group of diplomats visited Yu's wife Xu Yan and the couple's young son in the Beijing suburb of Shijingshan on Tuesday, Xu told RFA.
"Some human rights representatives came to the office I rent with Yu Wensheng, to visit me and the child," Xu said. "Four human rights officials came, one from the U.S., one from Germany, one from the Netherlands, and another from the Swedish embassy in Beijing."
"They came to express their concern over Yu Wensheng, and for me and the child, for which I thanked them very much," she said.
Yu was placed under criminal detention on Jan. 20, on suspicion of "obstructing public servants in the course of their duties," but has since been transferred from Beijing to Xuzhou city in the eastern province of Jiangsu on a more serious charge of "incitement to subvert state power."
His family traveled to Xuzhou in the hope of paying him a visit, but were denied permission by the local police department.
Xu said her husband has also been denied access to a lawyer.
"They have refused to allow his defense attorney to meet with him all along, from Jan. 19, when he was detained, until now," she said. "I really hope that Yu Wensheng will be able to come home soon, and that he will take good care of his health now that he is in a situation where he is deprived of his freedom."
Warned away from media
Xu's defense lawyer Huang Hanzhong said he had been called in "for a chat" by China's state security committee in Beijing.
"They basically said they don't want lawyers giving interviews to the media," Huang said, declining to comment on Yu's case.
A group of diplomats also visited housing rights activist Ni Yulan and veteran activist Hu Jia in Beijing's Tongzhou district on Wednesday, Ni said.
"This morning, just now actually, a German diplomat and an Australian diplomat came to visit me," she said. "They brought a New Year card and gave their best wishes for the New Year."
"I was very moved," Ni said. "I haven't had time to send any wishes to foreign diplomats this year, and I think that this year quite a lot more people have been detained."
"We are continuing to offer them our unwavering support, so we have been very pressed for time," she said.
Evicted from home
Ni, 54, has been repeatedly evicted along with husband Dong Jiqin from a series of rented apartments after police put pressure on their landlords to terminate their leases.
Ni, a recipient of the 2016 International Women of Courage award made by the U.S. State Department, said she and Dong were recently left sleeping rough after being forced out of their last apartment during enforced "renovation work."
Ni's passport application was revoked when she applied to travel to the U.S. to receive her 2016 International Women of Courage award.
The foreign ministry had declined to issue her with travel documents in spite of requests from the U.S. State Department, saying that she had been in contact with rights lawyers detained in the July 2015 crackdown.
Hu JIa said he had also received a visit, which he said was part of an annual round of visits made by foreign diplomats to dissidents, activists, and their families ahead of the Chinese New Year.
He said some diplomats had also visited artists and writers in Beijing's Songzhuang Artists' Village, where poets and artists who engage in social and political activism have come under continual pressure from local officials to leave.
Last month, officials handed an eviction order to a Beijing artist released on bail after documenting a street protest by migrant workers against mass forced evictions, RFA has learned.
Hua Yong, who had been criminally detained on suspicion of disturbing public order and traffic was detained as he filmed a protest that blocked a major highway in Beijing's Xinjian village on Dec. 7.
He had reported for several weeks on the authorities' violent, forced eviction campaign to rid the city of tens of thousands of migrant workers classed as "low-end population" in the wake of a fatal fire in Daxing district last year.
Source: Copyright © 1998-2016, RFA. Used with the permission of Radio Free Asia, 2025 M St. NW, Suite 300, Washington DC 20036. https://www.rfa.org.