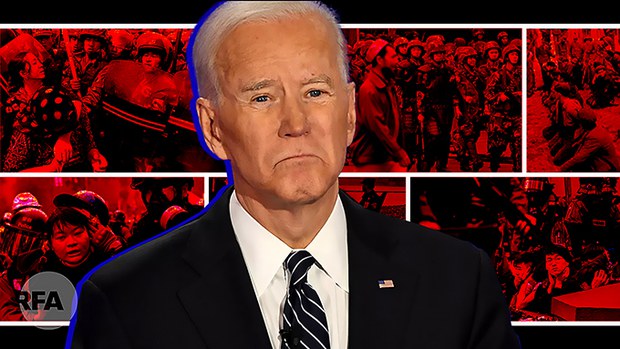 China will face "repercussions" if it continues to perpetrate human rights abuses against its people, U.S. President Joe Biden said Tuesday, including Uyghurs in the Xinjiang Uyghur Autonomous Region (XUAR), where Washington has said authorities are carrying out genocide and crimes against humanity.
Speaking at a town hall on CNN, Biden told moderator Anderson Cooper that he had made clear to Chinese President Xi Jinping during a two-hour call earlier this month that the U.S. will continue to speak out against rights violations in the XUAR and that China's aspirations of becoming a global leader will be stymied for as long as it refuses to reverse course.
"There will be repercussions for China, and he knows that," Biden said, without providing details, but suggesting such actions might largely amount to a pressure campaign.
"What I'm doing is making clear that we, in fact, are going to continue to reassert our role as spokespersons for human rights at the U.N. and other agencies that have an impact on their attitude," he added.
"China is trying very hard to become the world leader and to be able to get that moniker and be able to do that, they have to gain the confidence of other countries. And as long as they are engaged in activity that is contrary to basic human rights, it's going to be hard for them to do that."
Cooper had asked Biden specifically about China's policies in the XUAR, where authorities are believed to have held up to 1.8 million Uyghurs and other Muslim minorities in a vast network of internment camps since early 2017.
Chinese officials have said the camps are centers for "vocational training," but reporting by RFA's Uyghur Service and other media outlets shows that detainees are mostly held against their will in cramped and unsanitary conditions, where they are forced to endure inhumane treatment and political indoctrination.
In one of his last acts in office, former Secretary of State Mike Pompeo last month said he had determined China is "committing genocide and crimes against humanity" in the XUAR against Uyghurs and other ethnic groups, and that Beijing and the ruling Chinese Communist Party (CCP) "must be held to account."
The new Secretary of State, Antony Blinken, has endorsed the designation, suggesting that President Joe Biden's administration will pursue a more forceful approach in holding China accountable for its abuses in the region.
Emily Horne, the spokesperson for Biden's National Security Council, recently told the Washington Examiner that "President Biden has called the oppression of the Uyghurs a genocide, and he stands against it in the strongest possible terms."
On Tuesday, Biden told Cooper he had come to know Xi well as a result of meeting with him often when the two were vice presidents—prior to Xi's ascendance to China's presidency in 2013—and that his counterpart's "central principle" is that "there must be a united, tightly controlled China," which he uses as his rationale for the crackdown in the XUAR.
"I pointed out to him that no American president can be sustained as a president if he doesn't reflect the values of the United States," Biden said, adding that he will not back down from calling China out for its abuses.
'A position of strength'
Biden's comments came on the same day that Blinken discussed the delicate balance the new U.S. administration must maintain in charting future relations with a government it has labeled guilty of genocide.
He acknowledged that former U.S. President Donald Trump "was right to take a tougher line" on China, including slapping sanctions on several top Chinese officials deemed responsible for rights violations in the XUAR, including regional party secretary Chen Quanguo, under the Global Magnitsky Human Rights Accountability Act.
The move, which marked the first time Washington had sanctioned a member of China's powerful Politburo, followed Trump's enactment in June of the Uyghur Human Rights Policy Act of 2020 (UHRPA), which passed nearly unanimously through both houses of Congress at the end of May. The legislation highlights arbitrary incarceration, forced labor, and other abuses in the XUAR and provides for sanctions against the Chinese officials who enforce them.
But Blinken said he believes that Trump's approach to China "did not produce results."
"The common denominator has to be approaching China from a position of strength, not weakness. And that strength comes from a few things," he told Mary Louise Kelly on "All Things Considered."
"It comes first and foremost from working in close coordination with allies and partners who may be similarly aggrieved by some of China's practices. When we're in the business of picking fights with our allies instead of working with them, that takes away from our strength in dealing with China."
Blinken said that in pulling back from global engagement, as Trump did in favor of more domestically focused policies, "China fills in and takes our place," leaving the U.S. "in a position of weakness, not strength."
"We're in a position of strength when we actually stand up for our values, when we don't say it's okay for China to create concentration camps for Uyghurs in Xinjiang or to trample on democracy in Hong Kong," he said, referencing reports that Trump told Xi he approved of his policies of mass incarceration in the region during the 2019 G20 meeting in Japan.
Blinken recognized that continuing to work with a genocidal regime will be "a challenge" but said that the U.S. must be able to do so while continuing to hold China to account for its actions.
"We have been leading the effort now and bringing human rights and democracy back to the heart of our foreign policy," he said.
"When it comes to China and what it's done in Xinjiang against the Uyghurs or what it's been doing to democracy in Hong Kong, we're standing up, speaking out, and working with others to do the same."
Blinken dodged a question on whether the U.S. should participate in the 2022 Winter Olympics in Beijing but suggested that Washington should at the very least work towards ensuring products made at home aren't being used to oppress people in Xinjiang and that no imports include products made with forced labor in the region.
The Munich-based World Uyghur Congress (WUC) exile group welcomed the statements by Biden and Blinken on Wednesday but called for concrete action against China.
"While consistently raising these concerns is highly relevant, we're hoping the Biden administration will now take meaningful actions to stop China's Uyghur genocide," WUC President Dolkun Isa told RFA.
Isa said the U.S. should formally announce its opposition to Beijing hosting the 2022 Winter Olympics if it doesn't end its policies in the XUAR and urge its allies to do the same, while taking additional steps in international fora.
"The U.S. should make it clear at the U.N. Security Council and U.N. Human Rights Council that China's Uyghur genocide is contrary to the founding U.N. Charter and U.N. Declaration of Human Rights and will not be accepted by the international community in the 21st century," he said.
Canada weighs designation
The clarifications on U.S. policy towards China came on the same day that Canadian Prime Minister Justin Trudeau said his country is weighing whether or not to label the abuses in the XUAR as genocide.
"It's a word that is extremely loaded and is certainly something that we should be looking at in the case of the Uyghurs," Trudeau told a news conference on Tuesday.
"I know the international community is looking very carefully at that and we are certainly among them, and we will not hesitate from being part of the determinations around these sorts of things."
Trudeau said there is "no question" that there are serious rights violations taking place in the region, but he urged caution in making a designation that would require Canada to take more significant steps against China.
"When it comes to the application of the very specific word 'genocide,' we simply need to ensure that all the I's are dotted and the T's are crossed in the processes before a determination like that is made," he said.
"The international community in general … takes very, very seriously the label of genocide and needs to ensure that when it is used, it is clearly and properly justified."
A week after the U.S. designation, Canada's opposition Conservative Party's shadow Ministers for Foreign Affairs and International Development & Human Rights issued a statement saying that their party is "deeply concerned about the genocide of Uyghurs and other Turkic Muslims in China."
Canada's Subcommittee on International Human Rights had earlier joined the Trump and Biden administrations in concluding that China's government is "committing acts of genocide and other crimes against humanity," including systematic population control, sexual violence, and mass detention.
Last week, lawmakers in Belgium's Chamber of Representatives submitted a resolution calling on their government to label abuses in the XUAR as genocide, prompting an immediate protest from Beijing demanding that the proposal be tabled.
Reported by RFA's Uyghur Service. Translated by Alim Seytoff. Written in English by Joshua Lipes.
Source: Copyright © 1998-2016, RFA. Used with the permission of Radio Free Asia, 2025 M St. NW, Suite 300, Washington DC 20036. https://www.rfa.org.