The family members of detained Chinese human rights lawyer Yu Wensheng, who is currently detained on suspicion of subversion, have been denied permission to visit him, while another prominent rights lawyer is fighting a decision to have him debarred from the profession, RFA has learned.
Yu was placed under criminal detention on Jan. 20, on suspicion of "obstructing public servants in the course of their duties," but has since been transferred from Beijing to Xuzhou city in the eastern province of Jiangsu on a more serious charge of "incitement to subvert state power."
His family traveled to Xuzhou in the hope of paying him a visit, but were denied permission by the local police department, Yu's wife Xu Yan told RFA.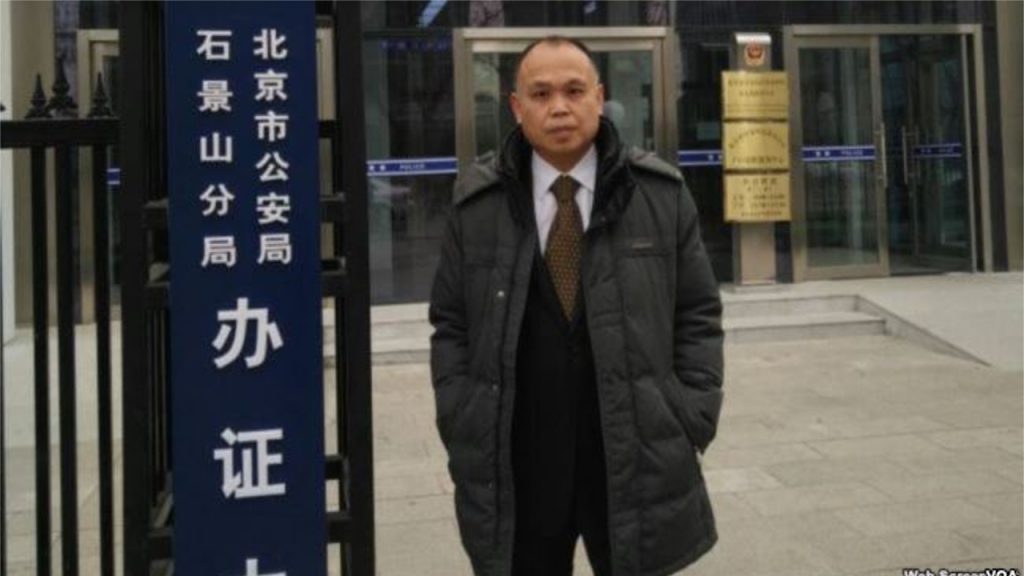 "We went to the Tongshan district police department in Xuzhou and asked to visit Yu Wensheng, and for contact details for the officer in charge of his case so we could find out more about his case," Xu said.
"Two police officers came out, and told us we'd have an answer regarding our request for a meeting within 48 hours, but that they'd have to ask what to do regarding the officer in charge of the case," she said. "So today, we still have no result on either of these things."
Xu said she had also asked the address of the place where Yu is currently being held under "residential surveillance."
"They didn't tell me," she said. "As his relative, I wanted to deposit some money for Yu to use, but they wouldn't let me do that either."
Xu has rejected the charges against her husband, saying his detention is more likely a form of political retaliation for an open letter he penned the day before, calling for an end to party control of China's People's Liberation Army and other major changes in line with the country's constitution.
Yu's defense attorney Huang Hanzhong said the authorities are also breaking the law by having the Tongshan police investigate under the direction of the Xuzhou city police department.
"This is actually a serious breach of the Criminal Procedure Law … because according to the law, cases involving charges like 'incitement to subvert state power' should be tried by an Intermediate People's Court, which means that the investigation should be carried out by a police department of city rank or higher," Huang said.
"It can't be delegated to the level below … it can only be carried out by the Xuzhou police department," he said.
The "disappearance" of Yu to an unknown location for "residential surveillance" in Xuzhou comes as fellow defense attorney, Sui Muqing, loses his license to practice.
Yu, 51, has defended a number of clients in politically sensitive human rights cases in recent years, including forced evictees and the families of victims of a tainted vaccinations scandal in the eastern province of Shandong.
In 2014, he was held by police for 99 days for showing public support for the pro-democracy Occupy Central movement in Hong Kong.
Yu was stripped of his professional license to practice after he joined the defense team for detained fellow lawyer Wang Quanzhang, held incommunicado in the northern city of Tianjin amid a nationwide crackdown on more than 300 lawyers and rights activists that began in July 2015.
License stripped
Meanwhile, authorities in the southern province of Guangdong have revoked the business license of rights lawyer Sui Muqing after he ignored official warnings not to take on so many politically sensitive cases.
Sui, who insisted on a review hearing to appeal the decision, that took place in the provincial capital Guangzhou last Saturday, has said the revocation of his license was likely the result of his defending a series of politically sensitive cases in recent years.
An official at the Guangdong provincial department of justice confirmed to RFA that the appeal hearing had ended on Saturday, with the result to be announced at a later date.
Sui's lawyer for the hearing Zhou Feng said there were no grounds for his client to lose his business license.
"I wonder where the evidence is to justify stripping Sui of his license," Zhou said. "We [his defense team] don't think he should be punished, and certainly not by losing his license."
"The main thing is that they heard us make our case; they heard our opinions," he said. "They said they would use them to make a detailed report to their leaders, and then wait for orders."
Dozens of supporters showed up on Saturday to show support for Sui, only to be faced with heavy security around the building.
"There were a few dozen of us there, and both the intersections outside were sealed off, in a radius of 500 meters (1,640 feet) by police vehicles, riot police and state security police," a supporter who asked to remain anonymous told RFA.
"They had blocked off the gate of the justice department with steel barriers," he said.
Detained supporters
Rights activist Zhang Wuzhou said she was detained at the scene after having tried unsuccessfully to get a permit to audit the hearing.
"I came here twice … to see if I could get a permit to attend, and [they] had me fill out an application and leave my phone number," Zhang said. "So I came here today, but no sooner had I arrived than someone called out my name, and before I knew it I was being put into a police vehicle."
"I came here yesterday with a few people from Hangzhou, and some … women from Anhui, but I haven't heard anything from them," she said. "They're not answering their phones."
A large number of rights lawyers have been denied a business license during annual reviews following the July 2015 crackdown, which saw more than 300 lawyers, law firm staff and rights activists detained, questioned, jailed, or placed under surveillance and travel bans along with their families.
Lawyers say the government is now starting to use the justice departments and the Lawyers' Associations instead of criminal proceedings to target the legal profession and to deter them from taking on sensitive cases, or speaking out on behalf of disadvantaged clients.
Last September, authorities in the eastern province of Shandong revoked the business license of lawyer Zhu Shengwu, to practice after he defended social media user Wang Jiangfeng, who was jailed for two years after he called President Xi Jinping by a forbidden nickname — "steamed buns" — in an online post.
Source: Copyright © 1998-2016, RFA. Used with the permission of Radio Free Asia, 2025 M St. NW, Suite 300, Washington DC 20036. https://www.rfa.org.