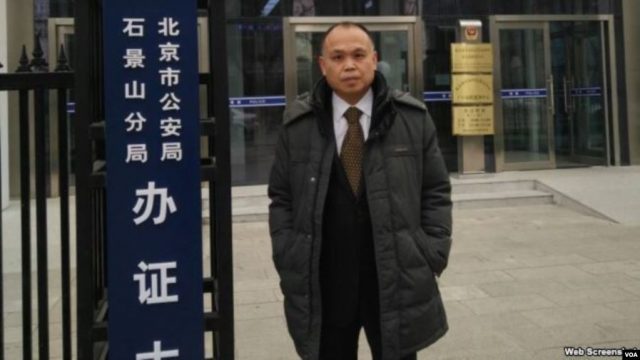 Responding to the four-year jail sentence handed to Chinese human rights lawyer Yu Wensheng after a secret trial, Amnesty International's Asia-Pacific Regional Director Nicholas Bequelin said:
"Yu Wensheng's sentencing is nothing but political persecution dressed up as legal process. Not only was Yu prosecuted under baseless charges for the lawful and legitimate work he was conducting as a lawyer, his own lawyer was not even permitted to attend the sentencing hearing.
"While the Chinese government's zero-tolerance policy towards critics is well-known, the secret sentencing of yet another human rights lawyer marks a new low for what is left of the rule of law in China.
"Yu Wensheng is a prisoner of conscience, detained solely for exercising his right to freedom of expression. He is also at risk of torture and ill-treatment. China must immediately and unconditionally release him and end its scandalous crackdown on lawyers, activists and others who try to peacefully advocate for human rights in the country."
Background
Yu Wensheng is a prominent Beijing human rights lawyer who has represented fellow human rights lawyer Wang Quanzhang and Falun Gong practitioners, among others.
He was arrested in the northwestern city of Xuzhou on 19 January 2018 on suspicion of "inciting subversion of state power" and "obstructing the duties of public officers".
On Wednesday morning, Yu Wensheng's wife Xu Yan received a phone call from Xuzhou City prosecutors, informing her that her husband had been sentenced to four years' imprisonment and a further three years' deprivation of political rights. Neither she nor Yu Wensheng's lawyer knew about the trial. Yu Wensheng will be appealing against the prison sentence, prosecutors said.
Yu Wensheng's family and friends believe he has been targeted because of an open letter he wrote in October 2017 criticizing Chinese President Xi Jinping's "totalitarian" rule. He was briefly detained at the time.
On 23 January 2018, Shanghai-based news website The Paper reported that a lawyer surnamed Yu had assaulted two police officers while resisting arrest. The report was widely circulated on news search portals and social media platforms in China as Yu Wensheng's name was mentioned in posts from unidentified social media accounts. Yu's friends and supporters say this was a coordinated attempt to discredit him.
Yu Wensheng was also previously detained for 99 days in 2014 after voicing his support for pro-democracy protests in Hong Kong. He told Amnesty International he was tortured in detention.
Source: Amnesty International. China: Human rights lawyer unjustly jailed after secret trial must be released © Amnesty International 2020.