An international rights monitor has called on the United States to use sanctions to target Chinese state media organizations that produce and air stage-managed, forced confessions from detainees, often through the use of torture and threats to loved ones.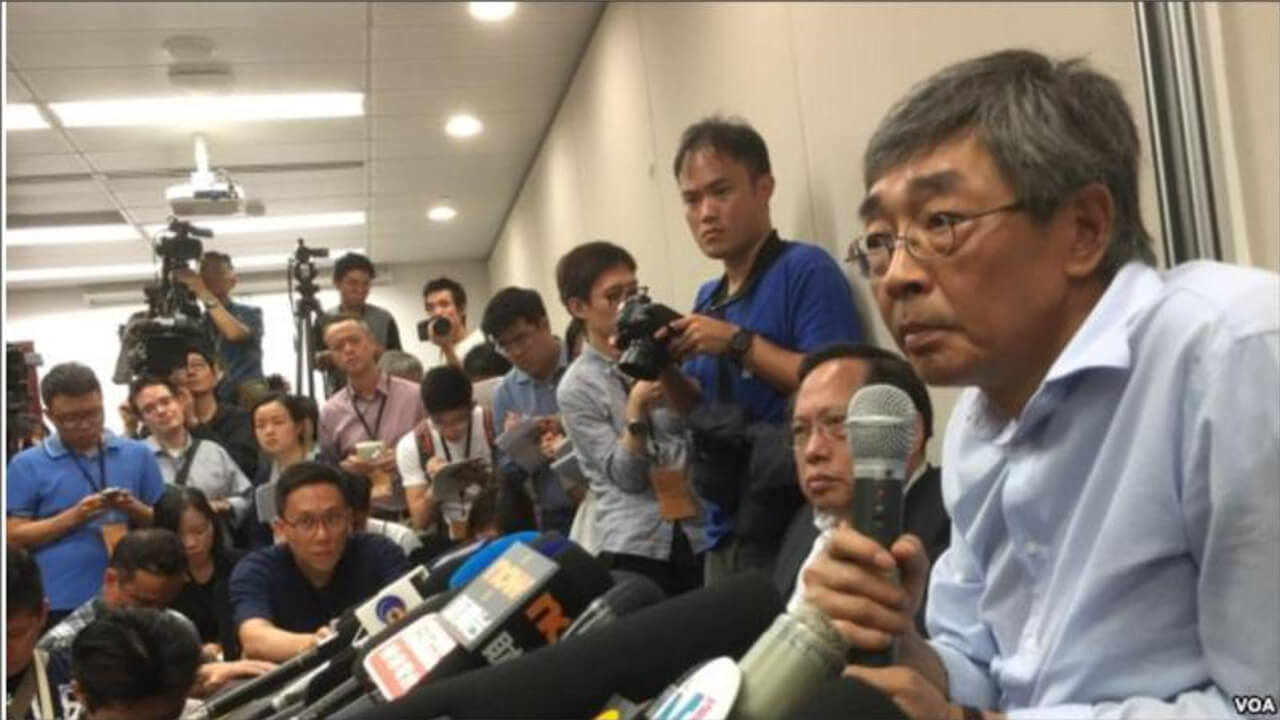 RSDL Monitor, a monitoring state-sponsored "disappearances" in China, called in a report supported by the rights group Safeguard Defenders for immediate action against state media that have produced and aired such videos.
"China's televised confessions are routinely forced and extracted through threats, torture, and fear," RSDL Monitor said in a statement issued with the report. "Police routinely dictate and direct the confessions [and] there is strong evidence that in certain cases they are used as tools of propaganda for both domestic audiences and as part of China's foreign policy."
"These confessions are made before trial and often even before formal arrest," the group said, adding that "every single interviewee for this study said their interrogators had forced them to confess."
"Televised confessions represent such a transgression of rights that they are only practiced today by regimes such as North Korea and Iran," it said. "They deprive the suspect of due process; infringing on the right to a fair trial, the presumption of innocence, the right to remain silent, the right not to self-incriminate and the right to be protected against giving a forced confession and torture."
Police regularly used threats (both towards the detainees as well as against their family members) and physical and mental torture to produce a state of fear in order to coerce the confession, the report said.
The study of nearly 40 such "confessions" found that detainees had been denied access to family or lawyers, many were being held under "residential surveillance" in an unknown location, and some were unaware that the video would be broadcast on television.
Hebei rights activist Liu Xing said he was forced to make a "confession" video after being detained during the July 2015 crackdown on more than 300 human rights lawyers and related activists.
The authorities extracted the confession by threatening his fellow activists, he said.
"This was the whole reason I pleaded guilty; they told me directly that they would … release the other people if they merited it, but that if I remained silent, they wouldn't," Liu told RFA on Wednesday.
"I hadn't slept for 15 or 16 days, because they wouldn't let me sleep, and in the end they wore me down," he said.
CCTV the chief culprit
Rights lawyer Xie Yang, also a former detainee who "confessed" as part of the July 2015 crackdown, said he remains under surveillance by state security police, and declined to comment.
"I can't answer your questions … I really can't," Xie said. "I have my reasons."
The group identified China Central Television (CCTV), including CCTV1, CCTV4, CGTN and CCTV13 as the main channels responsible for airing video footage of forced confessions, and called for travel bans and asset freezes for top CCTV executives.
In 2013, the European Union instituted similar sanctions against Iran's Press TV for similar broadcasts.
Overseas representatives of such media should also be forced to register as agents of a foreign government under the Foreign Agents Registration Act in the United States and equivalent laws in other countries, it said.
Ultimately, all high-ranking personnel in media owned or controlled by the ruling Chinese Communist Party should be subject to Magnitsky legislation, named after a torture victim in Russia, allowing domestic sanctions such as asset freezes against foreign officials who commit human rights violations.
The report detailed an elaborate "staging" and production process behind the scenes of such confessional videos, carried out by highly skilled staff within state media, with the wording of each confession dictated by the authorities.
In it, former detainees describe how the police took charge of the confession, dressing them in "costume," writing the confession "script" and forcing the detainee to memorize it.
Detainees were then given direction on how to deliver their lines, including being ordered to weep in one case. Unsatisfactory performances would result in retake after retake, it said.
"In many cases, media that broadcast these confessions were active participants in the process of making them, from using the police-provided script of questions, concealing the truth of the confession set-up, to producing a sophisticated news package with graphics," RSDL Monitor said.
State media would also carry out interviews with police and commentators to underline the detainee's "guilt," in spite of the fact that many had never been charged with a crime.
The report cites the testimony of human rights lawyer Wang Yu, who said she was forced into making her "confession" for fear of reprisals directed at her teenage son, Bao Zhuoxuan.
"Her harsh treatment in custody had affected her memory so much that she could not remember the words the police told her to say," it said. "After making hours and hours of retakes over several weeks, they resorted to printing her lines on a computer in large font, like a teleprompter."
Foreign nationals become victims
In the end, the confession never aired, because the police and producers couldn't produce the desired effect, it said.
Wang's husband Bao Longjun said he agreed with the substance of the report.
"You're saying that a lot of people were forced into making confessions? Yes, that's definitely true," Bao said. "If you have no way of protecting your personal freedom and no rights protections to speak of, then of course you are going to be manipulated by the authorities."
Some of the "confessions" are aired shortly after international criticism of the authorities, and are often aimed at denying reports that the detainee was illegally kidnapped, or has been tortured in custody.
"Many of the confessions are delivered by human rights defenders, independent journalists, and Uyghurs, individuals that are typically seen as … critics or enemies of the [Chinese Communist Party]," it said.
Last November, detained rights lawyer Jiang Tianyong pleaded guilty to "incitement to subvert state power" at the Intermediate People's Court in the provincial capital Changsha on Aug. 22, in a legal proceeding that was dismissed by his U.S.-based wife as a "show trial."
The report also warned that the use of forced televised confessions is already spreading beyond China's borders, with some foreign nationals among the victims, and some privately owned media from outside mainland China taking part in the process.
In February, Hong Kong-based bookseller Gui Minhai gave a videotaped "interview" that was posted to the website of Hong Kong's Oriental Daily News, in which he hit out at international concerns over his second disappearance.
Gui, a Swedish passport holder, had earlier "disappeared" under murky circumstances from his holiday home in Pattaya, Thailand in October 2015, only to reappear in China "confessing" on video to a decade-old alleged drunk-driving offense.
Detained Taiwan democracy activist and NGO worker Lee Ming-cheh "confessed" to charges of subversion at his trial in the central Chinese province of Hunan last September. His wife said his guilty plea wasn't freely made.
In an online broadcast made by Yueyang Intermediate People's Court, Lee "confessed" to making online posts to WeChat, Facebook, and other online communities with intent to "maliciously discredit" the ruling Chinese Communist Party.
Source: Copyright © 1998-2016, RFA. Used with the permission of Radio Free Asia, 2025 M St. NW, Suite 300, Washington DC 20036. https://www.rfa.org.