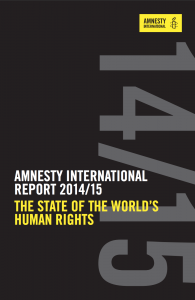 The Amnesty International Report 2014/15 documents the state of human rights in 160 countries and territories during 2014. Some key events from 2013 are also reported. While 2014 saw violent conflict and the failure of many governments to safeguard the rights and safety of civilians, significant progress was also witnessed in the safeguarding and securing of certain human rights. Key anniversaries, including the commemoration of the Bhopal gas leak in 1984 and the Rwanda genocide in 1994, as well as reflections on 30 years since the adoption of the UN Convention against Torture, reminded us that while leaps forward have been made, there is still work to be done to ensure justice for victims and survivors of grave abuses. This report also celebrates those who stand up for human rights across the world, often in difficult and dangerous circumstances. It represents Amnesty International's key concerns throughout the world, and is essential reading for policymakers, activists and anyone with an interest in human rights.
https://www.amnesty.org/en/documents/pol10/0001/2015/en/
Amnesty International.Amnesty International Report 2014/15: The State of The World's Human Rights © Amnesty International 2015.