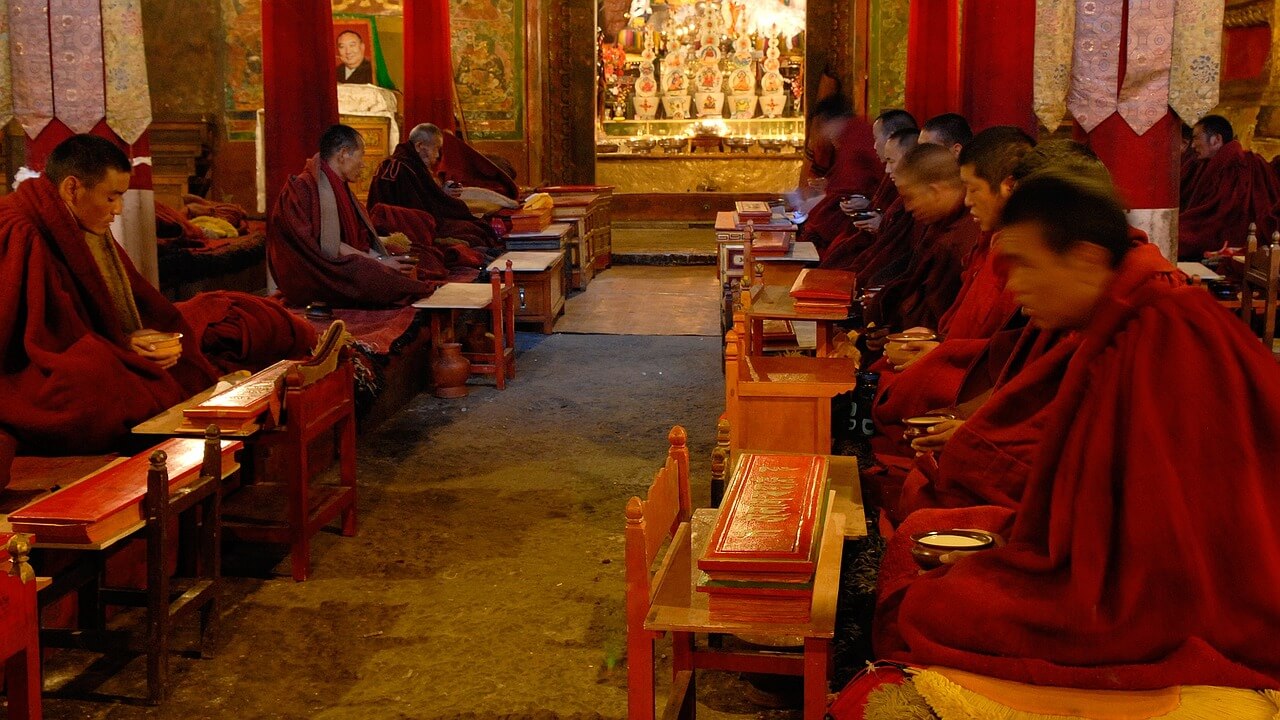 Eight young Tibetans who fled authoritarian rule in China in pursuit of a religious and cultural education without restrictions have arrived at a refugee center in India after being held for nearly a month by authorities in Nepal, according to members of the group.
The Tibetans, who come from the eastern region of the Tibet Autonomous Region (TAR) and include Buddhist monks, a Buddhist nun, and a 13-year-old girl, arrived at the Tibetan Refugee Center in Dharamsala, India—the seat of the Tibetan government-in-exile—on Aug. 13, they told RFA's Tibetan Service, speaking on condition of anonymity for fear of repercussions to their families back home.
None of the eight had official travel documents, and each paid about 15,000 yuan (U.S. $2,190) to a guide, who secreted them across the border to Nepal, where the United Nations High Commissioner for Refugees (UNHCR) has an informal "Gentleman's Agreement" in place that provides for Tibetans to transit through the country and seek refuge in India.
One of the members of the group said that after arriving in Nepal, local authorities prevented them from leaving after the Nepalese media reported on July 26 of their planned travel on to India.
"On the way from Nepal, we were stopped at the Nepal-India border for document checks and verification, which took some time," the Tibetan refugee said, adding that "other than that, we didn't face any problems."
All of the Tibetans in the group said that they decided to leave China because they were prevented from studying the religious and cultural traditions of their ethnic group, due to official restrictions.
A 21-year-old monk, who traveled for nearly a month to get to Nepal, said his parents had supported his decision to leave home for India.
"The entire purpose of traveling to India was to study, as we believe the opportunities in exile are greater and the environment is more conducive for students to flourish," he said.
A 19-year-old monk, who also required a month of travel along with two companions to reach Nepal, said he had lived in a monastery in Tibet for 15 years.
"But the monastery had few monks, and lacked decent facilities and opportunities to study well," he said.
"Since we were under [government] control, there was no way to study what we wanted. Now, we will have a chance to do so, but only far away from our homes."
A 16-year-old monk, who took two months to reach Nepal, said that while there was a monastery in his home town in the TAR, "the facilities were poor," adding that he hopes to enter a monastery in India to pursue his monastic studies.
"I stayed for one year in a monastery in Tibet, but there was a lack of good educational opportunities," he said.
"In exile there are many more options for those who wish to learn."
The 13-year-old girl in the group said that she simply wanted to learn her own language, which had been sidelined in public schooling in the TAR in favor of Mandarin Chinese.
"The opportunity to study the Tibetan language is increasingly unavailable there, and I was asked to go into exile to study it," she said.
"Here, we have a good established community with many Tibetans who can help us."
Tibet's Dharamsala-based exile government the Central Tibetan Administration is arranging a private audience for the group with exiled spiritual leader the Dalai Lama, and will provide them with refugee identity cards, sources told RFA.
After undergoing a health screening, the refugees will be permitted to join the Tibetan monastery or school of their choice to pursue their studies.
Monastery restrictions
Last month, sources told RFA that Chinese authorities in the Tibetan-populated Dzachuka region of Sichuan are removing monks under the age of 18 from their monasteries so that they can return to government-run schools and learn to "serve society."
Authorities said that the monks should not be allowed to join the monasteries "because they are too young and immature, and can't think for themselves yet," the sources said.
Many had enrolled in the monastery's courses in Buddhist logic and philosophy, and some were top students in their class.
Chinese authorities have long sought to restrict the size and influence of Tibetan Buddhist monasteries, traditionally a focus of Tibetan cultural and national identity, sources in the region say.
Authorities have strictly limited the numbers of monks and nuns enrolled there and forced those allowed to remain to take part in classes promoting loyalty to China and the ruling Chinese Communist Party, sources say.
Source: Copyright © 1998-2016, RFA. Used with the permission of Radio Free Asia, 2025 M St. NW, Suite 300, Washington DC 20036. https://www.rfa.org.