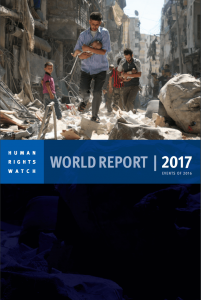 World Report 2017 summarizes key human rights issues in more than 90 countries and territories worldwide. It reflects investigative work that Human Rights Watch staff undertook in 2016, usually in close partnership with human rights activists in the country in focus.
In his introductory essay, Executive Director Kenneth Roth writes that a new generation of authoritarian populists seeks to overturn the concept of human rights protections, treating rights not as an essential check on official power but as an impediment to the majority will.
https://www.hrw.org/sites/default/files/world_report_download/wr2017-web.pdf
Human Rights Watch. Human Rights Watch: World Report | 2017 Events of 2016© 2017 by Human Rights Watch.