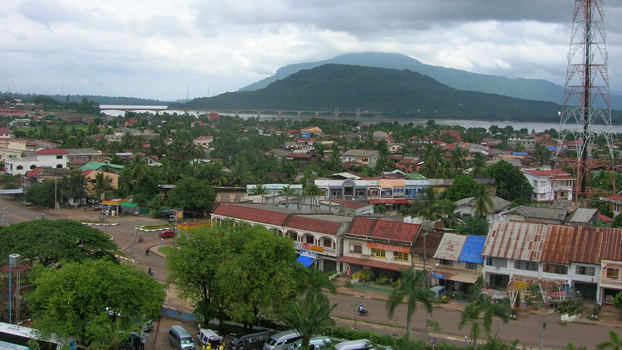 Authorities in Laos' southwestern Champassak province have rescued four young Lao women and girls who were trafficked to China, while another group of four females from another part of the country remain missing, sources told RFA's Lao Service recently.
The teenagers and young women, now aged 16 to 21, were rescued in August. Several years ago, they had been "tricked by a Chinese-speaking Lao middleman who told them they would be marrying Chinese men," an official of the Champassak Women's Union told RFA on October 29.
They left their homes in Champassak's Paksong, Soukhouma, Banchieng and Sanasomboun districts to marry men they had never met in person.
The official added that once the four arrived in China, their new husbands did not allow them to hold jobs, going against what the middleman had promised them. They were also reportedly at risk of being sold to other men or to work in brothels.
An official of Champassak's anti-human trafficking division told RFA that in China, "they were forcefully victimized, [essentially] trafficked to be enslaved."
"They were made to serve their husbands' families and were not allowed to communicate with outsiders, including their own families," the official added.
The circumstances of their rescue were not immediately clear.
"We do not know how they managed to escape from China, but we just learned that the Chinese embassy in Laos handed the girls to the Lao Women's Union and the relevant central government security officers transferred them to the provincial authorities," said the official.
The women's union official confirmed the details of how they had been trafficked.
"This year, we rescued [four] girls who were trafficked [to China]. They were lured to marry [Chinese men] by a Lao broker who can speak Chinese and their parents gave their consent," the official said.
"They were easily swayed [by the broker] to marry the Chinese men because they are poor and needed to make money for their families," the official added.
Currently the four are at home with their parents helping them work on the family rice farms. Since their rescue, they have been monitored by village authorities who have orders to report if they suddenly go abroad again.
The women's union official said the case was quite common, and many rural girls and women are lured to China for marriage, travel, or employment, but once there, they fall victim to human trafficking schemes.
Another group of four 'disappeared'
Meanwhile on October 31, RFA spoke to the mother of a missing girl from Oudomxay province's Xay district. The missing girl is one of four female ethnic Hmong residents of Sen Lat Village who disappeared three years ago.
"She said she was going with an employer to the city to work, but she never came back," said the mother.
A village official said that the four, who ranged in age from 16-30 were deceived, and their whereabouts remain unknown.
"Those four girls were lied to. They disappeared three years ago," said the official.
"Their parents reported the disappearances to us, saying they had gone to [nearby] Xay town and simply disappeared."
The official acknowledged that they might have been trafficked.
"After that, nobody knew anything about where they'd gone, or whether they'd been sold to be wives in Thailand, Vietnam or China," the official said.
A village security guard told RFA that there was nothing they could do to look for the missing females.
"Normally [in cases like this] parents would report that three or four of their daughters have gone missing. In this case, the parents did not report to us so we can't do anything," said the guard.
As many as 3,000 Lao women and girls have been trafficked to China, with about 600 rescued during the last decade, according to a Lao official who spoke at an anti-trafficking conference in the Lao capital Vientiane in March.
In many cases these women and girls were forced to work in brothels or forced to marry older Chinese men.
Self-rescue
There have been cases of potentially-trafficked women taking it upon themselves to return home.
Two Lao women from the same district recently came home after having lived in China with their husbands for seven months.
One of the young women, aged 18, said she saw signs and posters in China warning Lao girls about the dangers of human trafficking and abuse. She became afraid and decided to leave.
The other teenager, 17, came home because she was afraid that she could be trafficked or sold to another Chinese man.
A provincial police officer told RFA that the 'girls' were not trafficked to China in this case.
"[The Chinese men and Lao girls] found love working on banana plantations. So they got married and moved to China."
"Those two girls were not physically or mentally abused or tortured. They got married consensually and they were already 18 years old," said the police officer, who may have miscalculated the females' ages at the time they left for China, as Laos' official records are often inexact.
Several months ago in Phongsaly Province, police issued a warning to young women to not fall into traps promising marriages to Chinese men.
The U.S. State Department placed Laos on the Tier 2 Watch List in its 2019 "Trafficking in Persons Report" for not fully meeting minimum standards for the elimination of trafficking, though the report noted the country was making significant efforts to do so.
Laos was upgraded from its Tier 3 ranking last year for providing restitution to some trafficking victims through the criminal justice process, directly providing services to trafficking victims, issuing a decree to form anti-trafficking steering committees at the provincial and local levels, and conducting increased training and awareness-raising at the local level to help implement the decree, the report said.
The annual report ranks countries around the world as Tier 1, Tier 2, Tier 2 Watch List, or Tier 3, in descending order based on whether they meet the minimum standards to combat trafficking set by U.S. law.
Reported and translated by RFA's Lao Service. Written in English by Eugene Whong.
Source: Copyright © 1998-2016, RFA. Used with the permission of Radio Free Asia, 2025 M St. NW, Suite 300, Washington DC 20036. https://www.rfa.org.