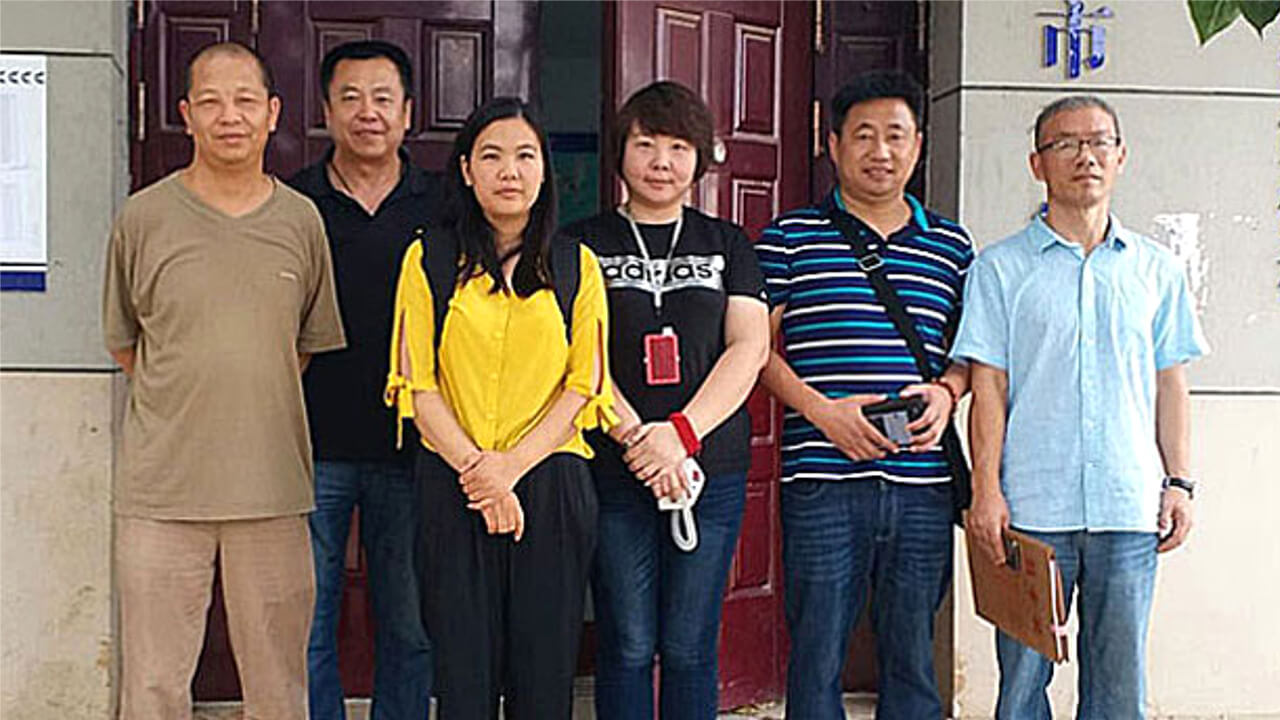 Authorities in the eastern Chinese province of Jiangsu have indicted human rights lawyer Yu Wensheng on subversion charges, paving the way for a trial, his wife said on Thursday.
Yu, who is being held incommunicado by authorities in Jiangsu's Xuzhou city, was formally arrested for "incitement to subvert state power"and "obstruction of officials in the course of their duty" in April.
He was indicted last month, but neither his lawyers nor his wife, Xu Yan, were informed about the move.
"His two attorneys enquired about Yu Wensheng's case with the Xuzhou municipal procuratorate, which checked and found that the indictment was issued on July 19," Xu told RFA.
She said two lawyers she hired to represent Yu, Chang Boyang and Xie Yang, hadn't been informed of the indictment.
"They weren't allowed to see him, nor to read the case files," she said.
Jiangsu officials issued a statement in April claiming to be penned by Yu, and firing his defense team. However, Xu pointed to an earlier video statement asking her to disregard any such declaration.
"I am very worried about his future, because the likelihood that he will be found not guilty and released is extremely low," Xu said. "It would be pretty good if Yu Wensheng could be released on bail, as some of the lawyers detained since the July 2015 [crackdown] have been."
"But we have already applied for bail a number of times. The lawyers have made applications, but there has never been any sign that he will be released on bail and allowed to come home," she said. "That's why I am very worried indeed."
Defense attorney Chang said he plans to make another attempt to meet with Yu next week.
Doubts remain
Chang said doubts remain over the status of Yu's legal defense, as the authorities had earlier claimed that he had fired the lawyers instructed by Xu.
"I will go there and ask to see Yu Wensheng to confirm if this is true or not, and whether or not a government lawyer has been appointed for him," Chang said.
"The procuratorate accepted all of the paperwork from [me and Xie], and they said that he had hired another lawyer, but I said I didn't know anything about that."
"His family doesn't know how he would have found another lawyer."
Calls to the Xuzhou municipal procuratorate rang unanswered during office hours on Thursday.
Xu said he had heard that two officially appointed lawyers had visited Yu in the Xuzhou Detention Center, but that he and Chang would continue to act for Yu until they saw proof that he had hired a new defense team.
"The two of us still have a duty to provide a defense, as Xu Yan told us that the … officially appointed lawyers weren't formally instructed by Yu Wensheng," he said.
Rule of law
On the democratic island of Taiwan, Taipei Bar Association director Wang Lung-kuan called on the ruling Chinese Communist Party to abide by its own laws.
"They say themselves that they want the rule of law, but [Yu] isn't even allowed a visit from his family members or his lawyers," Wang said. "These are basic requirements under international human rights standards."
"This isn't the first time this has happened, and it's highly regrettable."
Yu was intially held for more than two months without access to a defense attorney, and has been identified by London-based rights group Amnesty International as being "at risk of torture."
Xu Yan herself was detained and questioned by state security police in Xuzhou city on suspicion of "incitement to subvert state power" for more than seven hours.
Yu was snatched away from his son by large numbers of police in a car park near his home and placed under criminal detention on Jan. 19, on suspicion of "obstructing public servants in the course of their duties."
He was later transferred from Beijing to Jiangsu's Xuzhou city with the addition of the more serious charge of "incitement to subvert state power."
Acting under duress
Yu had warned in a video recording and statement in May 2015 that if he ever "lost his freedom" and fired his own lawyers, it should be assumed that he was acting under duress, or had been tortured.
"If I lose my freedom, and if I sign any kind of statement, confession, or guarantee in the absence of a lawyer, then none of the words in such documents can be taken to represent my true intentions," the recorded video statement said. "This statement was signed by Yu Wensheng on May 10, 2015."
China's embattled legal profession has been targeted with more than 300 detentions, summons, travel bans, and restrictions imposed on rights lawyers, activists, and law firm staff since July 2015.
Rights lawyers who accept politically "sensitive" cases, or who are publicly outspoken on behalf of vulnerable groups, have also been prevented from practicing law because their business licenses are being revoked during a newly instituted annual review process.
Lawyers who try to defend clients held on suspicion of crimes ostensibly linked to "state security" concerns are also denied permission to meet with their clients, or are replaced by government-appointed lawyers amid threats and pressure on the people who hired them.
Source: Copyright © 1998-2016, RFA. Used with the permission of Radio Free Asia, 2025 M St. NW, Suite 300, Washington DC 20036. https://www.rfa.org.