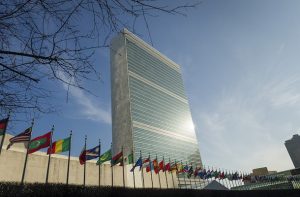 Source: United Nations Website
At the Thirty-eight Session of the Human Rights Council of the United Nations, which starts in Geneva on June 16, the NGO CAP-LC, which enjoys consultative ECOSOC status at the UN, filed a document denouncing the arbitrary detention of thousands of members of The Church of Almighty God, a Christian new religious movement, in China. The document has been published today on the Web site of the United Nations.
CAP-LC denounces as "fake news" the accusation of crimes against The Church of Almighty God and states that members of the CAG are imprisoned in China for "using" a xie jiao, or a movement spreading "heterodox teachings."
"This is purely a crime of conscience," argues CAP-LC, "and does not imply any use of violence, or other illegal activity, except the fact itself of belonging to a xie jiao." In fact, Article 300 of the Chinese Criminal Code makes "using" a xie jiao a crime punishable with jail penalties from three to seven years "or more."
"Not all decisions of the Chinese courts are published online, continues CAP-LC, but thousands of them are. There is a vast number of published decisions where members of xie jiao, particularly of the CAG (listed as a xie jiao since 1995), were sentenced to long jail penalties (often exceeding seven years) based on Article 300." It is clear from these decisions that 'using a xie jiao' is interpreted as 'being active in a xie jiao' in any capacity. In fact, having been found in possession of literature of the CAG, or having tried to convert others to the Almighty God faith, have been regarded as sufficient evidence of being guilty of the crime punished by Article 300," i.e. "using" a xie jiao.
"It is clear, CAP-LC concludes that those arrested, sentenced, and detained for 'using a xie jiao,' in this case The Church of Almighty God, are detained simply for their exercise of their freedom of religion."
Read full text of the document
Source: BITTER WINTER