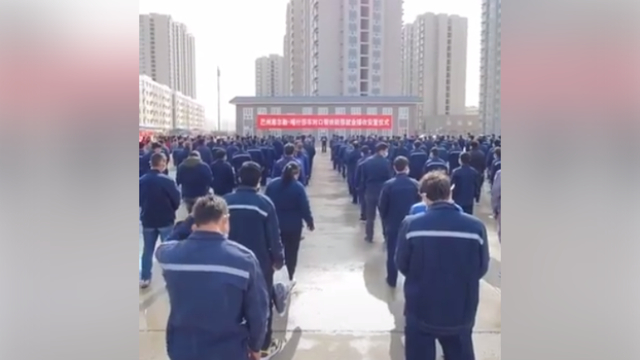 All internment camp detainees in one county in northwest China's Xinjiang Uyghur Autonomous Region (XUAR) have been relocated to prisons or to parts of the country's interior, according to a local police officer, following reports of similar policies in other parts of the region.
Images circulating on social media platforms in recent months purportedly show that Uyghurs and other Muslim minorities are being transferred between various forms of detention, incarceration, and possibly forced labor schemes both inside and outside of the XUAR, where authorities are believed to have held some 1.8 million people in a vast network of internment camps since April 2017.
One widely shared image appears to show rows of people dressed in similar blue jumpsuits, wearing masks, and holding bags of personal belongings as they stand in a public square, reportedly in the XUAR's Bayin'gholin Mongol (in Chinese, Bayinguoleng Menggu) Autonomous Prefecture.
Experts and members of the Uyghur activist community in exile believe images such as these show detainees who have been transferred from a camp to either prisons or factories, where they are required to perform forced labor.
RFA's Uyghur Service recently spoke with a police officer from Bayin'gholin's Chakilik (Ruoqiang) county who said that the area's internment camps had been closed down and that all detainees had been sent to jail or to other parts of China.
"There are no internment camps in Chakilik—[the authorities] aren't putting anyone from the county into camps now," said the officer, who spoke to RFA on condition of anonymity, fearing reprisal.
When asked if he had seen official documents confirming that the camps had closed, the officer said, "All I have to do is look around me in Chakilik and I can see that there are no internment camps," adding, "I don't need any documents to know this."
According to the officer, many of the camp detainees were sentenced to prison terms and sent to Ulughkol (Kunqu) Prison, "roughly 40 kilometers (25 miles) outside Korla (Kuerle) city on the way to Bugur (Luntai) county."
"We send some of the people who have been sentenced to jails, but where they transfer them after that, I don't know," he said.
When asked where those who haven't been sentenced to prison were sent when the camps in Chakilik closed, the officer said he did not know.
But he said that some detainees had been sent to parts of China's interior "at the end of 2018," as well as in April and July of 2019.
"Where did they transfer them? It's not worth asking me, because they haven't told us directly," he said.
The officer said he was "unable to answer" questions about how many camps were previously in operation in the county, how long they were operating, or when they had been shut down.
Ulughkol Prison
In November, the International Consortium of Investigative Journalists (ICIJ), a collaboration with 17 media partners in 14 countries, published a set of classified documents that included the first known "manual" for operating internment camps amid a policy of mass extrajudicial incarceration in the XUAR.
Collectively known as the "China Cables," the documents also provided local authorities with guidelines on how to prevent escapes, keep the program a secret, and use "points" to grade detainees of the camps.
In December, RFA confirmed that a Uyghur sandstone factory employee who was mentioned in a court sentencing notice included in the ICIJ documents was named Nebi Ghoja'exmet and had been sent to Ulughkol Prison outside of Korla for urging his coworkers to abstain from activities forbidden by Islam.
Sources have reported that signs outside of some former camps in a development zone near Korla indicate that the facilities have been transitioned into prisons, but RFA has been unable to independently verify the claim.
Camp conditions
Beijing initially denied the existence of internment camps in the XUAR, but last year changed tack and began describing the facilities as "boarding schools" that provide vocational training for Uyghurs, discourage radicalization, and help protect the country from terrorism.
Reporting by RFA's Uyghur Service and other media outlets, however, indicates that those in the camps are detained against their will and subjected to political indoctrination, routinely face rough treatment at the hands of their overseers, and endure poor diets and unhygienic conditions in the often overcrowded facilities.
Mass incarcerations in the XUAR, as well as other policies seen to violate the rights of Uyghurs and other Muslims, have led to increasing calls by the international community to hold Beijing accountable for its actions in the region, which also include the use of advanced technology and information to control and suppress its citizens.
Last week, Congressional-Executive Commission on China (CECC) co-chairs U.S. Representative Jim McGovern of Massachusetts and U.S. Senator Marco Rubio of Florida introduced the Uyghur Forced Labor Prevention Act, which would prohibit imports from the XUAR to the U.S.
The CECC earlier this year released an annual report which suggested that Beijing's policies in the XUAR may meet the definition of "crimes against humanity"—a designation recently echoed by the U.S. Holocaust Memorial Museum's Simon-Skjodt Center for the Prevention of Genocide.
Reported by Shohret Hoshur for RFA's Uyghur Service. Translated by Elise Anderson. Written in English by Joshua Lipes.

Source: Copyright © 1998-2016, RFA. Used with the permission of Radio Free Asia, 2025 M St. NW, Suite 300, Washington DC 20036. https://www.rfa.org.