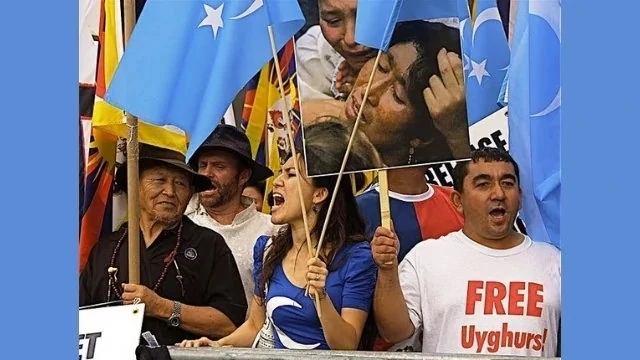 Canada's House of Commons on Monday passed a motion designating rights abuses in northwest China's Xinjiang Uyghur Autonomous Region (XUAR) as genocide, making it the second nation to do so following the U.S. last month.
Parliament unanimously adopted the non-binding motion—266 in favor and zero against—brought forward by the country's opposition Conservative Party, although 37 lawmakers in Prime Minister Justin Trudeau's cabinet from the ruling Liberal Party abstained from the vote.
While several Liberal MPs did vote in favor, Trudeau last week said that the label of genocide is something the international community must "ensure that when it is used, it is clearly and properly justified" and called for a United Nations investigation of the situation.
Trudeau's Foreign Affairs Minister Marc Garneau made a show of abstaining Monday "on the behalf of the government of Canada."
Lawmakers, including from the Liberal Party, also voted 229-29 to adopt an amendment that Canada urge the International Olympic Committee to move the 2022 Olympic Games from Beijing if it continues to violate the rights of Uyghurs in the XUAR, although they did not call for a boycott. Authorities in the region are believed to have held up to 1.8 million Uyghurs and other Muslim minorities in a vast network of internment camps since early 2017.
Chinese officials have said the camps are centers for "vocational training," but reporting by RFA's Uyghur Service and other media outlets shows that detainees are mostly held against their will in cramped and unsanitary conditions, where they are forced to endure inhumane treatment and political indoctrination.
Dolkun Isa, president of the Munich-based World Uyghur Congress (WUC) exile group, told RFA's Uyghur Service that the unanimous support of Monday's motion "is of historical significance."
"This giant step taken by the Canadian Parliament should encourage parliaments in other democratic countries and the U.N. to formally recognize the Uyghur genocide," he said.
In a press release by the WUC, Isa called the decision by Trudeau and his cabinet to abstain "disappointing" and urged the Canadian government to "lead the way with like-minded countries in a coordinated effort."
The passage was also welcomed by the Washington-based Uyghur Human Rights Project (UHRP), whose executive director Omer Kanat said that China's "atrocity crimes demand a worldwide response."
"We are now in the fifth year of unimaginable hell," he added.
Kanat called on Canada's government to develop a plan of action to follow-up on the vote, encourage allies to make similar designations, and work through the U.N. Human Rights Council to establish an independent mechanism to evaluate the Uyghur situation.
On Feb. 11 lawmakers in Belgium's Chamber of Representatives submitted a resolution on the XUAR similar to Canada's.
Washington's Campaign For Uyghurs (CFU) also commended the vote, urging Trudeau's government to endorse the designation and enact tougher restrictions on consumer goods and materials imported from the XUAR "to prevent the flow of goods made with Uyghur forced labor."
Earlier actions
While Monday's motion is non-binding, it marks the first time a legislative body has labeled the situation in the XUAR genocide, and members of the Conservative Party have called on Trudeau's government to officially endorse the designation. In October, a House of Commons subcommittee on human rights also voted to designate China's policies in the XUAR as genocide.
In one of his last acts in office, former U.S. Secretary of State Mike Pompeo last month said he had determined China is "committing genocide and crimes against humanity" in the XUAR against Uyghurs and other ethnic groups, and that Beijing and the ruling Chinese Communist Party (CCP) "must be held to account."
The new U.S. Secretary of State, Antony Blinken, has backed the label, suggesting that President Joe Biden's administration will pursue a more forceful approach in holding China accountable for its abuses in the region.
Emily Horne, the spokesperson for Biden's National Security Council, recently told the Washington Examiner that "President Biden has called the oppression of the Uyghurs a genocide, and he stands against it in the strongest possible terms."
Monday's vote in Ottawa came after a scolding from China's ambassador to Canada Cong Peiwu over the weekend, who denied reports of the camps, as well as of connected forced labor schemes, forced sterilization, and systemic rape and sexual assault.
"We urge the Canadian side to take seriously China's solemn position, respect the facts, discard prejudice, and correct mistakes … stop interfering in China's internal affairs by any means, so as not to cause further damages to China-Canada relations," Cong told The Canadian Press.
Observers suggest that Trudeau's government is playing it safe while China continues to hold Canadians Michael Kovrig and Michael Spavor in detention. The pair were taken into custody in December 2018 following Canada's arrest of Huawei executive Meng Wanzhou, the daughter of the technology firm's founder.
Canadian police detained Meng in Vancouver on a U.S. extradition request for charges of fraud. Her extradition case is pending in Canada.
Making genocide 'our business'
Ahead of the vote on Monday, Canadian shadow foreign minister and Conservative Party MP for the House of Commons Michael Chong told RFA's Uyghur Service that his party had introduced the motion "because the evidence is now clear" that China is committing genocide, based on media reports, accounts by former detainees, and satellite imagery.
He noted that the debate over the proposal in the House was "quite intense," but said he expected it to pass because "Canada has long had a strong tradition of standing up for human rights and the dignity of all peoples," including during the apartheid era in South Africa.
"We're not pretending that the official recognition by the government of Canada of the genocide will lead to its immediate cessation tomorrow," he said.
"That said, we believe it's a call to action for the world community to rally around so that action can be taken to put an end to this genocide."
He urged Trudeau to "no longer turn a blind eye" to the abuses in the XUAR and dismissed Ambassador Cong's warnings against proceeding with the motion, saying that China gave up its claims to sovereignty after entering international treaties—such as the 1948 Genocide Convention—and joining multilateral organizations like the United Nations.
At the same time, he said, the same things obligate Canada to "make this genocide our business."
"Every step along the way, when new evidence has come to light, China has denied this evidence and their denials are not believable," he said.
"The current Canadian government often said that it wants to work multilaterally and here's an opportunity to work multilaterally. The United States has already recognized the Uyghur genocide. We should join with our ally in recognizing this genocide and then work to convince other allies to recognize this genocide."
Call for access
Monday's vote came as the U.K. called for the U.N. to be given "urgent and unfettered" access to the XUAR to investigate reports of abuses in the region, on the same day it returned to the U.N. Human Rights Council as a voting member.
British Foreign Secretary Dominic Raab slammed China in an address to the council in Geneva, noting that there are now daily reports on China's "systematic human rights violations" in the XUAR.
"The situation in Xinjiang is beyond the pale. The reported abuses—which include torture, forced labor and forced sterilization of women—are extreme and they are extensive," he said.
Earlier on Monday, Chinese Foreign Minister Wang Yi delivered a speech at the Lanting Forum in Beijing dismissing "slanderous attacks" against Beijing for its policies in the region, which he said was an example of "human rights progress" in China. Wang said the government has implemented counter-terrorism measures that had led to "social stability and sound development" in the XUAR.
China in 2019 organized two visits to monitor internment camps in the XUAR—one for a small group of foreign journalists, and another for diplomats from non-Western countries, including Russia, Indonesia, Kazakhstan, and Thailand—during which officials dismissed claims about mistreatment and poor conditions in the facilities as "slanderous lies."
During the United Nations General Assembly in New York in September last year, U.S. Deputy Secretary of State John J. Sullivan told the gathering that these trips and the China-friendly accounts they produced were "Potemkin tours in a failed attempt to prove" that the camps were humane training centers.
In July 2019, after China's ambassador to the U.N. invited its human rights czar Michelle Bachelet to visit the XUAR to "see for herself" what he called "education training centers" in the region, the Office of the United Nations High Commissioner for Human Rights (OHCHR) told RFA that she would not accept unless given access to the camps on her own terms.
Reported by Jilil Kashgary for RFA's Uyghur Service. Written in English by Joshua Lipes.
Source: Copyright © 1998-2016, RFA. Used with the permission of Radio Free Asia, 2025 M St. NW, Suite 300, Washington DC 20036. https://www.rfa.org