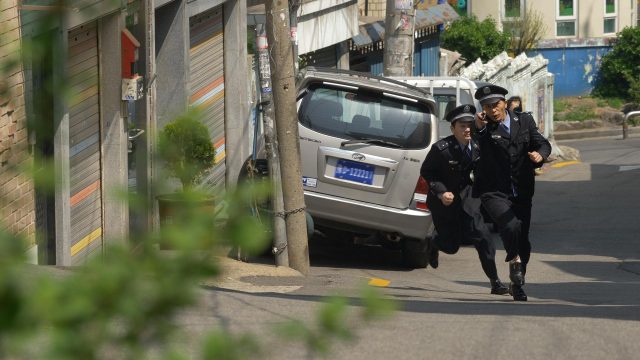 Christian Li En recounted how the CCP ruined his family: his mother in her 60s with various illnesses was arrested and detained, and he and his aged and ill father were pursued by the CCP and had no choice but to flee from home one after another …
His mother's second arrest
"In September last year, the thing that I was worried the most happened: my mother was arrested and detained again," said Li En (pseudonym), a member of The Church of Almighty God (CAG) from the southern province of Guangdong, recalling that he collapsed on a chair when receiving the news, filled with sad anxiety at the thought that his mother in her 60s, suffering cataracts, lumbar hyperplasia, and other illnesses, would be mistreated and tormented in the CCP's dark jail.
There was every likelihood that his mother would be sentenced to prison after this arrest, as she fled home to evade the police surveillance after she was released from detention following her arrest in a gathering ten years before.
It was approaching the 70th anniversary of the founding of new China [referring to 2019], when the CCP launched a nationwide suppression campaign against the CAG. In August and September that year, nearly 1,000 CAG members were arrested in the five provinces of Shandong, Shanxi, Fujian, Henan, and Guangdong. In Guangdong Province, at least 89 CAG members were arrested, among whom was Li En's mother.
"At that time, how I wished to rush to the detention house to visit my mother, but I would most probably be arrested by the CCP if I did so," Li En said, adding that what he could do was pray for his mother in those adverse circumstances, as some of his leaders and co-workers were arrested and the CCP tried to arrest more CAG members in various places by offering rewards for reports on them.
"My father had expected that he could meet with my mother at the Mid-Autumn Festival (15th day of the 8th lunar month). That was his greatest comfort," Li En continued, remembering that his gray-haired father wept immediately when learning the news, looking even more aged and haggard. His father had no appetite every day and had a relapse of his emphysema which had turned better after a long time, as he was worried that his wife might be subjected to the CCP's torture, and anxious about whether he in his declining years could meet her.
Li En and his father pursued by CCP one after another
Other bad news came before Li En and his father were freed from their grief for his mother's arrest. A released CAG member told them that the police were investigating the whereabouts of his father. As a result, he and his father had no choice but to flee from home. His father, though suffering illnesses, did not dare to go to see a doctor for fear of being surveilled and arrested by the police.
In 2020, the spreading coronavirus pandemic did not stop the offensive of the CCP's persecution against CAG members. Hundreds of CAG members were arrested, tortured, or sentenced to prison.
"In April, I learned from a released sister that the police claimed I was the next one to be arrested," Li En remembered.
At that time, he was doing the church work in another region, but the unexpected risk forced him to go into hiding, leaving him unable to continue taking care of his father.
A complete and happy family was thus torn apart under the CCP's persecution. Li En's mother was arrested, hard to tell whether she is alive or not, and his father suffers illnesses during his fugitive life, to whom Li En can only send word to ease his anxiety.
In mainland China, there are many CAG Christian families that share similar stories with Li En's. According to a 2018 report by the UN High Commissioner for Human Rights, during 2014-2018, the Chinese Communist Party's monitoring, arrest, and persecution had caused at least 500,000 Church of Almighty God (CAG) Christians to flee their home, and several hundred thousand families had been torn apart.