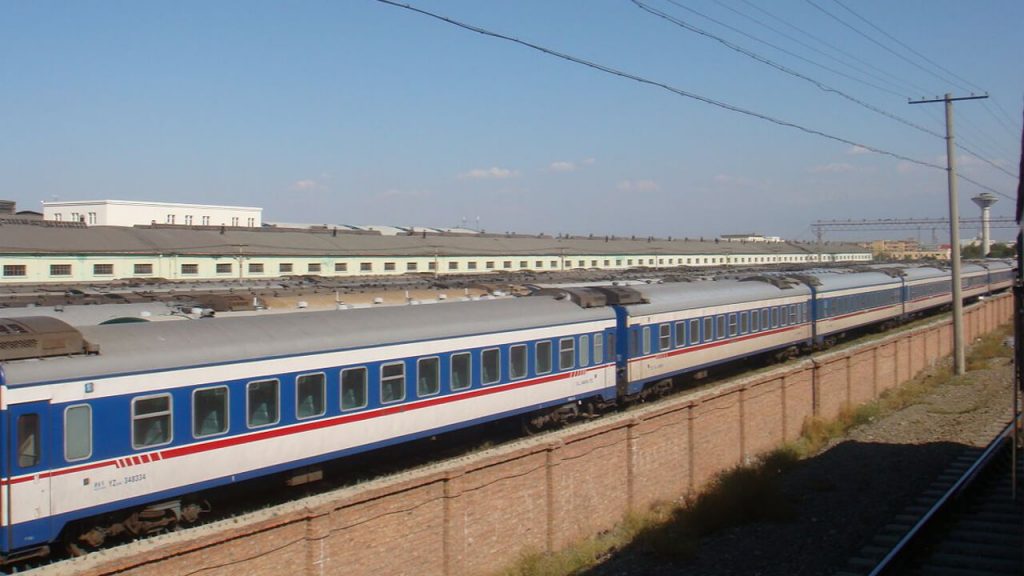 Authorities in northwest China's Xinjiang Uyghur Autonomous Region (XUAR) are secretly transferring Uyghur detainees to prisons in Heilongjiang province and other areas throughout the country to address an "overflow" in the region's overcrowded political "re-education camps," according to officials.
Beginning in April 2017, Uyghurs accused of harboring "strong religious views" and "politically incorrect" ideas have been jailed or detained in re-education camps throughout the XUAR, where members of the ethnic group have long complained of pervasive discrimination, religious repression, and cultural suppression under Chinese rule.
Sources say detainees face rough treatment at the hands of their overseers in the camps and endure poor diets and unhygienic conditions in the often overcrowded facilities.
While investigating claims from members of the Uyghur exile community, official sources in Kashgar (in Chinese, Kashi) prefecture's Kona Sheher (Shufu) county confirmed to RFA's Uyghur Service that authorities have been moving Uyghurs from detention centers in the XUAR to prisons in other parts of China.
"Based on the seriousness of their crime, inmates are being transferred to other major prisons in the region and also to inner China," an officer at the police department in Kona Sheher's Tashmiliq township told RFA, speaking on condition of anonymity.
"I think they are being transferred to inner China because they can be educated better there, and another reason is that since there are too many prisoners here and we are experiencing an overflow of inmates."
The officer said that authorities began relocating Uyghur inmates to other parts of China at "the beginning of this year."
"We have a political officer named Najmidin Bedelhaji who took some inmates to a Chinese city last month, but most of the time a unit of the Public Security Bureau escorts them there," he said.
"Yasin Abla, the deputy chief of the county police department, and the local head of the Public Security Bureau, is the person in charge of carrying out the transfers."
The prisoner transfers add another layer of opacity to extrajudicial detention in the XUAR, where family members are rarely provided with information about why their loved ones are arrested and where they are held.
Tailai Prison
Among the facilities that Uyghur detainees have been taken to is a prison with a maximum capacity of 4,300 inmates in northeast China's Heilongjiang province's Tailai county, where officials confirmed a transfer had occurred in recent weeks.
When asked how many detainees were transferred to Tailai Prison, an official with the county Political Consultative Conference told RFA's Mandarin Service. "I don't know the exact number," but said they had been sent there "around one month ago," citing information he had received from local residents.
A secretary at the Tailai County Government office, who gave his name as Zhao, also said he was aware that Uyghur detainees had been sent to the county prison, but was unsure of how many.
"A part of the group came in a week ago," he said, before referring further questions to Tailai Prison officials.
A Han Chinese resident of Tailai county told RFA the Uyghur detainees were sent to the local prison as part of a "prisoner exchange."
"The prisoners from Xinjiang were transferred to our county prison, and the prisoners in our prison were sent to Xinjiang," said the resident, who asked to remain unnamed.
"It seems the Uyghur prisoners were removed to prevent unrest in Xinjiang. As a result, the prison guards [here] are demanding a pay raise, citing the risks they now face at their work."
According to the resident, Tailai Prison normally interns prisoners who have been sentenced to 15 years or more in jail for serious offenses.
"I believe the prisoner swap has been completed," she said, adding that she had learned about the transfer from the family members of guards at Tailai Prison.
"The People's Armed Police chartered trains and delivered the prisoners for the swap."
Train ticket moratorium
Information about the prisoner swap came amid a Sept. 26 report by the Urumqi Evening News that sales of train tickets will be suspended indefinitely from Oct. 22.
"The Xinjiang railway administrative departments will stop selling tickets on all passenger services leaving Xinjiang, and also for intraregional services, from Oct. 22, 2018," the newspaper reported.
"A separate announcement will be made regarding when ticket sales will be resumed," it said.
Meanwhile, several anonymous sources in the XUAR gave anecdotal evidence to RFA suggesting that the authorities are preparing to move large numbers of prisoners in and out of the region in the coming weeks, estimating that as many as 300,000 inmates could be transported across Xinjiang's road and rail networks.
"The prisons are overflowing all across Xinjiang, that's one reason [for the ticket sales ban]," an anonymous source told RFA. "The other reason is secrecy; because a lot of the people in the camps, such as the police, the administrators or the workers … have connections with the local population."
"Some of the staff in the jails have close relatives who have been locked up there, and they leak information to the outside world," the source said.
The same source said the authorities are stepping up efforts to impose an information blackout around the camps, many of which have been identified by online researchers using satellite imagery.
"There was a directive about strengthening management of the re-education camps," the source said. "There are a lot of tangled relationships in the camps, with the friends, relatives and former colleagues of camp staff locked up in there."
"They are now bringing in administrators from outside the local areas, and at the same time they are transporting the prisoners outside of their local area," the source said.
Thousands transported
An overseas source who asked to be identified only as a Muslim, said several thousand ethnic Muslims were transported from Ili Kazakh (Yili Hasaake) Autonomous Prefecture's Ghulja (Yining) city near the border with Kazakhstan, to Altay, in the same prefecture, while the inmates at Altay were sent to detention facilities in Changji Hui Autonomous Prefecture.
The source said Uyghurs from Kashgar and Aksu in the south of the region were meanwhile being transferred to the Xinjiang Production and Construction Corps, or bingtuan, prison facilities in Ili.
The authorities have also begun recruiting large numbers of personnel from the western region of Gansu in a bid to replace local staff and guards in the camps, the source said.
In Ili's Kunes (Xinyuan) county, several hundred army and police personnel were dispatched to escort several thousand inmates of a "re-education camp for extremists" to Yining railway station, where they were put on a train for an unknown destination.
Passers-by were banned from taking photos, private vehicles were banned from the streets and businesses along the route were ordered to close during the operation, a source in the region said.
And a separate source said that large numbers of people had been converging on the regional capital, Urumqi, in recent days aboard buses with the windows blacked out.
"It's because there are so many of them locked up; they are being taken to other parts of China, one busload at a time," she said.
Route closure
Meanwhile, the Aksu Highway Administration shut down the Tielimaiti tunnel along with a large section of nearby highway, citing a large snowfall in the area, according to a notice of closure shown to RFA.
"Owing to recent weather conditions, the section of highway near the Tielimaiti Tunnel has seen a large snowfall over a wide area … and are unsuitable for traffic," the notice said.
National highway G217, an arterial and, in parts, a former military restricted road linking the northern and southern parts of Xinjiang across the Tianshan mountains and the Taklamakan Desert, was therefore announced closed until the end of April 2019, it said.
"Traffic is prohibited to all vehicles," the notice, signed by Kucha and Aksu county highway agencies and traffic police, said. "We apologize for any inconvenience caused."
A source in Xinjiang said the Duku section of the highway linking Dushanzi and Kucha could have been ordered closed to enable the secret transportation of prisoners across the region, or their transfer to railway stations for transportation to other parts of China.
Another source said it may be needed to send armed police reinforcements to Ili and Kashgar, or to send detainees to other provinces.
An official who answered the phone at the Xinjiang regional government press office in Urumqi on Monday declined to comment when contacted by RFA, saying it was the wrong number.
Repeated calls to the police department, local police stations and guesthouses in Guma county (in Chinese, Pishan) in Xinjiang's Hotan prefecture rang unanswered during office hours on Monday.
Camp network
Western governments have increasingly drawn attention to re-education camps in the XUAR in recent months as media reports detail the stories of Uyghurs who have been detained in the facilities.
U.S. State Department spokesperson Heather Nauert recently said the U.S. government was "deeply troubled" by the crackdown on Uyghurs in Xinjiang, adding that "credible reports indicate that individuals sent by Chinese authorities to detention centers since April 2017 number at least in the hundreds of thousands, and possibly millions."
The official warned that "indiscriminate and disproportionate controls on ethnic minorities' expressions of their cultural and religious identities have the potential to incite radicalization and recruitment to violence."
A group of U.S. lawmakers, in a recent letter, asked President Donald Trump's administration to "swiftly act" to sanction Chinese government officials and entities complicit in or directing the "ongoing human rights crisis" in Xinjiang.
The position of China's central government authorities has evolved from denying that large numbers of Uyghurs have been incarcerated in camps to disputing that the facilities are political re-education camps. Beijing now describes the camps as educational centers.
Adrian Zenz, a lecturer in social research methods at the Germany-based European School of Culture and Theology, has said that some 1.1 million people are or have been detained in the re-education camps, which equates to 10 to 11 percent of the adult Muslim population of the region.
Dolkun Isa, president of the Munich-based World Uyghur Congress, called the reported prisoner transfers "China's attempt to eliminate the Uyghur detainees through cultural genocide coupled with ethnic cleansing."
China's treatment of Uyghurs in the XUAR amounts to "crimes against humanity," he said, urging the international community to "urgently respond" to the situation there.
Reported by Shohret Hoshur for RFA's Uyghur Service and by Qiao Long for RFA's Mandarin Service. Translated by Alim Seytoff, Mamatjan Juma and Luisetta Mudie. Written in English by Joshua Lipes and Luisetta Mudie.
Source: Copyright © 1998-2016, RFA. Used with the permission of Radio Free Asia, 2025 M St. NW, Suite 300, Washington DC 20036. https://www.rfa.org.