More than 45,000 residents of a mostly Uyghur-populated county in northwest China's Xinjiang Uyghur Autonomous Region (XUAR) are being held in three main political "re-education camps," according to a local official, who said the facilities are guarded by armed personnel.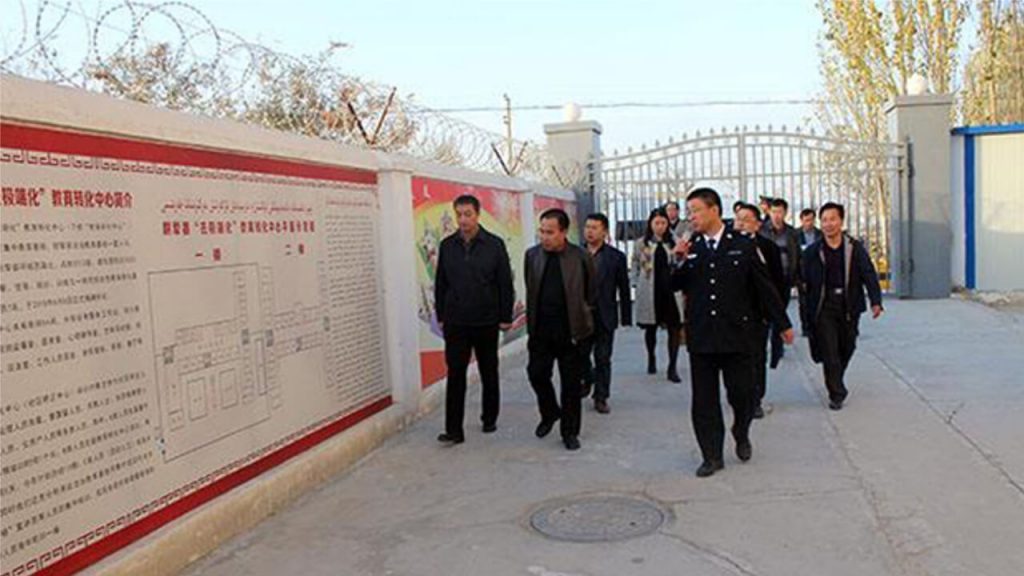 Beginning in April 2017, Uyghurs accused of harboring "strong religious views" and "politically incorrect" ideas have been jailed or detained in political re-education camps throughout the XUAR, where members of the ethnic group have long complained of pervasive discrimination, religious repression, and cultural suppression under Chinese rule.
A staffer at the Kuchar (in Chinese, Kuche) county police department in the XUAR's Aksu (Akesu) prefecture recently told RFA's Uyghur Service that three camps housing most of the county's detainees are located in the Yengisher district of the county seat—about 10 kilometers (six miles) from Kuchar city center.
"I believe it is more than 45,000 … [or] slightly less than 10 percent [of the population]," the staffer said, speaking on condition of anonymity, when asked how many residents of Kuchar county are currently held in the camps.
No.3 Re-Education Camp—the largest of the three—holds detainees accused of "minor offenses," he said, adding that the facility is mostly used to teach inmates Mandarin Chinese.
"[The camp holds] more than 10,000 [detainees], though it could be 15,000," he said.
"The most serious offenders are sent to the No. 1 and No. 2 re-education camps … I have heard they also built a fourth camp, but no one has been sent there yet."
The staffer told RFA that camp No. 1 holds "about 5,000 or 6,000" people who have been accused of listening to unsanctioned religious teachings, made the holy Muslim pilgrimage to Mecca or studied abroad in countries blacklisted by China's government because of the threat of religious extremism.
Camp No. 2 holds "between 5,000 and 10,000" detainees, he said, without providing details about the alleged "offenses" committed by people interned at the facility.
The staffer was unable to provide an estimate of the number of people who are forced to attend "open re-education camps," where students are permitted to return to their homes at night after daily indoctrination classes.
He said all four camps were accessible from downtown Kuchar via Hu Yang Road, through the village of Zhong Da Gou, and were well fortified.
"[No. 2 Re-Education Camp] was a prison and was expanded before being turned into a re-education camp—both No.1 and No. 2 were prisons originally," the staffer said, while No. 3 camp had been "newly built."
"They built the walls higher … more than three meters (10 feet)," he said of the camps.
"You can only see the second or third floors, and nothing below that, but there are armed guards on top of the buildings, inside the gates, and outside the gates."
A staffer at Haniqatam township's No. 7 village police station, in Kuchar county, recently told RFA that as many as 6,000 residents of the township have been held in re-education camps for as long as two years.
Camp network
An editorial in China's official Global Times newspaper recently dismissed international coverage of the re-education camps in the XUAR, which it labeled "training institutes," saying western media outlets were incorrectly referring to them as "detention" sites and "baselessly criticizing China's human rights."
Aside from the brief mention in the article, China's central government authorities have not publicly acknowledged the existence of political re-education camps in the XUAR, and the number of inmates kept in each facility remains a closely guarded secret. But local officials in many parts of the region have in RFA telephone interviews forthrightly described sending significant numbers of Uyghurs to the camps and even described overcrowding in some facilities.
Citing credible reports, U.S. lawmakers Marco Rubio and Chris Smith, who head the bipartisan Congressional-Executive Commission on China, said recently that as many as 500,000 to a million people are or have been detained in the re-education camps, calling it "the largest mass incarceration of a minority population in the world today."
Adrian Zenz, a lecturer in social research methods at the Germany-based European School of Culture and Theology, said the number "could be closer to 1.1 million, which equates to 10-11 percent of the adult Muslim population of the region."
Last week, China Human Rights Defenders (CHRD) and a partner NGO, Equal Rights Initiative, said they had found through interviews with people in the region that up to 3 million residents of the XUAR, especially ethnic Uyghurs, may have been detained in the political re-education camps or forced to attend "education sessions" for "de-radicalization" as of June this year.
Source: Copyright © 1998-2016, RFA. Used with the permission of Radio Free Asia, 2025 M St. NW, Suite 300, Washington DC 20036. https://www.rfa.org.