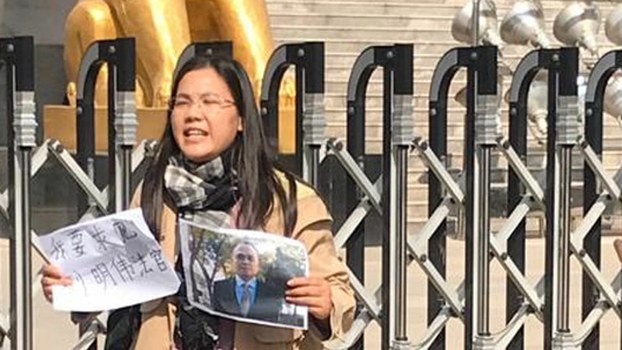 The wife of a prominent human rights lawyer has met with French officials during a recent state visit to China by French president Emmanuel Macron, to call for diplomatic pressure over her husband's case.
Xu Yan, wife of detained rights lawyer Yu Wensheng, said she had met with French diplomats on Wednesday in a bid to boost awareness of his plight.
"Yesterday I met the French foreign minister, the French ambassador, and a French human rights official," Xu told RFA on Thursday.
"I talked about Yu Wensheng's case, and also mentioned that he was the recipient of the Franco-German Prize for Human Rights in 2018."
"I asked the French government to tell the Chinese government to respect global universal values," she said. "The French foreign minister expressed his concern."
Chinese and French officials signed deals worth U.S.$15 billion during Macron's visit, which ended on Wednesday.
Authorities in Xuzhou, a city in the eastern province of Jiangsu, formally arrested Yu on Apr. 19, 2018.
He was initially held in Beijing, but later transferred to Xuzhou and placed under incommunicado detention on suspicion of "incitement to subvert state power" and "obstructing officials in the course of their duties."
He was indicted for subversion charges on Feb. 1 and his case transferred to the municipal prosecutor, Amnesty International said at the time. He has been held incommunicado and denied access to a lawyer.
Still awaiting a trial date
But Xu said she is still awaiting a trial date at the Xuzhou Intermediate People's Court.
"The Xuzhou Intermediate People's Court hasn't given me a clear answer, but … have said that the case is still awaiting trial … but has been postponed by the Supreme People's Court," she said.
"I hope that other governments can ask the Chinese government, including the Xuzhou Intermediate People's Court, to inform his family about Yu Wensheng's case in accordance with the law," she added.
"He has been secretly detained for six months, so they are already in breach of custody limits," she said.
Fellow rights lawyer Xie Yanyi, who was himself detained during a police operation targeting more than 300 rights lawyers, activists and law firms since July 2015, said Yu is a political prisoner.
"Yu Wensheng's case is based on speech crimes … and in this kind of trial the accused person really has no voice at all," Xie said. "We don't really know if he is dead or alive right now."
"Even if they are going to convict him, they should still follow the correct procedures," he said.
Liu Sixin, a former employee of the now-shutterd Beijing Fengrui public interest law firm, said the delays have likely been orchestrated to suit the ruling Chinese Communist Party's political calendar.
"If the international community continues to help, it will definitely help to resolve his case," Liu said.
"Based on past cases, it is very likely that they will announce the outcome around New Year's Day in 2020 or Lunar New Year," he said.
July 9 lawyer crackdown
Yu's detention came amid a nationwide police operation targeting more than 300 human rights lawyers, law firm staff and rights activists that began with a raid on the Beijing Fengrui Law Firm and some of its principal lawyers, including Wang Yu, on July 9, 2015.
Ten of those detainees have been jailed on subversion or public order charges since, Amnesty said.
Chinese law allows suspects to be held under "residential surveillance at a designated location" (RSDL) in cases allegedly involving matters of state security.
The measure, which enables the authorities to deny access to lawyers or family visits, has been repeatedly used to target human rights lawyers, and is associated with a higher risk of torture and other mistreatment, rights groups have warned.
Prior to his arrest, Yu had represented a number of high profile human rights cases, including members of the banned Falun Gong spiritual movement and fellow human rights lawyer Wang Quanzhang, who was similarly detained on subversion charges.
If convicted, he could face a maximum sentence of 15 years imprisonment for the subversion charge, if the circumstances are deemed particularly serious by the court.
Yu Wensheng had also been detained in October 2017 after he wrote an open letter criticizing President Xi Jinping as ill-suited to lead China due to his strengthening "totalitarian" rule over the country.
Rights activists have said his family and friends believe that the letter was the trigger for his detention.
Reported by Ng Yik-tung and Sing Man for RFA's Cantonese Service, and by Cai Ling for RFA's Mandarin Service. Translated and edited by Luisetta Mudie.
Source: Copyright © 1998-2016, RFA. Used with the permission of Radio Free Asia, 2025 M St. NW, Suite 300, Washington DC 20036. https://www.rfa.org.