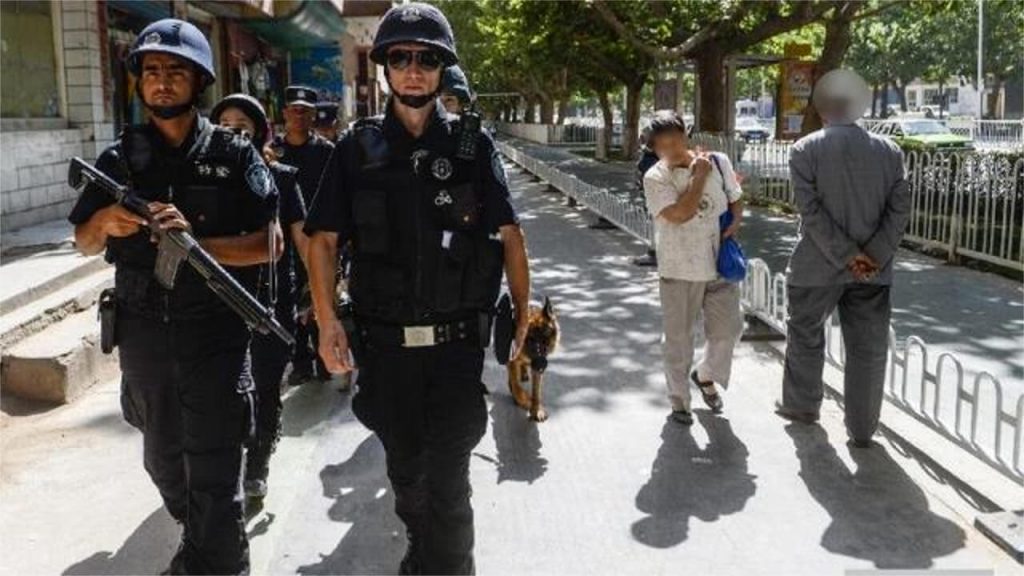 The Uyghur editor-in-chief of a state-run literature magazine in northwest China's Xinjiang Uyghur Autonomous Region (XUAR) has committed suicide "out of fear" of being detained in a political "re-education camp," according to sources, amid a spate of arrests of Uyghur officials accused of "two-faced" tendencies.
Qeyser Qeyum, the 55-year-old editor-in-chief of Literature Translation magazine, published under the Xinjiang Association of Literature and Art, killed himself by "jumping out of the 8th floor" of his office building in the regional capital Urumqi, Qutluq Almas, who previously worked with him in the Literature Department at Xinjiang University, told RFA's Uyghur Service.
Almas, who is now living in exile in the U.S., had earlier informed RFA that Azat Sultan, the Uyghur former vice president of Xinjiang University, was arrested in July last year from the Xinjiang Association of Literature and Art where he served as president, and is being held in one of the XUAR's political "re-education camps."
Beginning in April 2017, Uyghurs accused of harboring "strong religious views" and "politically incorrect" ideas have been jailed or detained in political re-education camps throughout the XUAR, where members of the ethnic group have long complained of pervasive discrimination, religious repression, and cultural suppression under Chinese rule.
Days after Almas contacted RFA, Juret Nizamidin, a former journalist with the official Xinjiang Daily newspaper, also provided information about Qeyum's death.
He said the offices of Literature Translation at the Xinjiang Association of Literature and Art are located next to those of the Xinjiang Daily, whose Uyghur deputy editor-in-chief and three Uyghur directors were arrested for being "two-faced" by authorities in mid-2017, and that between their detentions and that of Sultan, Qeyum was afraid he would be targeted next.
"Two-faced" is a term applied by the government to Uyghur cadres who pay lip service to Communist Party rule in the XUAR, but secretly chafe against state policies repressing members of their ethnic group.
"Similar to the arrests of the four editors from our newspaper, ordered by the Disciplinary Committee, they arrested Azat Sultan from the Xinjiang Association of Literature and Art," Nizamidin said.
"Not long after these arrests took place [in August 2017], Qeyser Qeyum committed suicide by jumping from the 8th floor," he added.
"Can you imagine the horror that people are going through? He died so tragically by jumping from the building out of fear."
When asked if Qeyum had committed suicide by leaping from the building, the head of the Xinjiang Association of Literature and Art's Political Department told RFA during a phone interview that "he did," but referred further inquiries about the incident on to "other departments."
Additional sources, who spoke to RFA on condition of anonymity, said authorities had ordered Qeyum in for questioning one week before his death, and that he had received an official phone call on the day he committed suicide informing him that he was going to be sent to a re-education camp.
'They terrorize the target'
Almas told RFA that Qeyum was "a very careful person" who was "never involved in politics."
But he said that he was unsurprised that the editor-in-chief had been driven to suicide.
"I was born and brought up in that system, and when they decide to go after someone, they terrorize the target," he said.
"They are specialists in creating an environment of horror, and they ensure that the targeted person is as afraid as possible."
When asked how an editor at Literature Translation magazine, which translates articles written by Chinese and foreign authors about art and literature into the Uyghur language, could fall afoul of the authorities, Almas suggested that it may have been because of some of the content that was chosen.
"Since the term 'two-faced' was first coined, it has become very easy for the authorities to frame and criminalize people," he said.
Camp network
Western governments have increasingly drawn attention to re-education camps in the XUAR in recent months as media reports detail the stories of Uyghurs who have been detained in the facilities.
U.S. State Department spokesperson Heather Nauert recently said the U.S. government was "deeply troubled" by the crackdown on Uyghurs in Xinjiang, adding that "credible reports indicate that individuals sent by Chinese authorities to detention centers since April 2017 number at least in the hundreds of thousands, and possibly millions."
The official warned that "indiscriminate and disproportionate controls on ethnic minorities' expressions of their cultural and religious identities have the potential to incite radicalization and recruitment to violence."
A group of U.S. lawmakers, in a recent letter, asked President Donald Trump's administration to "swiftly act" to sanction Chinese government officials and entities complicit in or directing the "ongoing human rights crisis" in Xinjiang.
The position of China's central government authorities has evolved from denying that large numbers of Uyghurs have been incarcerated in camps to disputing that the facilities are political re-education camps. Beijing now describes the camps as educational centers.
Adrian Zenz, a lecturer in social research methods at the Germany-based European School of Culture and Theology, has said that some 1.1 million people are or have been detained in the re-education camps, which equates to 10 to 11 percent of the adult Muslim population of the region.
Reported by Shohret Hoshur for RFA's Uyghur Service. Translated by Alim Seytoff. Written in English by Joshua Lipes.
Source: Copyright © 1998-2016, RFA. Used with the permission of Radio Free Asia, 2025 M St. NW, Suite 300, Washington DC 20036. https://www.rfa.org.