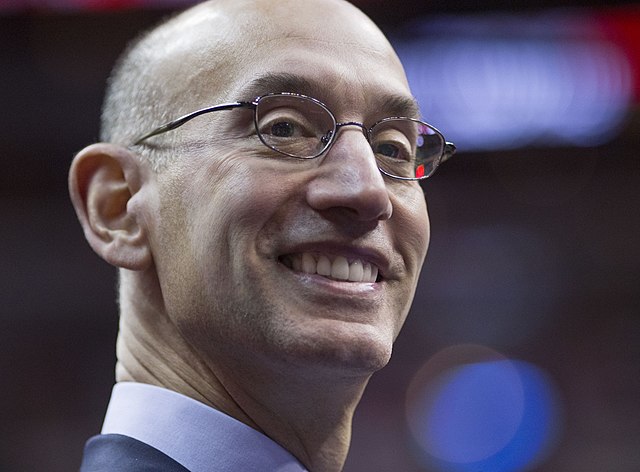 A Republican Senator has weighed into a row over the National Basketball Association (NBA)'s attitude to China after it condemned Houston Rockets manager Daryl Morey for his public support of the Hong Kong protest movement.
Josh Hawley wrote to NBA chief Adam Silver calling on the sporting body to remember its responsibilities and to stop aiding "the most brutal of regimes."
"Remember that some things are more important than money," Hawley told the NBA. "Remember your responsibility … For an American organization to help the most brutal of regimes silence dissent in pursuit of profit is appalling."
He called for an end to all NBA exhibition games in China until the situation in Hong Kong was resolved.
"For five months now, Hong Kong's citizens have been calling for representative government and preservation of their basic liberties,"
Hawley wrote. "In response, and at the instruction of the Chinese Communist Party, the Government of Hong Kong has engaged in escalating repression."
"Police have employed tear gas, batons, water cannons with dye, pepper spray, and rubber bullets against their own people," he said, adding that thousands have been hospitalized and arrested amid a lack of transparency over whether anyone died — a reference to a raid by riot police who attacked passengers in Prince Edward MTR station on Aug. 31.
The NBA had responded to Morey's support for the movement by tweeting that he had "deeply offended many of our friends and fans in China, which is regrettable."
"What is regrettable is the suppression and political violence carried out by the Chinese Communist Party against the good people of Hong Kong," Hawley said, citing Joseph Tsai, co-founder of the Chinese online trading giant Alibaba and owner of the Brooklyn Nets, who has also called the demonstrations a "separatist movement."
"The people of Hong Kong are themselves Chinese and are seeking nothing more than basic liberties Beijing has promised them," he wrote.
Houston Rockets rebroadcasts cancelled
Chinese broadcasters have been ordered to cancel any rebroadcasts of the Houston Rockets' NBA games because Morey tweeted the words "stand with Hong Kong."
But Silver appeared to double down on the NBA's position on Tuesday, saying he still regrets that Chinese fans are upset.
"We are not apologizing for Daryl exercising his freedom of expression," NBA chief Adam Silver said, referring to Morey.
"I regret, again having communicated directly with many friends in China, that so many people are upset, including millions and millions of our fans," he said.
Hong Kong-based Twitter users also called on protesters to delete the game Hearthstone after the company that developed it sanctioned a Hong Kong player for shouting out a protest slogan after winning a tournament.
The company, Blizzard, said it had revoked prize money due to the player, Blitzchung, for violating its rules by engaging in "individual behavior which does not represent Blizzard or Hearthstone Esports."
The row over Morey's support for the Hong Kong protesters comes after Chinese censors deleted all clips, shows and references to the animated comedy show South Park after it aired an episode titled "Band in China" that made fun of Chinese censorship.
"A search of the Twitter-like social media service Weibo turns up not a single mention of South Park among the billions of past posts," the Hollywood Reporter said in a recent report. "On streaming service Youku, owned by Internet giant Alibaba, all links to clips, episodes and even full seasons of the show are now dead."
And on Baidu's Tieba, if users manually type in the URL for what was formerly the South Park thread, a message appears saying that, "According to the relevant law and regulation, this section is temporarily not open," the report said.
Band in China
Twitter user @nomad99hk, who is identified as a Chinese University of Hong Kong student on their bio, said the Chinese Communist Party is a threat to freedom.
"The victims is not just us Hongkongers, but also the Tibetans and Uyghurs, who are suffering … de facto genocide," the user wrote in response to a tweet from Hawley.
Hong Kong-based Twitter user @JanetTeddy111 agreed.
"NBA as a national league of the US, it should play a role to defend the freedom of speech & stand up for its own people who're just telling the truth," the user wrote.
Other users tweeted screenshots of mainland Chinese social media comments saying that they would support the Sept. 11, 2001 terror attacks on the U.S. if the U.S. supported Hong Kong's "pro-independence" movement.
The Hong Kong protest movement is demanding: the formal withdrawal of an amended law enabling extradition to mainland China; an independent inquiry into police violence; an amnesty for thousands of arrested protesters; an end to the description of protesters as 'rioters'; and fully democratic elections to the Legislative Council (LegCo) and for the post of chief executive.
The South Park episode involves some of the shows characters running afoul of Chinese censorship, while another is sent to a Chinese prison where he runs into Winnie the Pooh, a satirical reference to the bear's targeting by censors over his alleged resemblance to President Xi Jinping.
One character comments during the episode: "You gotta lower your ideals of freedom if you want to suck on the warm teat of China."
South Park" creators Trey Parker and Matt Stone later offered a fake apology to China on Twitter, saying that they, like the NBA, "welcome the Chinese censors into our homes and into our hearts."
"We too love money more than freedom and democracy. Xi doesn't look just like Winnie the Pooh at all," the apology said. "Long live the Great Communist Party of China! May this autumn's sorghum harvest be bountiful! We good now China?" they wrote.
Reported by Pan Jiaqing for RFA's Cantonese Service, and by Xi Wang for the Mandarin Service. Translated and edited by Luisetta Mudie.
Source: Copyright © 1998-2016, RFA. Used with the permission of Radio Free Asia, 2025 M St. NW, Suite 300, Washington DC 20036. https://www.rfa.org.