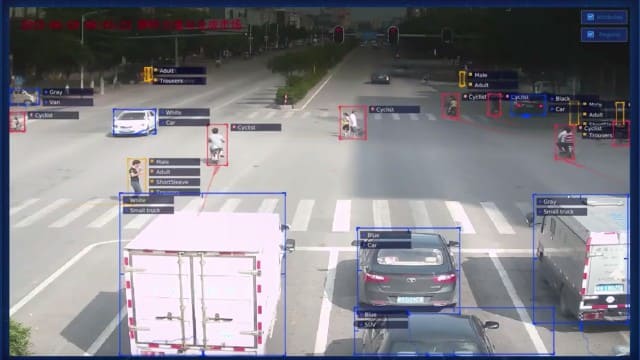 UPDATED at 5:05 P.M. ET on 2019-10-08
The U.S. Department of Commerce has blacklisted 28 governmental or commercial entities from China it said are implicated in rights abuses against Uyghurs and other ethnic Muslim minorities in the country's Xinjiang Uyghur Autonomous Region (XUAR).
The XUAR's Public Security Bureau, 19 government entities, and eight commercial entities were blacklisted for "activities contrary to the foreign policy interests of the United States," the Department of Commerce said in an announcement on Monday, citing their involvement in "China's campaign of repression, mass arbitrary detention, and high-technology surveillance."
"The U.S. Government and Department of Commerce cannot and will not tolerate the brutal suppression of ethnic minorities within China," said Secretary of Commerce Wilbur Ross.
"This action will ensure that our technologies, fostered in an environment of individual liberty and free enterprise, are not used to repress defenseless minority populations."
Among the companies added to the Department of Commerce's Entity List were Hikvision and Dahua Technology—global leaders in video surveillance products who employ more than 34,000 and 16,000 employees worldwide.
Other companies included voice recognition software maker iFlytek; artificial intelligence firms SenseTime, Yitu Technologies, and Megvii; Xiamen Meiya Pico Information Co., which specializes in forensic data analysis; and nanotechnology company Yixin Science and Technology.
The blacklisting will block the ability of the companies to obtain U.S.-produced components and could limit their access to Western markets, potentially dealing a blow to China's bid to become a leading exporter of surveillance technology.
Also on Tuesday, U.S. Secretary of State Mike Pompeo announced visa restrictions on Chinese officials "who are believed to be responsible for, or complicit in, the detention and abuse of Uighurs, Kazakhs, or other members of Muslim minority groups" in the XUAR.
"The United States calls on the People's Republic of China to immediately end its campaign of repression in Xinjiang, release all those arbitrarily detained, and cease efforts to coerce members of Chinese Muslim minority groups residing abroad to return to China to face an uncertain fate," Pompeo said in a statement.
After the announcement of visa restrictions, Pompeo noted in a tweet that "China has forcibly detained over one million Muslims in a brutal, systematic campaign to erase religion and culture in Xinjiang."
Mass incarcerations in the XUAR, as well as other policies seen to violate the rights of Uyghurs and other Muslims, have led to increasing calls by the international community to hold Beijing accountable for its actions in the region.
Authorities are believed to have held more than 1.5 million Uyghurs and other Muslim minorities accused of harboring "strong religious views" and "politically incorrect" ideas in a vast network of internment camps in the XUAR since April 2017.
While Beijing initially denied the existence of the camps, China this year changed tack and began describing the facilities as "boarding schools" that provide vocational training for Uyghurs, discourage radicalization, and help protect the country from terrorism.
Reporting by RFA's Uyghur Service and other media organizations, however, has shown that those in the camps are detained against their will and subjected to political indoctrination, routinely face rough treatment at the hands of their overseers, and endure poor diets and unhygienic conditions in the often overcrowded facilities.
RFA has also documented a significant deployment of surveillance technology in the XUAR and other parts of China in recent years that the central government has used to compile a database of information on its citizens and track their movements in a bid to predict potential crimes or social unrest in real time.
Blacklist reactions
The Department of Commerce's announcement comes days ahead of meetings planned between Chinese and American officials in Washington to resolve a trade war that has led to the leveling of tariffs on billions of dollars of products and other restrictions on investment.
Speaking to reporters at a regular press briefing in Beijing on Tuesday, Chinese Ministry of Foreign Affairs spokesperson Geng Shuang said that the Department of Commerce's decision to blacklist the entities "seriously violates the basic norms governing international relations, interferes in China's internal affairs and undermines China's interests."
Geng demanded that the U.S. withdraw its decision and rejected accusations of rights abuses in the XUAR, which he called "made-up pretexts for [U.S.] interference," adding that policies in the region are aimed at eradicating "extremism and terrorism."
The Uyghur exile community welcomed the Department of Commerce's announcement on Tuesday, with Nury Turkel, a lawyer and chairman of the Washington-based Uyghur Human Rights Project, calling it a "long overdue designation that will potentially change the behavior of the Chinese government."
"Chinese tech giants and government entities should be held to account for aiding and abetting in systematic and deliberate attempts to destroy Uyghurs' ethno-national identity and existence as a distinct nation," he told RFA's Uyghur Service.
Sophie Richardson, the China director at New York-based Human Rights Watch, called the blacklisting a "significant move by the Trump administration in response to gross human rights violations in Xinjiang," and expressed hope that it would bring pressure to bear on Beijing.
"We certainly hope the message that's conveyed to other governments … is that measures like sanctions are necessary and appropriate," she said.
"[We hope] they will draw a line in one of China's most egregious human rights violations of the last decade and say, 'This is unacceptable behavior—we're going to pull levers that can potentially affect the behavior of officials and companies in the region to try to end the human rights crisis.'"
Departure from US policy
U.S. author and commentator Gordon G. Chang told RFA that the blacklisting signaled "a major departure of long-held American policy" towards China."
"The Chinese have to see that, across the U.S. political spectrum, Beijing is viewed as a maligned actor, and this is a reversal of four decades of U.S. engagement with China," he said.
"Chinese officials have to be especially worried that they've not only lost the support of the United States, the United States is now treating them like an enemy … We're now treating them like they're treating us."
The new additions to the Entity List join the Chinese telecom giant Huawei, which the Trump administration blacklisted in May this year, citing national security concerns, and five Chinese entities that lead China's development of high-performance computing, added a month later.
The U.S. Senate last month unanimously passed the first legislation by any nation in response to human rights abuses against ethnic Uyghurs in the XUAR, which would authorize regular monitoring of the situation by various government bodies.
The bipartisan Uyghur Human Rights Policy Act, introduced by Senators Marco Rubio of Florida and Bob Menendez of New Jersey, would appoint a special State Department coordinator on the XUAR and require regular reports on the region's internment camps, surveillance network and security threats posed by an ongoing crackdown on the Uyghur people—if ratified by the House of Representatives.
Reported by Alim Seytoff and Mamatjan Juma for RFA's Uyghur Service. Translated by Alim Seytoff. Written in English by Joshua Lipes.
Source: Copyright © 1998-2016, RFA. Used with the permission of Radio Free Asia, 2025 M St. NW, Suite 300, Washington DC 20036. https://www.rfa.org.