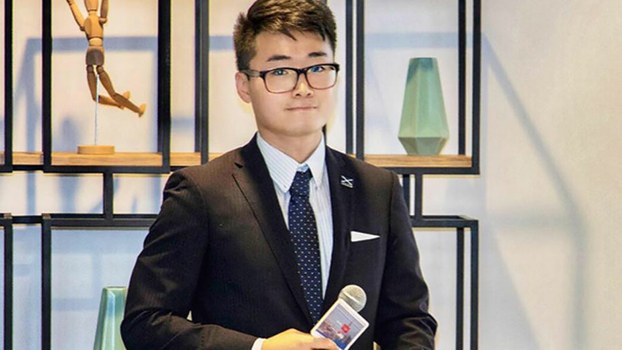 Britain on Wednesday summoned the Chinese ambassador to express "outrage" at the detention and torture of a former employee of the British consulate in Hong Kong, which came after he took part in the five-month-long pro-democracy protests in the city.
Foreign Secretary Dominic Raab said he had expressed "our outrage at the brutal and disgraceful treatment of Simon Cheng in violation of China's international obligations."
"I have made clear we expect the Chinese authorities to investigate and hold those responsible to account," Raab said in a statement posted to the Foreign and Commonwealth Office website.
"Simon Cheng was a valued member of our team," he said, adding that the authorities were "working to support" Cheng's application for entry to the U.K. "We were shocked and appalled by the mistreatment he suffered while in Chinese detention, which amounts to torture."
China confirmed on Aug. 21 that it was holding Cheng under administrative detention, 11 days after his family reported him missing.
Cheng, investment director for the Scottish International Development Agency under the aegis of the British Consulate General in Hong Kong, was reported missing after he failed to turn up to work since Aug. 9 following a trip across the border to the neighboring city of Shenzhen, in mainland China.
His detention came after weeks of tension between the U.K. and China, with Beijing repeatedly warning London not to "interfere" in its internal affairs by commenting on long-running pro-democracy protests in Hong Kong.
Cheng's family raised the alarm after Cheng failed to return from a one-day business meeting in Shenzhen on Aug. 8, in spite of having boarded the high-speed train to West Kowloon station in Hong Kong.
His messages to his girlfriend ended just as he was about to pass through immigration at a controversial joint checkpoint that is legally controlled by mainland China.
Hours of torture during interrogation
Cheng has since detailed his torture at the hands of Chinese state security police in Shenzhen, confirming speculation that he had been detained while in the controversial dual checkpoint area of the West Kowloon high-speed rail terminus, which was designated part of the People's Republic of China in a controversial move amid fears of cross-border arrests and detentions within Hong Kong's borders.
"I was stopped while I was passing through the border from Mainland within Hong Kong West Kowloon Highspeed Railway Station, after I took the high-speed train from Shenzhen Futian Railway Station," he wrote in a Facebook post on Wednesday. "I was sent to Shenzhen by high-speed train and handed over to plainclothes police officers. I later learnt they are from the State Security Bureau (the political/secret police)."
Cheng detailed hours of torture during interrogation sessions where he was restrained in a "tiger chair" and asked to detail the role of the U.K. in the Hong Kong protests.
Told that he could be jailed for decades for subversion or rioting, Cheng was forced to confess to charge of "soliciting prostitutes." He said papers relating to his detention had the date fields left blank, so he never knew if or when he would be released.
"Secret police forced me to open my iPhone by grabbing my hair to do the facial recognition," Cheng wrote. "The interrogator said: 'We suspect you are a British spy and secret agent.' After they used violence, I gave my passcode."
"I was handcuffed, shackled, blindfolded and hooded (so it was hard to breathe). I was not allowed to wear glasses from the very beginning, so I kept feeling dizzy and suffocated," Cheng wrote.
Later, he was taken to an out-of-town location where interrogators shackled him to an X-shaped cross "doing a spread-eagled pose for hours after hours," he said. "I was forced to keep my hands up, so blood cannot be pumped up my arms. It felt extremely painful."
Cheng was also forced into stress positions for hours on end while being beaten and prodded with sharpened batons and deprived of sleep, he said. He was ordered not to speak, so the torture had little to do with extracting information, he said.
Later, he was told to write a statement confirming that the U.K. had instigated the protests in Hong Kong, and donated money, materials and equipment, and that he had helped to organize protesters on the U.K.'s behalf.
"Realising the seriousness of the crime they accused me of would probably mean I would be sentenced for over decades or even for life in prison, I solemnly denied the accusations no matter how harsh I was treated," Cheng, who sustained serious bruising on his ankles, thighs, wrists and knees, wrote.
Media reports bring more lenient treatment
Held in solitary for days, Cheng broke down at one point and pleaded to be sent to the concentration camps in the northwestern region of Xinjiang, where at least 1.5 million Muslims are believed to be incarcerated.
Cheng said he was treated more leniently after 11 days' detention, which he linked to international media reports of his detention, although state security police then tried to recruit him to spy for them.
He was eventually released after 15 days' administrative detention after being forced to confess to "soliciting prostitutes" and "betraying the motherland" and being filmed "voluntarily" handing over emails from the British Consulate and Telegram messages from protesters.
"They escorted me through special channel and stopped following me on the bridge toward Hong Kong above the Shenzhen River," Cheng wrote. "I can finally contact my family, close friends, and girlfriend. I took East Railway Train to Kowloon and stayed in a hotel for a few days, as the Chinese secret police had asked for my home and dorm addresses during the questionings and I did not feel safe there."
"I was granted a several-month paid leave by the Consulate and I have fled to a third place and foreign country for security reasons," he wrote. "I am seeking asylum by getting right of abode and landing work and study opportunities."
Cheng called for assistance from non-government groups in returning to normal life and finding a job. "My future is still uncertain and insecure," he said.
But he added: "I won't give up the fight for human rights, peace, freedom and democracy for the rest of my life, no matter the danger, discrimination and retaliation I will face."
The issue of whether or not mainland Chinese police can directly arrest and charge residents of Hong Kong lay at the heart of the anti-extradition protests that have rocked the city since early June.
Chinese authorities have stepped up border inspections at the crossing between Hong Kong and Shenzhen since protests began, and have been routinely scanning the phones and other devices of travelers.
State-run Chinese news media have waged a stridently nationalistic and anti-Hong Kong propaganda war in recent weeks, in an apparent bid to counteract the Hong Kong protesters' accounts of police violence, abuse of power and suspected use of Chinese agents provocateurs.
The nationalistic approach to Hong Kong has extended far beyond China's borders, with pro-China protesters showing up to shout abuse and, in some cases, commit physical assault, at overseas demonstrations in support of the territory.
Reported by RFA's Cantonese Service. Translated and edited by Luisetta Mudie.
Source: Copyright © 1998-2016, RFA. Used with the permission of Radio Free Asia, 2025 M St. NW, Suite 300, Washington DC 20036. https://www.rfa.org.