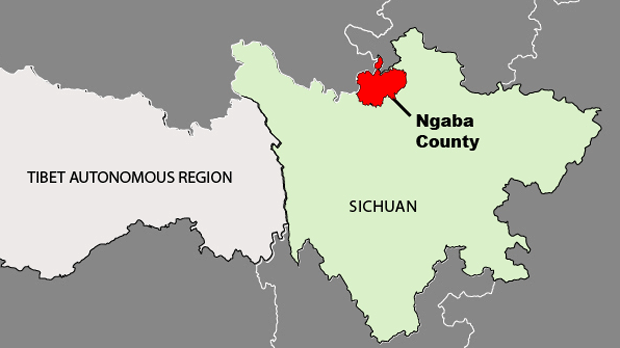 A Tibetan monk missing since he was detained by authorities more than a year ago in western China's Sichuan province has been sentenced to three years in prison, Tibetan sources say.
Lobsang Dorje, 36, was taken from his room in Ngaba county's Kirti monastery by police in July 2018, and was incommunicado until now, Kanyag Tsering—a monk at Kirti's branch monastery in India—told RFA's Tibetan Service on Thursday.
"We initially received news that Chinese police had arrested him on a charge of having contacts with outsiders, but it is unknown on what charge he has now been convicted," Tsering said, citing contacts in the Ngaba region.
Following his arrest, Dorje had been taken to several different places and held in various detention centers, and had then been brought back to Ngaba where he was tried and sentenced on Sept. 3, Tsering said.
Dorje is a native of Ngaba county's Chugle Kerma area and had been a monk at Kirti since his early childhood, Tsering said.
"He was arrested once before, in 2008, and had already served two years in prison. This is his second imprisonment," he said.
Ngaba's main town and nearby Kirti monastery have been the scene of repeated self-immolations and other protests by monks, former monks, and other Tibetans calling for Tibetan freedom and the return of exiled Tibetan spiritual leader the Dalai Lama.
Owing to strict clampdowns by authorities in Tibetan areas of China, news of protests and arrests is frequently delayed in reaching foreign news outlets and other outside contacts.
Politically sensitive cases
Speaking to RFA, Chinese human rights lawyer Li Jinglin said cases involving Tibetan defendants are considered politically sensitive.
"There is little chance of any Chinese lawyer taking up this case and intervening in it," Li said.
Few Chinese lawyers are willing or available now to take on Tibetan cases, agreed New York-based Chinese lawyer and rights advocate Teng Biao, adding, "China has confiscated the licenses of human rights lawyers."
"And even if a Tibetan family tries to hire a lawyer for the defense, they fear further retaliation from the Chinese government."
"Thus, minorities in China suffer under repressive Chinese policies," he said.
Reported by Lobe Socktsang for RFA's Tibetan Service. Translated by Dorjee Damdul. Written in English by Richard Finney.
Source: Copyright © 1998-2016, RFA. Used with the permission of Radio Free Asia, 2025 M St. NW, Suite 300, Washington DC 20036. https://www.rfa.org.