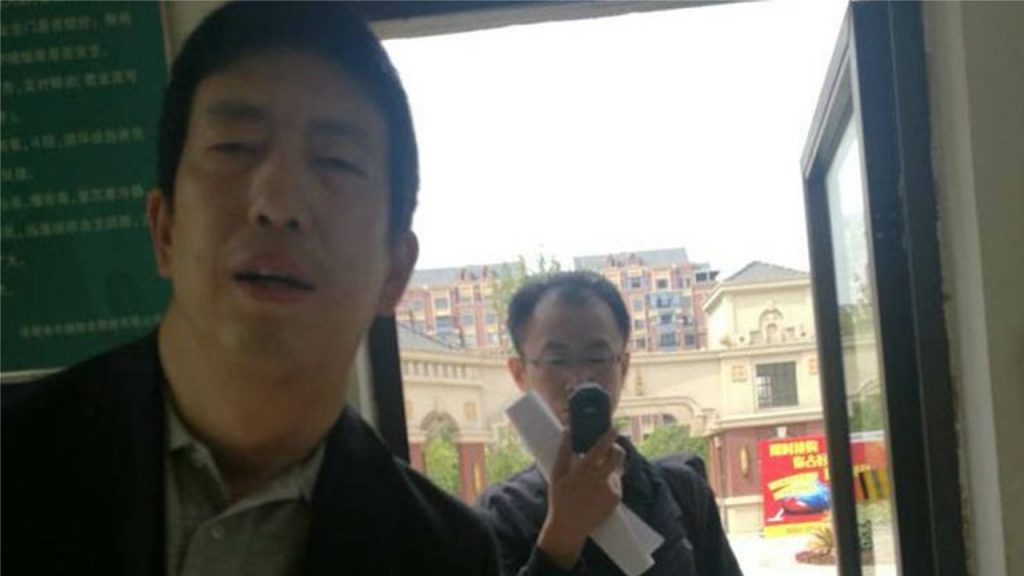 Authorities in the northern Chinese city of Tianjin have launched an "investigation" into associates of detained human rights lawyer Wang Quanzhang, nearly three years after his incommunicado detention amid a nationwide police operation in 2015.
Wang was initially detained amid a wave of police raids launched in July 2015 on suspicion of "incitement to subvert state power."
Lawyers, friends and relatives have made more than 50 attempts to visit him in detention since then, and his wife Li Wenzu has been repeatedly harassed for speaking out on behalf of her husband.
Li has herself been targeted for repeated harassment by police, who have forced her to leave rented accommodations several times since his detention, by putting pressure on her landlords.
Wang once worked for the now-shuttered Fengrui law firm, the first target of police raids and detentions in July 2015 that broadened into a nationwide operation targeting more than 300 lawyers, law firm staff and associated rights activists for detention, professional sanctions, house arrest, and travel bans, including for family members.
Last week, Tianjin police traveled to the southwestern city of Kunming in a bid to interview fellow rights attorney Lin Qilei, who was appointed to defend Wang but denied access to his client, as a "witness" in the case, Lin told RFA.
He said he had refused to cooperate.
"They have locked up a lawyer for more than 1,000 days with no news whatsoever," Lin said. "They have refused to allow his lawyers to meet with him, which is ridiculous enough."
"Now they are coming after the lawyers appointed to defend this man to ask them to act as witnesses whose evidence is the key to the whole case," he said. "How can a person's defense lawyers give evidence in their case? They knew this perfectly well, and they were doing it on purpose."
Fellow defense lawyer Cheng Hai said he had been visited at his home in Hefei, the provincial capital of Anhui, by Tianjin police, too.
"Nothing Wang Quanzhang did amounts to a criminal act," Cheng told RFA. "The police have taken someone who has clearly committed no crime, and they are treating him like a criminal."
Breaking Chinese law
Cheng said the authorities are breaking Chinese law in their treatment of Wang.
"They are the suspects, so we lawyers can't cooperate with them, or we'd be aiding and abetting their crimes," he said.
Cheng said he believes the police are scraping the bottom of the barrel for anything that could support subversion charges against Wang.
"Of course they haven't enough evidence, so they are casting around trying to find something to plug the gaps," he said.
Tianjin police also summoned Beijing rights lawyer Chen Jiangang for questioning on Apr. 13, in a bid to use him as a witness in the case against Wang, particularly with regard to his defense in the northeastern province of Liaoning of practitioners of the banned Falun Gong spiritual movement, which the ruling Chinese Communist Party has designated an "evil cult."
"It doesn't make any sense to get me to testify, because we were legal colleagues at the court in Dalian [Liaoning]," Chen told RFA. "They are under pressure now, because … there is no legal basis for the charges."
But Chen said the lack of evidence didn't necessarily mean a better outcome for Wang. "They can do whatever they want," he said. "There is no rule of law in China."
Calls to Zhou Hong, trial judge in the No. 2 Intermediate People's Court in Tianjin, rang unanswered during office hours on Monday. An employee who answered the phone at the court's legal service center declined to comment on the case.
Renewed action
Lin said the authorities may have been galvanized into taking action by Li Wenzu's recent, high-profile walk from Beijing to Tianjin, in a bid to highlight her husband's plight.
He said the "additional investigations" were likely a stalling tactic to justify Wang's continued detention and the stalling of the legal process in his case.
"This is the way they usually do things," Lin said. "It's possible that the case will now move to trial. His detention has dragged out for so long now, and now they're digging up something related to a Falun Gong case."
"They have probably been through Wang Quanzhang's affairs with a fine-tooth comb … and now the court is trying to justify itself," he said.
Beijing-based rights lawyer Ding Jiaxi, who was among more than 300 rights attorneys, law firm staff and associated activists detained, questioned, and subjected to surveillance and travel bans since 2015, said Wang is likely still in detention because he is refusing to make a forced "confession," as some of his colleagues had done under duress.
"It's pretty clear that the main demand is that you confess, plead guilty, and that if you don't, you don't get out," Ding told RFA. "The system is utterly cruel and devoid of compassion, and there is no room for negotiation."
Source: Copyright © 1998-2016, RFA. Used with the permission of Radio Free Asia, 2025 M St. NW, Suite 300, Washington DC 20036. https://www.rfa.org.