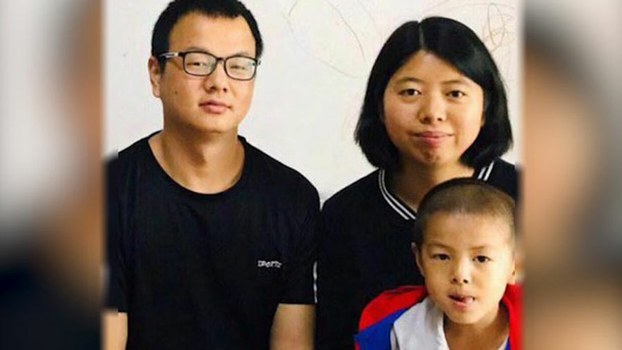 A man recently released after serving jail time in the southwestern Chinese province of Sichuan for selling liquor with references to the 1989 Tiananmen massacre on the label has been ordered to leave his new home along with his family, RFA has learned.
Teahouse proprietor Fu Hailu was found guilty of "picking quarrels and stirring up trouble" in a trial at the Chengdu Intermediate People's Court on and handed a three-year prison term, suspended for five years.
The trial came after Fu and three other defendants were held for three years in pretrial detention, amid repeated delays and postponements by the authorities.
He was then released under 'coercive measures' after striking a deal with the authorities not to appeal the verdict, and had hoped to begin a new life reunited with his family.
But the family has now been told by the landlord that their rental lease on their new home in Chengdu's Qingyang district has been canceled under heavy police pressure, Fu's wife Liu Tianyan told RFA on Friday.
Fu refused to move, but then around a dozen people came to the family's home to force them to leave.
"The landlord called the police, and so did we," Liu said. "We suggested that we all go to the police station to discuss the issue together."
But there was no room for negotiation, and the family was forced to move away from the district, Liu said.
"I guess they are worried, because of the liquor thing, if it could perhaps affect their  evaluation if they want to be promoted, because the local district is currently very highly rated at the moment," she said.
"I think they're afraid that he could be penalized, and that this could affect their future."
Chengdu resident Zhang Yunzhong said that anyone who has been involved in a politically sensitive case will find it hard to get accommodation in China.
"Nowhere wants to take them," Zhang said. "The police station and the local neighborhood committee will ask the homeowners who rent the house not to sign, or to break the contract with them and to drive them out."
"They are not willing to be liable for these more sensitive people," he said.
Fu was sentenced along with Chen Bing, Luo Fuyu and Zhang Junyong for "picking quarrels and stirring up trouble."
Chen's twin brother Chen Wei was also involved in the 1989 pro-democracy movement, and was jailed in the wake of the military crackdown.
He later served separate jail terms of five and nine years for subversion for his role in the banned opposition China Democracy Party (CDP) and for pro-democracy essays that he published online.
The four were initially detained in May 2016, after they marketed bottles of liquor bearing the words "June 4, 1989" and a cartoon of a man in front of an advancing column of tanks on the label. The label also says "Never forget, never give up."
According to another slogan on the bottle, the baijiu spirit had "matured for 27 years," the length of time since People's Liberation Army (PLA) troops put an end to weeks of student protests on Tiananmen Square, using tanks and machine guns on largely unarmed civilians.
Media reports at the time said the Tiananmen-themed liquor had been designed for private circulation among groups of friends on social media, rather than for public sale.
Reported by Gao Feng for RFA's Mandarin and Cantonese Services. Translated and edited by Luisetta Mudie.
Source: Copyright © 1998-2016, RFA. Used with the permission of Radio Free Asia, 2025 M St. NW, Suite 300, Washington DC 20036. https://www.rfa.org.