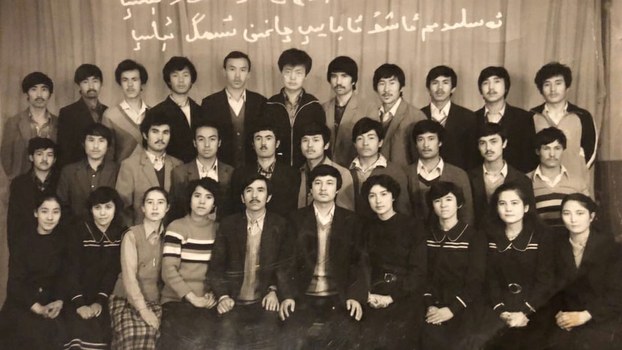 A long-time Uyghur activist has died days after being released from an internment camp in northwest China's Xinjiang Uyghur Autonomous Region (XUAR), according to sources, amid concerns that abuse in detention may have contributed to his death.
Waris Ababekri, 53, died on Nov. 24, according to the Munich-based World Uyghur Congress (WUC) exile group, one week after he was freed from a facility where he had been detained since January this year. The facility is part of a network of camps where authorities in the XUAR are believed to have held 1.8 million Uyghurs and other Muslim minorities accused of harboring "strong religious views" and "politically incorrect" ideas since April 2017.
As a cofounder of the Students Cultural Scientist Union at Xinjiang University along with WUC President Dolkun Isa, Ababekri organized a June 1988 student protest in reaction to Chinese discrimination against Uyghurs, which also called for an end to nuclear tests in the XUAR, democratic elections, and the halt of mass migration of majority Han Chinese to the region, the WUC said in a statement on Nov. 27.
Following the protest, both Ababekri and Isa were "harassed and expelled" from the prestigious university in the regional capital Urumqi, the WUC said, noting that Ababekri had been arrested several more times for his activism in the 1990s.
Later, Ababekri became involved in producing films and launched the Tengritag Ekrani magazine as a cultural platform for Uyghurs in the XUAR, according to the WUC, which suggested he may have been detained in January, along with other intellectuals and prominent leaders of the Uyghur community in recent years, "as the Chinese government aims to silence strong and independent Uyghur voices."
The cause of Ababekri's death—which was also confirmed in a tweet by Rushan Abbas, the executive director of the Campaign For Uyghurs exile group and a former official of the Students Cultural Scientist Union—was not immediately clear.
'A lot of issues'
While investigating the circumstances that led to Ababekri's passing, RFA's Uyghur Service spoke with an officer at the Ghalibiyet (in Chinese, Shenglilu) district of Urumqi, who said he had never heard of the activist or the region's internment camp system.
"If you want to know about this, you should come to Urumqi and show us your work identification card," the officer said.
But a staff member at the Urumqi Political and Legal Affairs Commission, who spoke on condition of anonymity, told RFA he was aware of Ababekri's death, which he said had "happened all of a sudden" following his release from detention, adding that funeral rites had been performed at the city's Noghay Mosque.
"He died not from torture, but from his illness—it was a heart attack," he said.
The staffer said it was unclear why Ababekri had been sent to a camp in January, but that he had "a lot of issues."
"He was expelled from [Xinjiang University] and was an ex-convict, plus he published articles in magazines that touched on sensitive topics," he said.
"He had also applied for a passport many times."
RFA also spoke with one of Ababekri's close friends in Urumqi, who said that the activist was "in perfect health" when detained earlier this year.
While Beijing once denied the existence of the camps, China this year changed tack and began describing the facilities as "boarding schools" that provide vocational training for Uyghurs, discourage radicalization, and help protect the country from terrorism.
Reporting by RFA's Uyghur Service and other media organizations, however, has shown that those in the camps are detained against their will and subjected to political indoctrination, routinely face rough treatment at the hands of their overseers, and endure poor diets and unhygienic conditions in the often overcrowded facilities.
RFA has confirmed dozens of cases of deaths in detention or shortly after release since the internment system began, and while only a handful can be definitively linked to torture or abuse, several appear to be the result of "willful negligence" by authorities who do not provide access to sufficient treatment or poor camp conditions that exacerbate an existing medical condition.
'Deliberate extermination'
WUC's Isa told RFA that the circumstances surrounding Ababekri's death suggest that it was not coincidental.
"My comrade Waris's death is evidence of China's deliberate extermination of Uyghur elites," he said.
"We never heard that Waris suffered from any detrimental illness, and the information we have on his death backs this up. He was very healthy, however his death within a week of his release from a camp indicates that he might have endured harsh treatment and even torture while in detention."
Isa said that the WUC had interviewed multiple sources who had given "eyewitness testimonies about the treatment people endure" in the camps.
"[Authorities] might have decided to release him as he was reaching the final hours of his life," he said.
Isa told RFA that when he heard Ababekri had been detained, "I started to worry that China might kill him [in the camp]."
"Waris was one of the leaders of the 1985 student movement and the student protest of 1988," he said.
"For China, this is the time for vengeance … I knew that [authorities] would definitely detain my friend Waris in the camps and punish him to get revenge."
US response
Mass incarcerations in the XUAR, as well as other policies seen to violate the rights of Uyghurs and other Muslims, have led to increasing calls by the international community to hold Beijing accountable for its actions in the region.
Last week, U.S. Secretary of State Mike Pompeo said a recent leak of official Chinese documents known collectively as the "China Cables," including the first known "manual" for operating internment camps in the XUAR, is proof that Beijing is committing "very significant" rights violations in the region.
In September, at an event on the sidelines of the United Nations General Assembly in New York, U.S. Deputy Secretary of State John J. Sullivan said that the U.N. has failed to hold China to account over its policies in the XUAR and should demand unfettered access to the region to investigate reports of the mass incarceration and other rights abuses against Uyghurs.
Reported by Shohret Hoshur for RFA's Uyghur Service. Translated by Mamatjan Juma. Written in English by Joshua Lipes.
Source: Copyright © 1998-2016, RFA. Used with the permission of Radio Free Asia, 2025 M St. NW, Suite 300, Washington DC 20036. https://www.rfa.org.