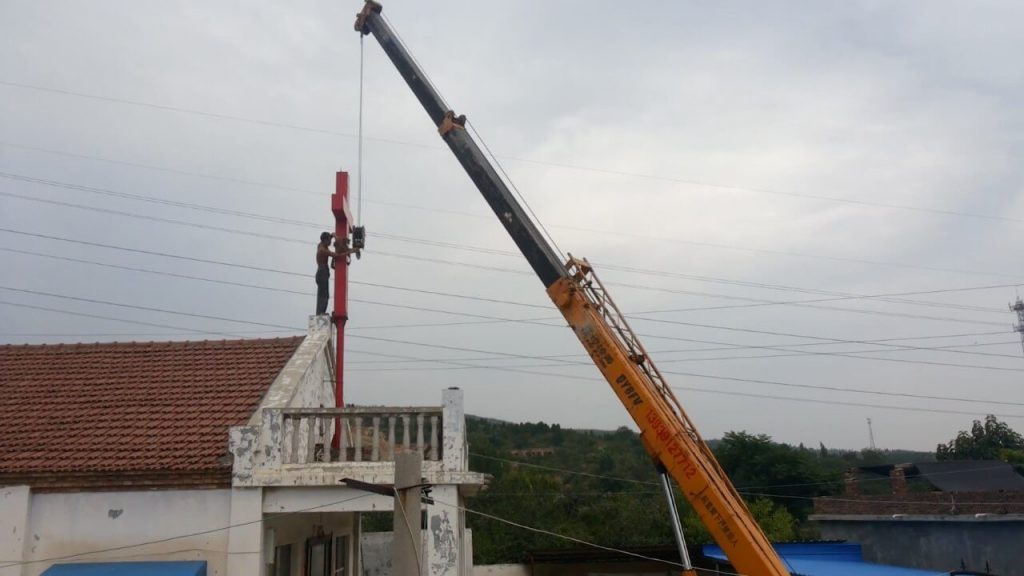 ADHRRF – Recently, it has been reported constantly that churches across Henan Province were banned, with their crosses removed forcibly and all the church possessions straightened out. Obviously, a new wave of CCP's repression and persecution against Christian groups is spreading within Henan extensively.
It was reported that on August 22 of 2018, the Wa Village Three-Self Church in Xicun Township of Xiuwu County in Jiaozuo City was banned, with its cross removed forcibly by the local authorities.
That day, a cadre from the township government came to the church and brought a declaration to the directing clergy, saying, "To respond to the policy made by the superior, the cross of your church must be removed right away, and you must stop all the religious activities in the church." More than ten believers watched the cross being removed forcibly and could do nothing about it but stood in front of the church, praying in tears.
In addition, to stop the believers from gathering, all the benches were moved outside the church by the people assigned by the authorities. Everything about religion such as paintings, images and symbols were straightened out and destroyed one by one. Even the name "Wa Village Three-Self Church" written on the wall outside the church was also covered up by lime.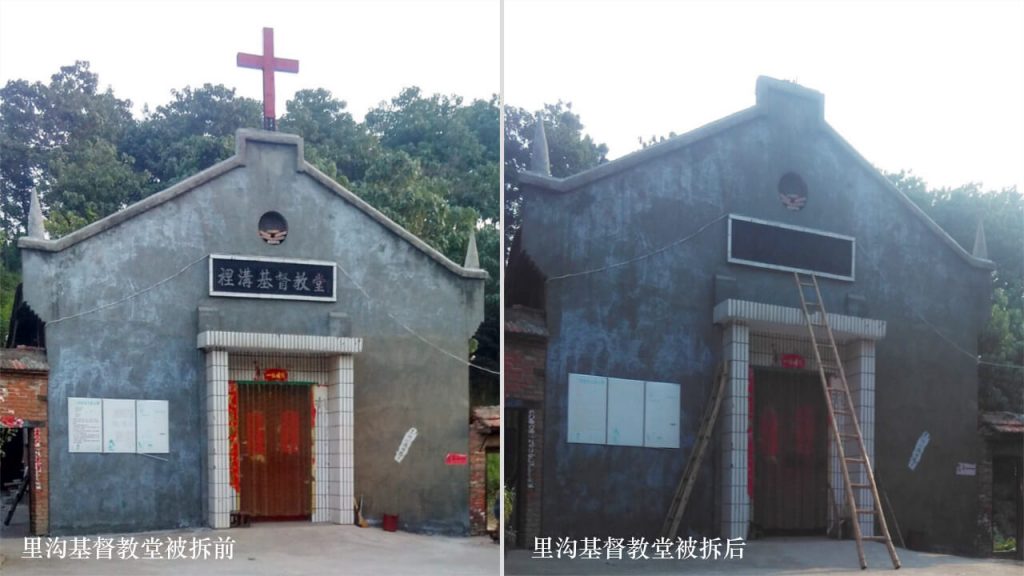 On August 24, the cross of the Ligou Christian Church in Jinping Town of Yiyang County was subjected to forced removal.
On the day of the forcible action, Peng, a local official, claimed, "According to the current state policy on rectifying the religious beliefs, any church with members less than 300 should be merged. Therefore, there will be no more gatherings in your church. First of all, the cross must be removed today." They subsequently ordered the believers to straighten out all the possessions in the church. Then they removed the plaque which writes "以马内利 (meaning Immanuel)" and closed the church.
Insisting that the existence of the church was sanctioned by the government and that he kept the permit, the directing clergy made a protest. But Peng answered, "The permit is of no use. All the church crosses in the county must be removed. This is a unified action deployed by the provincial superior." He also emphasized, "What the state desires to do is ban all the religious beliefs nationwide."
On August 26, in front of the entrance of a Christian Church located on Northern Wenchang Road in Jiyuan City, a crane was forcibly demolishing the cross from the top of the Church under the direction of the officials from the local government. The removal action attracted a large crowd of people. Dozens of believers gathered at the entrance of the church, singing hymns to praise the Lord in helplessness.
The onlookers commented on the event in profusion, saying, "Believers have to raise the national flag and sing the national anthem in the church in future. The sermons during the usual gatherings will have to be prepared according to the government's instruction." "The CCP is reigning over this single-party state. You must take heed of what they command, or else your church will be seized up."