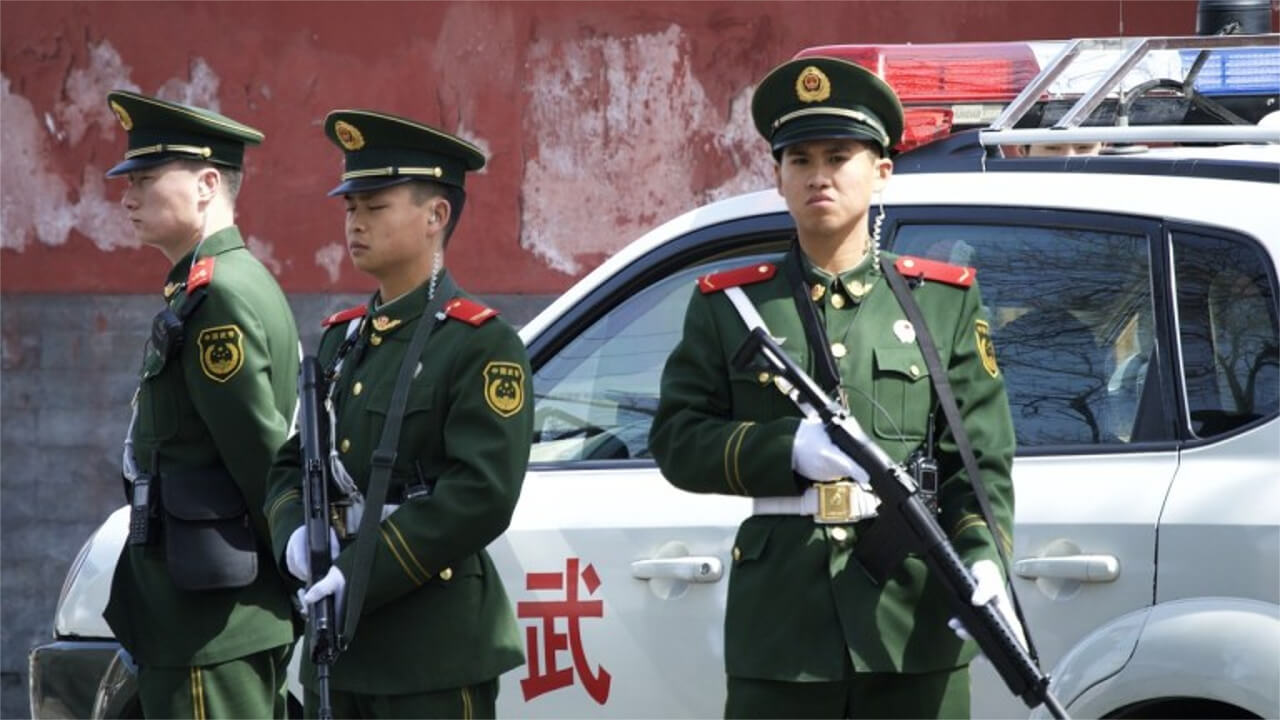 ADHRRF – In recent months, Chinese authorities have launched a large-scale arrest and persecution campaign throughout the country aimed at The Church of Almighty God, a new Christian movement in China. In the provinces and cities of Liaoning, Chongqing, Jiangsu and Shandong alone, at least 900 church members have been arrested. On August 1, another news report came out from Jiangxi Province, indicating that at least 137 Christians from The Church of Almighty God have been arrested from May to July of this year.
According to reports, from May to July this year, municipal governments throughout Jiangxi Province coordinated with the municipal public security bureau, national security brigade and police stations in towns, and used secret tracking, long-term shadowing, surveillance, home inspections and other methods to arrest at least 137 members of The Church of Almighty God. Among those are 25 people from Nanchang City, 26 people from Ganzhou City, 26 people from Jiujiang City, 19 people from Shangrao City, 18 people from Fuzhou City, 16 people from Yichun City, 5 people from Pingxiang City, and 2 people from Zhangshu. Most church members were tracked and monitored by the police before being arrested.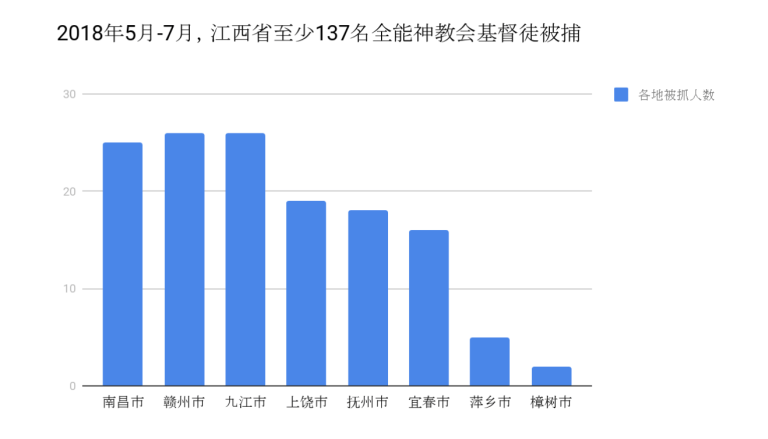 The following cases, received by us, describe the situations of some Christians who have been arrested in various parts of Jiangxi (all names are pseudonyms):
On the evening of July 23, 2018, nine Christians from The Church of Almighty God in Huichang County, Ganzhou City, were arrested by police officers from a local police station. The police violently pried open the garage door of one Christian's family and confiscated three or four boxes of spiritual books. The home of another Christian was also raided and shuttered. The plights of the other people are unknown.
On July 19, 2018, 11 Christians were arrested at a church in Anyi County, Nanchang City, which had been monitored by the local police. Their current situation is unknown.
At 5 o'clock on the morning of June 27, 2018, 13 special police in Shangrao City surrounded the homes of four Christians while they were fast asleep. The police confiscated three desktop computers (worth over 30,000 RMB), five mobile hard drives, several books of The Church of Almighty God, and other items, and seized 94,000 RMB of the Christians' personal savings. According to people familiar with the matter, as early as 20 days before, the police had secretly installed cameras to monitor these Christians.
At around 5 o'clock on the afternoon on June 27, 2018, five police officers in Hougang Town, Leping City arrested Shanshan, a student enrolled at a university in Fuzhou who had just returned home for the holidays. The same day, the police broke into and raided Shanshan's home, leaving it in complete disarray, and confiscated several spiritual books, three MP5 players, eight TF cards, one computer, and two mobile phones, as well as documents belonging to Shanshan's parents. That evening, the police sent Shanshan to a local police station near her university in Fuzhou City. On July 1, the police showed Shanshan's parents the surveillance video that they had used to track her, claiming that they had long known that Shanshan believes in God but deliberately waited until she returned home for summer vacation to arrest her. Currently, Shanshan is being illegally detained by the police; other details are unknown.
At 9 o'clock on the morning of June 20, 2018, three Christians in Jiujiang City—Xinyi, Li Xia, and Xiaoyu—were arrested by the police at the entrance of a bank. Their computers, ID cards, several spiritual books, 300 RMB in cash, and other items were all confiscated. The police claimed that they had monitored them for three months in order to arrest them.
At 12 o'clock noon on the same day, when two Christians, Qingqing and Li Ran, went looking for Xinyi, they were detained by police and held at the county public security sub-bureau. While the police were interrogating them, Li Ran suffered a heart attack and was released on the spot. The next morning, Qingqing's hands were handcuffed behind her back and she was forcibly taken to the county food market to parade through the streets. She was later detained for 15 days for "illegal missionary activity."
Around 4 o'clock on the afternoon of June 2, 2018, a Christian named Liu Li, who is from Jiujiang City, was arrested in Nanchang by more than 10 local armed police with guns and taken to the police station. The police showed Liu Li their surveillance video in which she was clearly filmed; a large area of her church was also monitored by the police. The police claimed: "Police in the two cities, working together, have turned on the surveillance cameras at every intersection. No matter where you go, we can always see you."
The next day, Liu Li's relatives went to the police station to ask for her release. They were viciously beaten by the police officers and forced to pay 3000 RMB in order for her to be released. Finally, the police recorded her family's phone numbers and photos and the contacts in her phone, as well as her fingerprints, before finally releasing her.
At 6 o'clock on May 30, 2018, more than a dozen plainclothes police officers in Zhangshu City broke into the home of a Christian, Zhang Chahua, and arrested her and another Christian, Qin Wei. The police turned Zhang's home upside down, and seized four computers, three mobile phones, several spiritual books, etc. The police claimed that they had been monitoring the two for a long time.
At present, many Christians throughout Jiangxi Province are still being arrested and detained, and the number of people being persecuted is ever-rising.