Authorities in the eastern Chinese province of Jiangsu have tried a Nanjing-based activist after he staged a public memorial ceremony for the victims of the 1989 Tiananmen massacre on the 28th anniversary last June 4.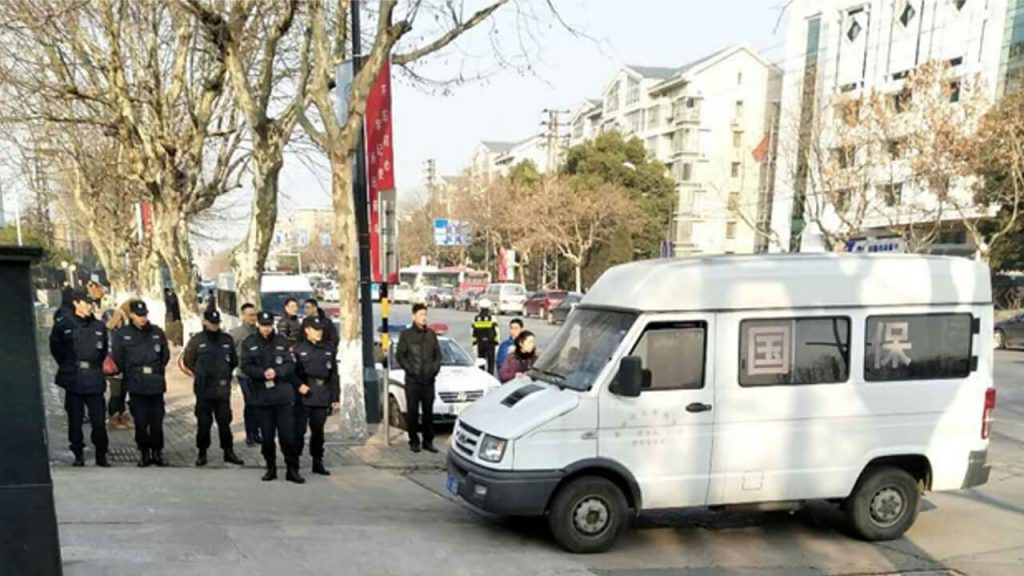 Shi Tingfu was taken away by police in June 2017 after he defied a nationwide ban on public events marking the anniversary of the 1989 student movement and the subsequent bloody crackdown by the People's Liberation Army (PLA).
He was charged with "picking quarrels and stirring up trouble" for wearing a T-shirt bearing the slogan "Never Forget June 4," Shi made a public speech to passers-by outside the Nanjing Massacre Memorial Hall.
In it, Shi called on bystanders to remember that the anniversary was "a sad day for many mothers," and asked them to post footage and photos of his speech online to make more people aware of the 28th anniversary of the crackdown.
He pleaded not guilty to the charges at his trial on Thursday at the Yuhuatai District People's Court, his lawyer Liu Hao told RFA. However, the defense did accept limited criminal responsibility, in the hope of securing his early release.
"There were a number of considerations, for example, his age and state of physical health, and there were various other things weighing on his mind, so he said he would do a deal and make a concession [to the authorities]," Liu said.
"He said he wanted to confess to wrongdoing and plead guilty, so as to be treated with greater leniency and to get out of jail as soon as possible," he said. "As his lawyer, I can understand this."
"So, we argued that he was not guilty, or that if he did bear some criminal responsibility, then it was very small, and we hope he'll avoid further punishment and be released soon," Liu said. "We want him home in time for Chinese New Year."
Liu said the authorities had put Shi under "pressure" to confess to the charges, and so he had "confessed to wrongdoing," which was noted by the prosecution.
'Plenty of holes in the prosecution argument'
Shi's son Shi Jing said he was the only relative or friend of his father's permitted to attend the trial.
"They wouldn't let anybody in except for me," Shi Jing said. "I was in the public gallery, and there were a bunch of people sitting with me whom I didn't recognize; I thought that was very strange."
"Our lawyer spoke up, and I thought there were plenty of holes in the prosecution argument, because surely picking quarrels and stirring up trouble has to involve another person, and my father's actions didn't," he said.
"The only words my father spoke were 'yes' and 'no'," he said, adding that he has always maintained his father's innocence.
"I have always thought my father was not guilty, because there is no crime in freedom of expression," Shi Jing said.
Security was tight, with a strong police presence outside the trial, where dozens of rights activists and supporters gathered, some of them only to be detained by police outside the court buildings.
An activist who asked to remain anonymous said he had been similarly treated by the authorities in the past, so came to show his support for Shi.
"I argued with them that it should be the right of any citizen to sit in the public gallery … but they refused my request," the activist said. "Then they told me to leave, and then they dragged me away."
"There wasn't a single court employee in sight; it was all plainclothes police officers," he said.
Public memorials and discussions of the events of June 1989 are banned in China, with activists who seek to commemorate the bloodshed often detained and veteran dissidents placed under police surveillance or detention during each anniversary.
An unknown number of people were killed by advancing PLA troops and tanks in Beijing on the night of June 3-4, 1989, following orders to clear the square by force from then-supreme leader Deng Xiaoping.
Source: Copyright © 1998-2016, RFA. Used with the permission of Radio Free Asia, 2025 M St. NW, Suite 300, Washington DC 20036. https://www.rfa.org.