ADHRRF – From April 6 to 7, 2018, the 46th annual general assembly of International Society for Human Rights (ISHR) was held at Gustav Stresemann Institut in Bonn, Germany. This annual meeting focused on the humanitarian situation and religious freedom in the Middle East. Some human rights activists, religious figures and representatives of persecuted Christians were invited to participate in this conference.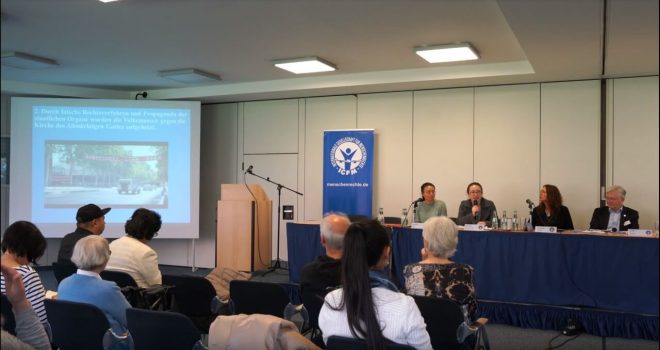 On the afternoon of April 7, during the session focusing on "religious freedom in Asia," guests made speeches on the religious situation in China. Emeritus Cardinal Joseph Zen Ze-kiun from Hong Kong introduced in the meeting the difficulties Chinese Christians experience. Moreover, he reiterated that religious freedom is a human right, but it is absent in China. That day, Cardinal Joseph Zen Ze-kiun was presented a human rights award by the Stephanus Foundation for Persecuted Christians. He announced that prize money awarded to him will be used to support persecuted Christians in mainland China.
The Christians from The Church of Almighty God (CAG) recounted that their Church has been suffering repression and persecution from the Chinese Communist authorities. The main measures taken by the CCP to repress CAG are as follows: convene emergency meetings, and issue secret documents; fabricate cases and run state propaganda machinery to incite public hatred toward the CAG; use advanced apparatuses and equipment to identify Christians; establish Wechat groups and award system for reporting; invent excuses to enter houses to investigate Christians' information; indiscriminately use all forms of torture to extort confessions, persecute and slaughter Christians.
It is documented in the 2017 Annual Report of the CAG, based on incomplete data, since the beginning of 2017 up until September 30, 2017, at least 3362 Christians of the Church had been subjected to the persecution of the CCP in mainland China's 32 provinces, autonomous regions and municipalities. Of these persecuted, 2122 were placed under residential surveillance, 204 had their homes illegally searched, and 1036 were illegally arrested.
The CCP's persecution against the CAG attracted concerns of the participating experts. Dr. Seyrich Renate (member of ISHR Karlsruhe Working Group) said, "Today, in light of your speeches, I feel it is quite necessary for you to publicly reveal the facts of CCP's persecution of the CAG so as to let the public know what has happened in China, because such information is inaccessible to us. We only know there are no human rights in China, but we do not understand to what degree human rights have been trampled on there. Your description provides us with a better insight into the brutality of their persecution. Belief is the most fundamental right, which is written in the Universal Declaration of Human Rights. Basic Law for the Federal Republic of Germany also protects human rights. Therefore, we also want to do something for the persecuted Christians of the CAG, to make more people support you, to condemn the CCP's abominable deeds and to help assist you in obtaining asylum overseas."
The spokesperson for an ISHR working unit remarked, "The condition of human rights in China horrifies me and seems unusual to us. I cannot imagine that Christians have suffered such persecution in China. We enjoy the freedom of religious belief in Germany, but for Chinese Christians, especially those from the underground churches, their freedom of religion is unprotected, and they are brutally persecuted. This truly appalls me. We Europeans should awake. We need to know what is happening in China, and in this world."
As for the human rights situation being unknown beyond the borders of China, another participating guest said, "I have long been concerned about human rights in China, so I have a clear understanding. In 1989, the CCP bloodily suppressed the student-led demonstrations, which told me that there is neither democracy nor freedom under the regime of the CCP. To my knowledge, the Tiananmen Square Massacre remains off limits in China. China has no freedom of speech or freedom of belief. The CCP obtains favorable reports by pressuring Western news media. Hence, those outside of China have only limited information of the real situation of human rights in China."
At present, the religious situation in China is still deteriorating. On April 3, State Council Information Office of China released a white paper titled "China's Policies and Practices on Protecting Freedom of Religious Belief," which states they are actively guiding religions in adapting to the socialist society. Later, there are reports that mainland China has banned the Bible from being sold online. This measure is deemed as a move commensurate to the crackdown on religious freedom in the wake of the forced removal of crosses.