The wives of prominent Chinese human rights lawyers have called for continuing international media attention on the plight of their husbands, many of whom have suffered torture and forced medication while behind bars in a nationwide crackdown launched in July 2015.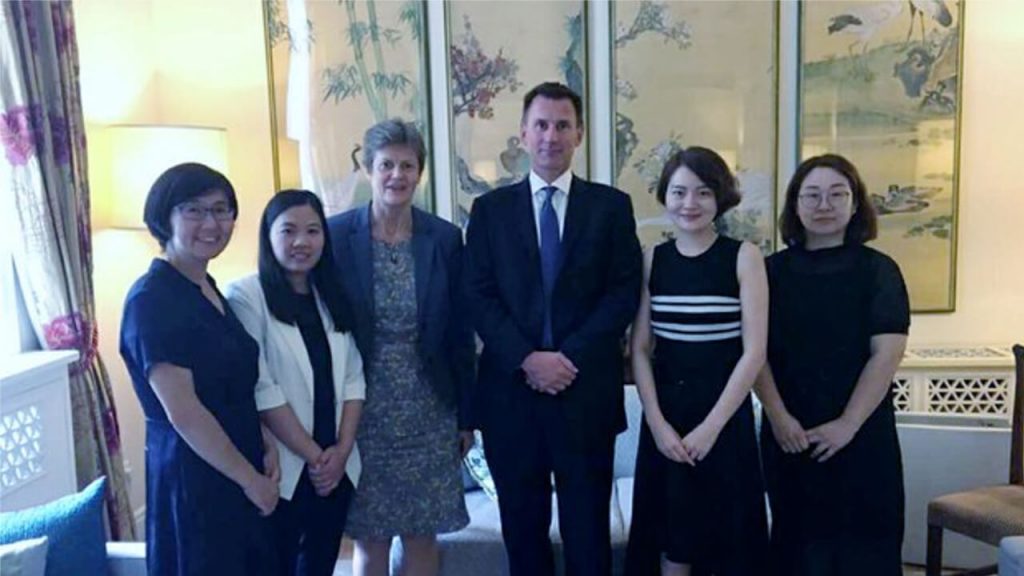 Li Wenzu, wife of detained rights attorney Wang Quanzhang, said a group of lawyers' wives had met with U.K. foreign secretary Jeremy Hunt during his trip to China.
"At 4:00 p.m. on July 30, 2018, we were honored to meet the new U.K. foreign secretary and the British Ambassador to Beijing," Li reported via her Twitter account following the meeting.
"I briefed the Minister and the Ambassador in detail on the three years since Wang's disappearance, and on recent developments," Li wrote. "The Minister expressed his sincere concern."
"We also expressed our sincere gratitude to the Minister and Ambassador for the high level and continuing concern shown by the British government over the detention of lawyers since July 2015, and for the British government's concern for human rights in China," she said, adding a group photo from the meeting.
Formerly detained lawyer Wang Yu, Li Heping's wife Wang Qiaoling and Yu Wensheng's wife Xu Yan were also present.
Wang Qiaoling said the meeting lasted just under one hour.
"My husband was caught in the July 2015 crackdown," she said. "He was tortured for 22 months and held in total isolation from the outside world, before he was released."
"I used to be a housewife, but since the crackdown, I have learned a lot of things," Wang said. "Our legal rights and interests have been seriously violated."
"International attention over our cases, and concern from international media and Western democratic nations that have the rule of law have been a force for good," she said.
But she declined to say what promises Hunt had made during the meeting.
"Yes, he did, but I don't feel able to say any more right now," Wang said.
Good sign
Taipei Bar Association director Wang Lung-kuan, who has been an outspoken advocate on behalf of detained Chinese rights lawyers, told RFA that the meeting was potentially a good sign, coming as it did after German Chancellor Angela Merkel's meeting with Xu Yan in May.
"If the authorities in Beijing realize that other foreign governments are watching these cases, they will naturally be less likely to get away with acting exactly as they please," Wang said, adding that Liu Xia, widow of late Nobel peace laureate Liu Xiaobo's release to exile in Germany also came in the wake of intervention by Merkel.
"It will be hard to know exactly what action will be taken in the wake of this meeting, but such meetings must be of some use if Liu Xia was able to leave Germany and arrive safely in Beijing," Wang said.
He added: "We are extremely concerned by the fact that nobody has seen Wang Quanzhang [since his detention]."
Wang Quanzhang has been held in police detention without trial for three years, and has been forced to take medication while in the custody of the Tianjin No. 1 Detention Center, his wife learned recently after he received his first visit from a lawyer.
Lawyers, friends, and relatives have made dozens of attempts to visit Wang since his detention, and Li has been repeatedly harassed by police for speaking out on behalf of her husband.
The Beijing Fengrui law firm was the initial target of police raids and detentions in July 2015 that broadened into a nationwide operation targeting more than 300 lawyers, law firm staff, and associated rights activists for detention, professional sanctions, house arrest, and travel bans, including for family members.
Rights lawyers who accept politically "sensitive" cases, or who are publicly outspoken on behalf of vulnerable groups, have also been prevented from practicing law because their business licenses are being revoked during a newly instituted annual review process.
Lawyers who try to defend clients held on suspicion of crimes ostensibly linked to "state security" concerns are also denied permission to meet with their clients, or are replaced by government appointed lawyers amid threats and pressure on the people who hired them.
Source: Copyright © 1998-2016, RFA. Used with the permission of Radio Free Asia, 2025 M St. NW, Suite 300, Washington DC 20036. https://www.rfa.org.