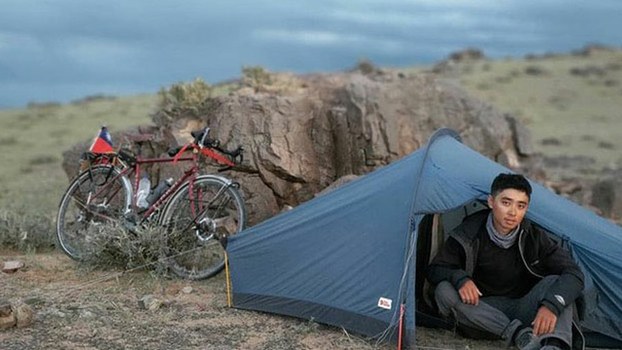 A Taiwanese long-distance touring cyclist who attempted an epic trip across the Mongolian grasslands has spoken out about his detention and interrogation at the hands of Chinese police.
Tsao Yao-wen told journalists this week that he would never visit China again after been held in custody for four days from May 31 at the border between the independent country of Mongolia and the Chinese region of Inner Mongolia.
His ordeal began after he stopped to take a rest during his journey across the steppes, only to be intercepted by soldiers of China's People's Liberation Army (PLA), who confiscated his travel documents and hauled him and his bike to a nearby military base, where he was initially photographed and questioned.
"It was on the road to the Arhash border crossing, where I had already submitted to checks that were concluded with no problems," Tsao told RFA. "I then rode out onto the grasslands, and the PLA showed up as I was having a break."
"They confiscated my cell phone, which they took away so I couldn't see it, and they scanned it for certain content without my consent," he said. "I was very unhappy about that, as they looked through all of my private conversations, photos and social media platforms."
His interrogators then forced him to hand over his entire location history in Google Maps, as well as passwords and login details for bank accounts, e-mail and social media accounts, Tsao said.
He was later taken to a police station for further interrogation, and warned that he could be locked up for life for spying for Taiwan.
"I was put in a small, square room like something out of a movie, sitting in a chair … like a baby chair with my hands and feet restrained," he said. "Their treatment of me was really over the top."
"I felt as if I no personal privacy left, and that they had no respect for me," said Tsao, whose situation was made more difficult by the fact that he only had a paper copy of the document identifying him as a "Taiwan compatriot" instead of the latest smart card, and the authorities thought the document was a forgery.
Central government officials later showed up in the belief that he was a senior special agent for Taiwan, and demanded to know the location of Taiwan's intelligence agency, and where Chinese spies detained in the democratic island were being held, Tsao said.
"They got impatient and started asking me which spy agency I worked for, and what my code-name was," he said. "They kept on and on asking me that, and I told them I didn't know, that I really didn't know."
"In the end, they stopped asking."
Tsao was then asked to sign disclaimers, including a statement that he had willingly cooperated with the investigation.
He was also questioned about his political views, and whether or not he supported formal independence for Taiwan, already an independent sovereign state under the 1911 Republic of China founded by the Kuomintang (KMT) nationalist party, which fled there after losing the civil war in 1949.
He was released on June 3 and continued his cycling trip, which took him nearly 5,000 kilometers from Hulunbuir city in Inner Mongolia to the northwestern region of Xinjiang.
He said the most unacceptable part of the whole ordeal was the theft of his personal data, which included records of all of his interactions on social media, all emails, all bank account information and account passwords, as well as all contact details stored on his phone, his national insurance, labor and pension status, as well as data about his online purchases.
He said in a Facebook post this week: "I'm never going back to China as long as I live."
Reported by Hsia Hsiao-hwa for RFA's Mandarin Service. Translated and edited by Luisetta Mudie.
Source: Copyright © 1998-2016, RFA. Used with the permission of Radio Free Asia, 2025 M St. NW, Suite 300, Washington DC 20036. https://www.rfa.org.