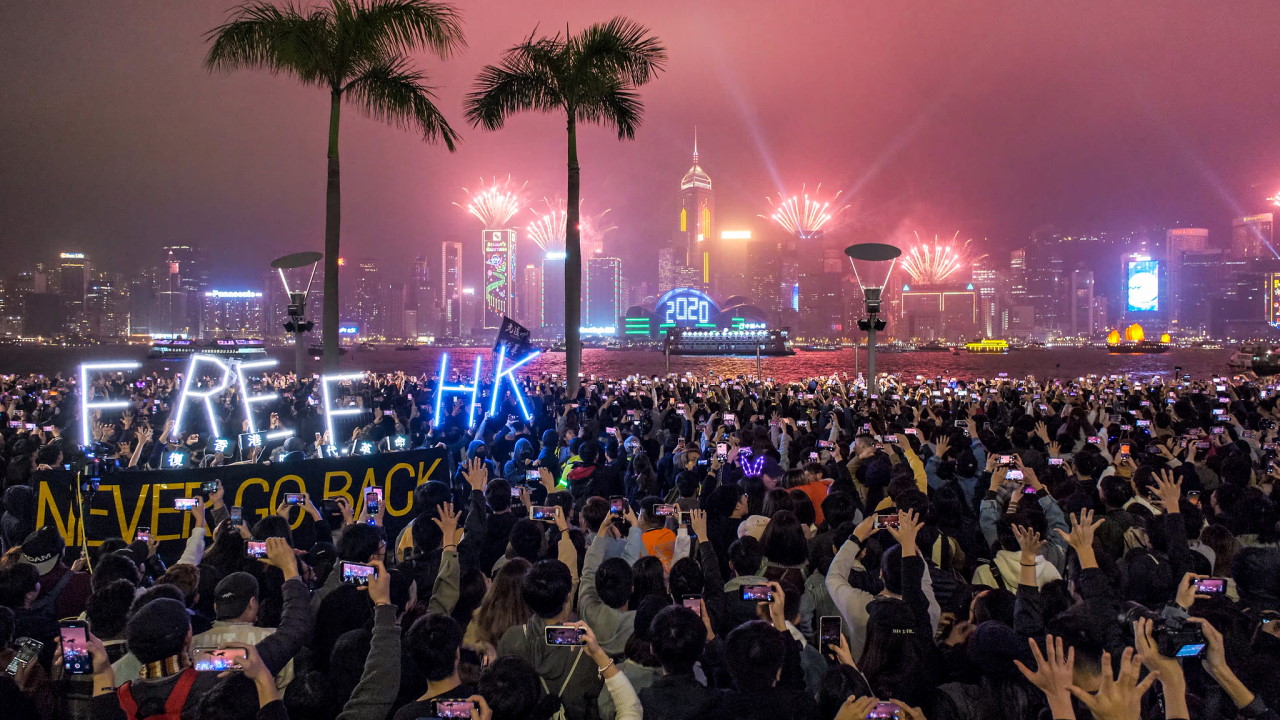 Protests continued in several districts of Hong Kong on New Year's Eve, with thousands of people chanting "Free Hong Kong! Revolution in our time!" as the city counted down the last seconds of 2019.
In Kowloon, police deployed tear gas, pepper spray and water cannon against groups of people gathering on Nathan Road and nearby streets, arresting some using pepper spray at point-blank range as the person tried to shout their name to fellow protesters, according to social media posts from the scene.
At Prince Edward, riot police turned out in force to make arrests, and to remove memorial bouquets placed at the MTR station for those widely believed by protesters to have died in an assault on protesters and train passengers by riot police on Aug. 31.
Police and government officials have repeatedly said that no deaths occurred, but wreaths of white funeral flowers continue to be left at the station.
Thousands of protesters also marched in Kowloon's Tsimshatsui, holding up splayed palms to indicate the five demands of the protest movement, which has a peaceful mass march planned for New Year's Day on Wednesday.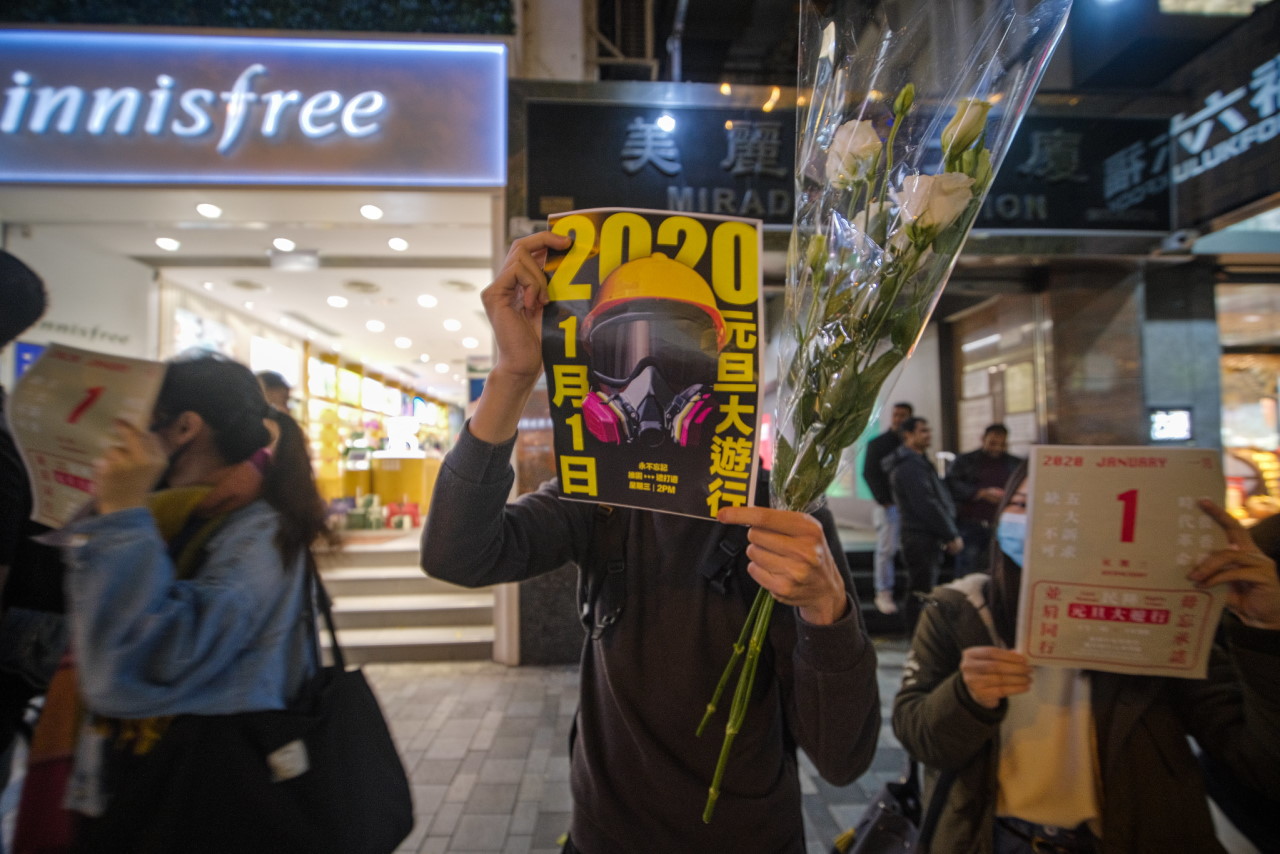 The government of chief executive Carrie Lam withdrew a widely hated legal amendment that would have allowed extraditions to mainland China, which has a separate legal system from Hong Kong's, and lacks the city's human rights protections.
But her response came only after mass peaceful anti-extradition protests broadened into demands for fully democratic elections, an independent inquiry into police violence, an end to the description of protesters as "rioters," and an amnesty for the thousands of people arrested since protests began.
President Xi Jinping on Tuesday called for Hong Kong to return to stability.
"Hong Kong's prosperity and stability is the wish of Hong Kong compatriots and the expectation for the people of the motherland," Xi said in the televised address for New Year.
However, a recent poll by Reuters found that most of Hong Kong's residents support the five demands of the protest movement, with more than one third of respondents saying they had attended a protest.
Only 30 percent said they were opposed, compared with 59 percent of those polled who supported it. And 57 percent said they favored the resignation of Lam.
The findings also appeared to give the lie to China's official narrative that the protests are a pro-independence movement instigated by hostile foreign forces infiltrating Hong Kong.
Only 17 percent of respondents expressed support for seeking independence from China, while most of the 1,021 respondents blamed Lam's administration rather than Beijing for the crisis that has gripped the city since the protest movement escalated in early June.
A Hong Kong government spokesman said the government would "continue to engage the people through dialogue."
Chinese constitutional scholar Zhang Lifan said Xi appeared to be distancing himself from Hong Kong's woes, possibly for fear of alienating the 23 million residents of democratic Taiwan, which Xi wants to annex as part of China, by force if necessary.
Taiwan president Tsai Ing-wen, who is seeking re-election on Jan. 11, has said the people of Taiwan have no desire to give up their national sovereignty, nor their democratic way of life, and that Hong Kong shows that the "one country, two systems" framework under which the city returned to Chinese rule in 1997 can't be allowed to happen in Taiwan.
"[Xi] has always taken a tough stance and been supportive of Carrie Lam, but actually he is now taking a step back," Zhang said. "He could have come across a lot stronger, but his New Year speech mainly emphasized harmony and stability."
"The impact of the anti-extradition movement in Hong Kong has been felt in Taiwan, making Taiwanese people trust the idea of 'one country, two systems' even less than they did," he said. "It would seem that Xi Jinping doesn't want the situation in Hong Kong to get any more out of control."
March organizers the Civil Human Rights Front (CHRF) have said that the government has started to retaliate against those taking part in the protest movement, while calling on people to join a New Year's Day march to keep momentum going.
Group convenor Jimmy Sham said people need to keep up pressure on the government, citing recent threats from the city's education chief Kevin Yeung that schools shouldn't tolerate or stand by any teacher who encourages students to protest.
Yeung said that, if a principal thinks there is nothing wrong with teachers getting involved in the protests, it would mean a red flag against the school chief's record.
He said officials have been reviewing textbooks used to teach Liberal Studies since September with the aim of asking the publishers to revise them by February.
Chinese officials have blamed Hong Kong's Liberal Studies program in schools for young people's resistance to "patriotic education" as promoted by the ruling Chinese Communist Party.
Reported by Gao Feng for RFA's Mandarin Service, and by the Cantonese Service. Translated and edited by Luisetta Mudie.
Source: Copyright © 1998-2016, RFA. Used with the permission of Radio Free Asia, 2025 M St. NW, Suite 300, Washington DC 20036. https://www.rfa.org.