Henan's Gongyi city government prepared special measures to prevent foreign journalists from getting information on religious beliefs in the province, discloses an official internal document. A Special Operation Briefing, issued on June 4, is dedicated to a planned visit by journalists from Associated Press (AP), a United States-based news agency, and uses phrases like "convincing and advising them to return," "strict surveillance," "tracking of targets," and "no unapproved interviews" to outline countermeasures against possible leaks of information on the crackdown on religious beliefs in China.
The briefing was released the next day after the city government convened a special coordination meeting to discuss and arrange work plans to counter the AP reporters' attempts to conduct interviews on religious faiths in Henan. The city's Publicity Department of the CCP Committee and the municipal Foreign Affairs Office have held a question and answer session on how to properly handle AP's interviews; they outlined necessary precautions to deal with the work of journalists.
In the meeting, all towns, sub-districts, and relevant work units clarified their responsibilities and created plans for how using Chinese laws and regulations convince and advise the AP reporters to go back. Meeting participants emphasized the importance of close coordination and exchange of information with hotels, stations, and intersections as particular points of interest to ensure timely detection and reporting. Villages and towns were ordered to reinforce their cadre forces and closely watch their churches. They were ordered to carefully check any outsider's identity and track the identified targets. Church personnel and religious groups should not be permitted to give interviews without permission to ensure that matters of religion in the city are presented as harmonious and stable. The outcomes of the meeting have to be conveyed rapidly.
Since the beginning of this year, Henan Province has seen one of the toughest crackdowns on religion in the country: multiple churches closed, crosses taken down, and believers arrested. The Chinese Communist Party's persecution of religious beliefs has been exposed numerous times in the media outside China, which resulted in the condemnation from the international community. Thus, the Party authorities are paying particular attention to attempts by the foreign press to report on the crackdown on religious beliefs.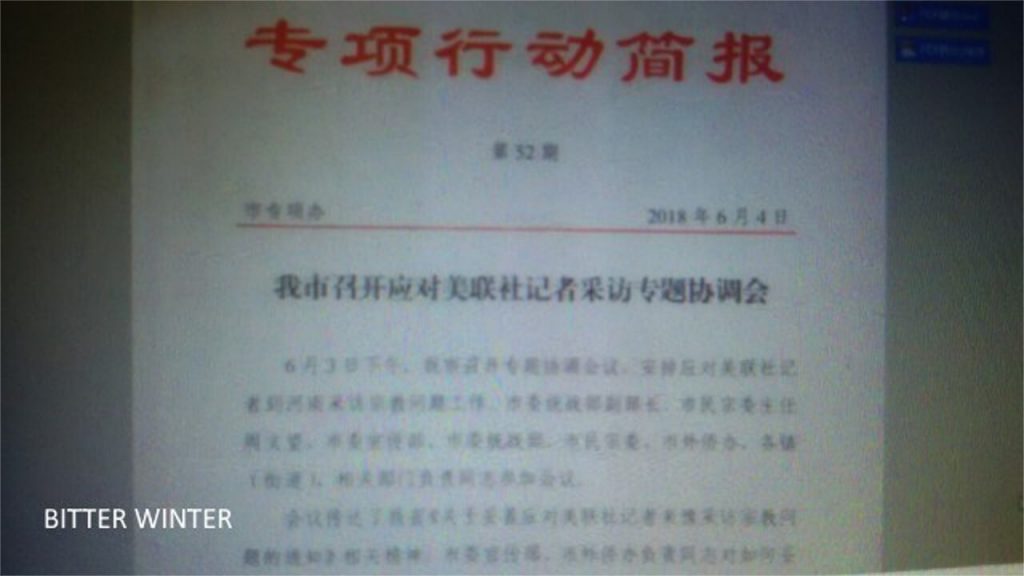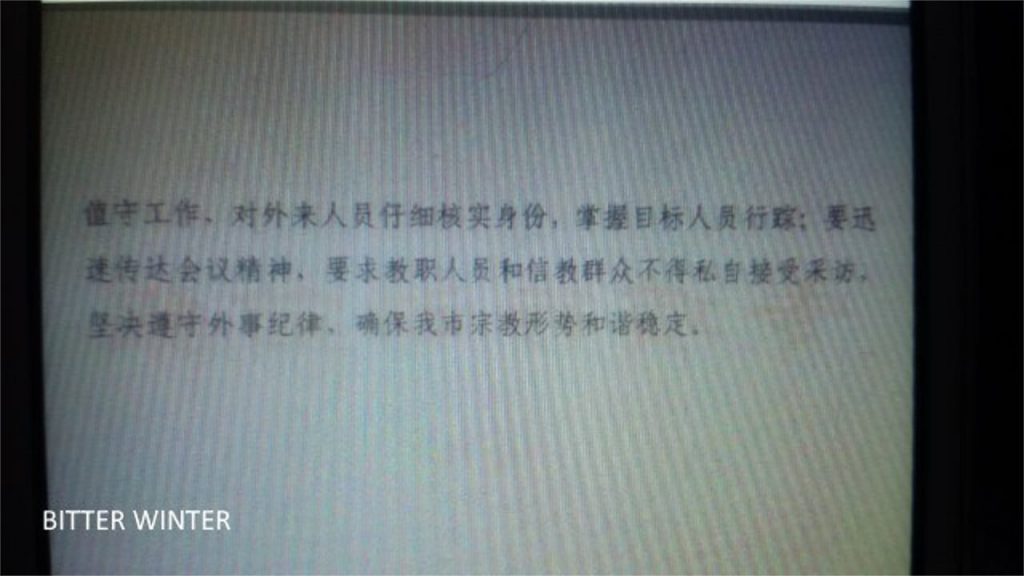 Images of the Special Operation Briefing about the visit from AP journalist
Source: BITTER WINTER