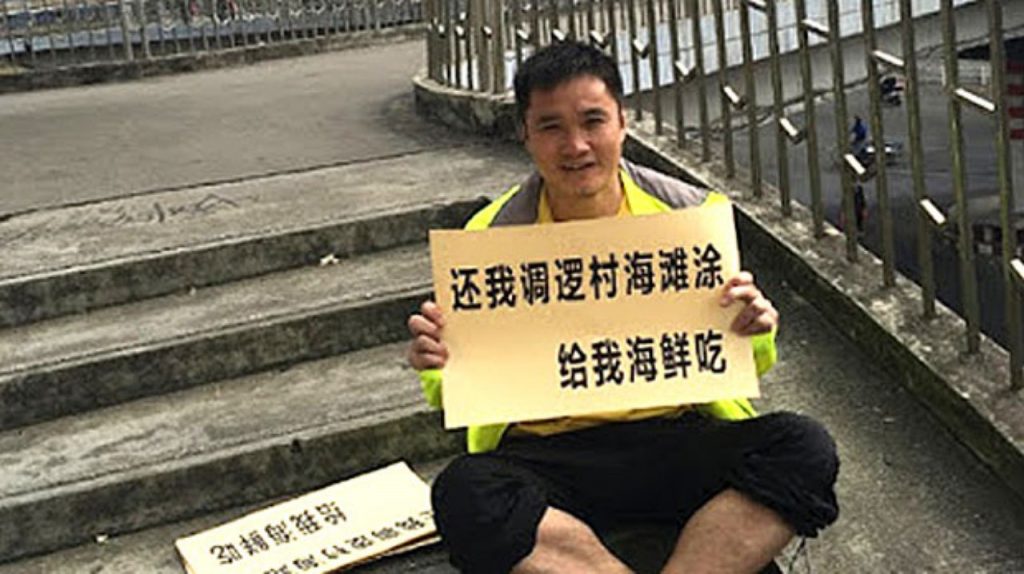 Authorities in the southern Chinese province of Guangdong have jailed a human rights lawyer for five years, RFA has learned.
Chen Wuquan was found guilty of "picking quarrels and stirring up trouble" by a court in Guangdong's Zhenjiang city and sentenced to five years' imprisonment.
Chen stood trial alongside six co-defendants on Dec. 25, 2018 at the Zhenjiang Economic and Technological Development Zone District People's Court, his wife Chen Lianjuan said.
His co-defendants were handed jail terms ranging from one year to 18 months in a sentencing decision handed down on Jan. 9, the Weiquanwang rights website reported.
"They allowed the family members of the defendants to sit in on the trial; three relatives per family," Chen's wife Chen Lianjuan said. "There was no verdict or sentence announced at the time."
"They just made recommendations for a sentence of 5-10 years," she said. "The court informed the lawyers on Jan. 15, and the lawyers told us to go and collect the judgment from the court."
Chen's jailing come after he helped residents of Zhenjiang's Donghai Island to protest against a reclamation project that damaged the offshore environment and affected their livelihoods.
Chen took part in shoreline protests with banners, and initiated an online petition against the project. He and six protesters were detained in February 2018.
Chen Lianjuan said her husband had done nothing wrong.
"Of course I think it's unfair," she said. "My husband was in the right, and tried to defend people's rights using legal means."
License taken away
Chen became involved in the protest after losing his license to practice law after offering legal assistance to members of the banned Falun Gong spiritual movement, which Beijing has designated an "evil cult."
Chen had also offered legal assistance to blind Shandong dissident Chen Guangcheng, who made a daring escape from house arrest before taking refuge in the U.S. Embassy in April 2012, and who now lives in the U.S.
China frequently withholds the licenses of lawyers who represent "sensitive" and disadvantaged groups, such as those who pursue complaints against official wrongdoing.
"He had already changed from a lawyer into a farmer," Chen Lianjuan said. "What kind of trouble would he cause after that?"
Guangdong lawyer Tan Yongpei, whose consultancy "club" for lawyers who lost their licenses was raided by police earlier this week, said Chen, a former police officer, had run for the post of village chief in local elections three years earlier, and narrowly lost.
"He won more than 40 percent of the votes, which is anathema to the [ruling] Chinese Communist Party," Tan said. "It would have been far worse if he had won."
"His opposition to the reclamation project was just an excuse," he said. "Chen Wuquan was a human rights attorney, highly educated, with an excellent knowledge of the law."
He said Chen had been given a harsh jail term in the hope that he wouldn't trouble the authorities for some time.
"They were afraid of a backlash if they only gave him one year; he is also a former cop, and a lawyer, and that's two things the authorities are afraid of," Tan said.
A nationwide police operation under the administration of President Xi Jinping has targeted more than 300 lawyers, law firms, and related activists for questioning, detention, imprisonment, debarring, and travel bans since it launched in July 2015.
Reported by Gao Feng for RFA's Mandarin Service, and by the Cantonese Service. Translated and edited by Luisetta Mudie.
Source: Copyright © 1998-2016, RFA. Used with the permission of Radio Free Asia, 2025 M St. NW, Suite 300, Washington DC 20036. https://www.rfa.org.