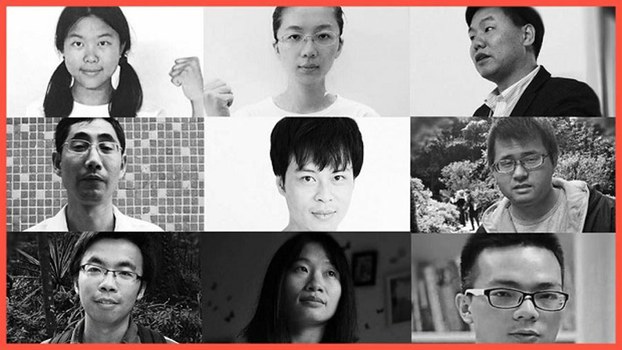 Authorities in the Chinese provinces of Liaoning and Hunan have detained two activists who showed open support for the pro-democracy movement in Hong Kong.
Ethnic Mongolian activist Liu Hongzhi was detained last month in the southwestern province of Yunnan by police from his hometown in the northeastern province of Liaoning on suspicion of "picking quarrels and stirring up trouble" in connection with social media posts he made recently, RFA has learned.
Liu, who traveled to Hong Kong to offer his support to the protest movement in October, has been incommunicado since his detention.
"He arrived in Hong Kong on Oct. 1 and left on Oct. 8," fellow rights activist Ou Biaofeng said. "He took part in an anti-extradition protest and also shot photos and video, taking pictures of himself at the scene."
"People noticed at the beginning of this month that Liu Hongzhi hadn't posted anything online for a few days," he said.
Sources said Liu is under investigation, possibly under criminal detention, as the authorities are look at any organizational support he has received for his activism.
In the central Chinese province of Hunan, activist Zhou Zaiqiang has also been in criminal detention for more than three months after being detained by police in the provincial capital Changsha.
Zhou is currently behind bars at the No. 1 Detention Center in Changsha, and his case is believed to be moving to trial.
"He didn't make that many original tweets," Ou said. "Most of his posts were retweets, likes or short comments, all of them with an anti-extradition or a political theme."
Authorities in Shanghai briefly held Gong Mingeng, after he supported the Hong Kong protest movement on the social media platform WeChat, releasing him on Monday, sources said.
Meanwhile, the Made In China labor journal published a list of labor activists who remain "disappeared" or incommunicado this Christmas, after speaking out against sexual harassment or campaigning for labor rights for migrant workers.
"These are just some of the many individuals that the Chinese authorities consider to be so dangerous that they have arbitrarily locked them up, cut them off from their relatives and family, and in some cases subjected them to public smearing and forced confessions," the journal's editors said in the article.
"Their paths all led them to a commitment to protecting people's rights and dignity," it said, adding that the activists had campaigned on behalf of sanitation workers, workers affected by black lung disease, the right to set up independent labor unions and protection from sexual harassment.
"Theirs are simple demands for social justice that should find space anywhere, especially in a country with global aspirations such as China," citing Peking University graduate and MeToo campaigner Yue Xin, Jasic Workers Support Group campaigner Shen Mengyu and labor rights advocates Zhang Zhiru and Wu Guijun.
Wei Zhili, an advocate for the rights of workers suffering from pneumoconiosis, has been under 'residential surveillance at a designated location' since April, as have his fellow I-Labor magazine editors Ke Chengbing and Yang Zhengjun.
Feminist and independent journalist Sophia Huang was also listed as one of the disappeared activists, after she was detained on suspicion of "picking quarrels and stirring up trouble" in October, it said.
Chen Weixiang, known to friends as Xiangzi, was taken from his home by a dozen uniformed and plain-clothes police officers, the report said, adding: "It is not clear where he is held, and at the time of writing he has not been charged."
Reported by RFA's Cantonese and Mandarin Services. Translated and edited by Luisetta Mudie.
Source: Copyright © 1998-2016, RFA. Used with the permission of Radio Free Asia, 2025 M St. NW, Suite 300, Washington DC 20036. https://www.rfa.org.