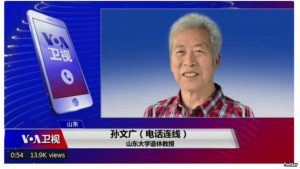 More than 150 alumni of China's Shandong University have written an open letter, urging the school to ensure the personal safety and freedom of professor Sun Wenguang, who was apparently taken away by police during a live VOA interview nearly two weeks ago.
Wang Shujun, a co-signer of the open letter, told VOA that he was shocked about the incident, which he thought was outrageous, uncivilized and unconstitutional. He noted that the local authorities in Jinan, the capital of Shandong province, severely hurt China's international image by treating the 84-year-old outspoken critic so rudely and recklessly.
"Even President Xi Jinping wouldn't be happy if he learned what happened to the professor," said Wang in a telephone interview with VOA Sunday.
Chinese authorities, including leaders of Shandong University, have kept silent about the incident involving professor Sun despite continuing inquiries from VOA and other international media.
The Trump administration has said it is concerned about the whereabouts of the retired Chinese university professor.
"We condemn China's ongoing abuse of human rights, in particular, the suppression of the fundamental freedoms of expression, association and peaceful assembly, and the unlawful detention of activists, lawyers, journalists and civil-society leaders seeking to defend those freedoms," a State Department spokesperson told VOA.
The official also said the State Department was grateful for the work of VOA reporters and other journalists in China who "have dedicated their lives and taken great risk to pursue this important work."
Sun was being interviewed August 1 from his home in Jinan on the VOA Mandarin language television show Issues & Opinions.
He was answering questions about an open letter he'd written to Chinese President Xi Jinping, criticizing Chinese aid to Africa when there are so many living in poverty in China.
Sun told the host in Washington that police had entered his apartment and demanded he end the interview. Sun blamed Xi for sending the officers to break down his door.
"I am entitled to express my opinion. This is my freedom of speech," were Sun's last words before the line went dead.
Sun is an outspoken, longtime critic of Chinese authorities. He was arrested during the infamous Cultural Revolution of the 1960s and was sentenced to seven years in prison in 1978 for criticizing Mao Zedong, two years after Mao had died.
Source: VOA