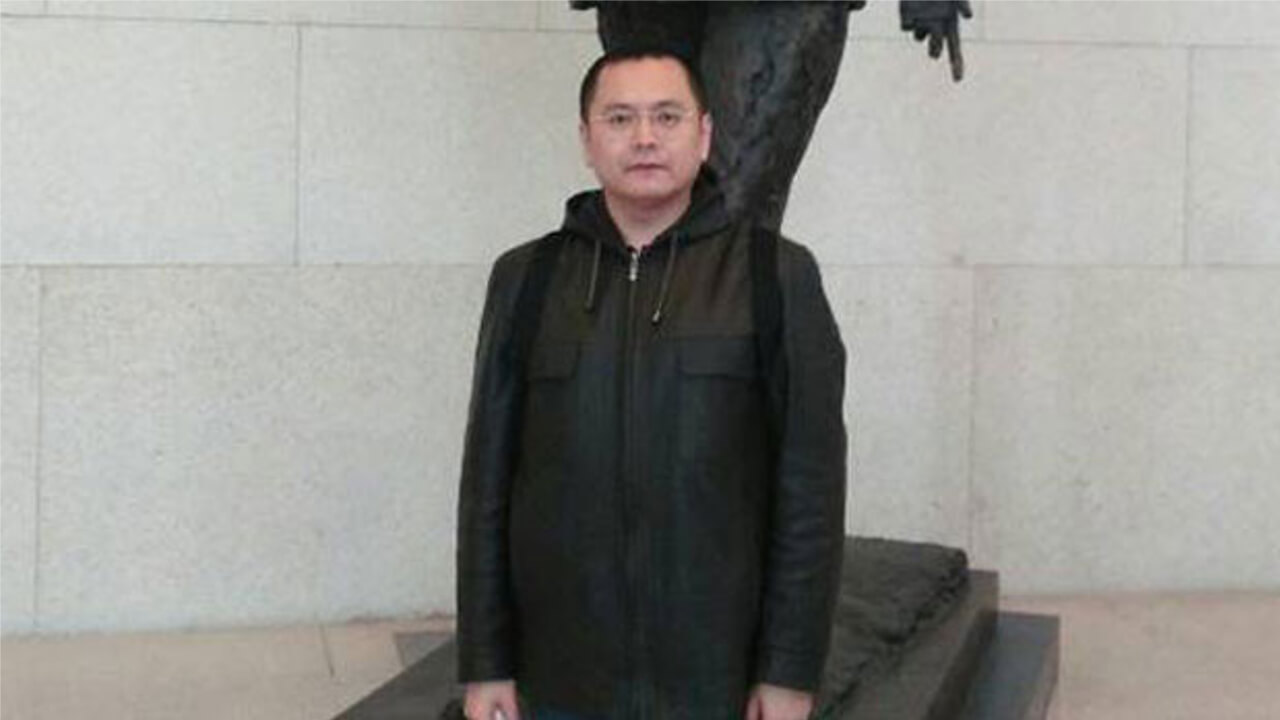 A prominent Muslim poet has been visited and threatened by police after tweeting about the mass incarceration of Uyghurs and other ethnic minorities in China's political "re-education camps."
Cui Haoxin, a member of the Hui Muslim ethnic group known by his pen-name An Ran, received a visit from the local state security police after he sent and retweeted posts from his Twitter account about the detentions.
"Chinese police raided my home and warned me not to use my social media account, such as Twitter and Facebook," Cui wrote in a blog post about the Aug. 16 visit. "Five policemen went into my home and talked with me for two hours. The threat is real!"
"Recently a meeting of the U.N. discussed re-education camps that hold several million Muslims in China," he wrote. The U.N. has estimated the numbers detained at around one million. "Today this discussion happens between Chinese police and me."
"They still denied it and warned me not to be made use of [by enemies in the] West," he said. "The Chinese authorities are unwilling to hear the different views and confuse dissent with disloyalty."
"The government doesn't resolve the question but they resolve the questioner. A lot of Chinese Muslims were resolved. Some of them are my friends. Some of them disappeared. Some are in prison like Professor Ilham Tohti," Cui wrote.
In a later interview with RFA, Cui said the authorities had taken issue with three tweets in particular.
"In the first, I retweeted a tweet that mentioned the issue of 'concentration camps'," he said. "They asked me if I believed that, and I said I did, because there are a lot of witnesses and a lot of evidence, and video. Why wouldn't I believe it?"
"They told me I shouldn't allow myself to be used by hostile forces in the West," he said. "They said that [reports of] events in Xinjiang had been concocted by the foreign media to smear China, and they wanted me to stop commenting on overseas websites."
Facing brutality
Cui said he had previously kept a low profile following threats to his family in 2013 by state security police.
But the mass detention of Uyghurs, Kazakhs and other minorities in "re-education centers" had changed his outlook, he said, citing his recent viewing of the movie "Schindler's List."
"I think that what's happening in Xinjiang will eventually spread to the rest of China, and we will meet with the same fate," he said. "That gave me courage to face up to this brutality."
"I don't want to drift and dodge through life; I want to live and die in dignity," Cui said.
Sulaiman Gu, a rights activist currently studying in the United States, said Cui had also been a vocal opponent on social media of plans to demolish a huge mosque in the northern region of Ningxia, which were put on hold after thousands of people protested outside.
"An Ran, who spoke out courageously at a crucial moment on the Weizhou Mosque, is now being threatened because of the Uyghur issue," Gu said.
"China is sending Uyghurs to [concentration camps] and taking mosques away from Hui Muslims because they want to crush us into the mud, so we'll keep quiet," he said.
"That's why they have to gag anyone who speaks the truth," he said. "This ethnic cleansing that is going on right now shows us that China isn't our country; much in the same way that Nazi Germany wasn't the country of the Jews."
UN panel 'deeply concerned'
Earlier this month, the United Nations Committee on the Elimination of Racial Discrimination (CERD) expressed concerns over China's mass internment of ethnic Uyghurs and restrictions on their religious freedom.
The panel said it was "deeply concerned" by reports that China "has turned the [Xinjiang] Uyghur Autonomous Region (XUAR) into something that resembles a massive internment camp that is shrouded in secrecy" in the name of eradicating "religious extremism" and "maintaining social stability."
Beginning in April 2017, Uyghurs accused of harboring "strong religious views" and "politically incorrect" ideas have been jailed or detained in political "re-education camps" throughout the region.
A recent editorial in the ruling party-affilated Global Times dismissed international coverage of the Xinjiang re-education camps, which it labeled "training institutes," saying western media outlets were incorrectly labeling them as "detention" sites and "baselessly criticizing China's human rights."
Aside from the brief mention in the article, China's central government authorities have not publicly acknowledged the existence of political re-education camps in Xinjiang, and the number of inmates kept in each facility remains a closely guarded secret.
But in interviews with RFA, local officials in many parts of the region have described sending significant numbers of Uyghurs to the camps and even described overcrowding in some facilities.
Meanwhile, the Munich-based World Uyghur Congress (WUC) exile group told the panel that basic legal rights for Uyghurs in China, including the right to legal representation, a fair and prompt trial and due process, "are virtually non-existent."
Source: Copyright © 1998-2016, RFA. Used with the permission of Radio Free Asia, 2025 M St. NW, Suite 300, Washington DC 20036. https://www.rfa.org.