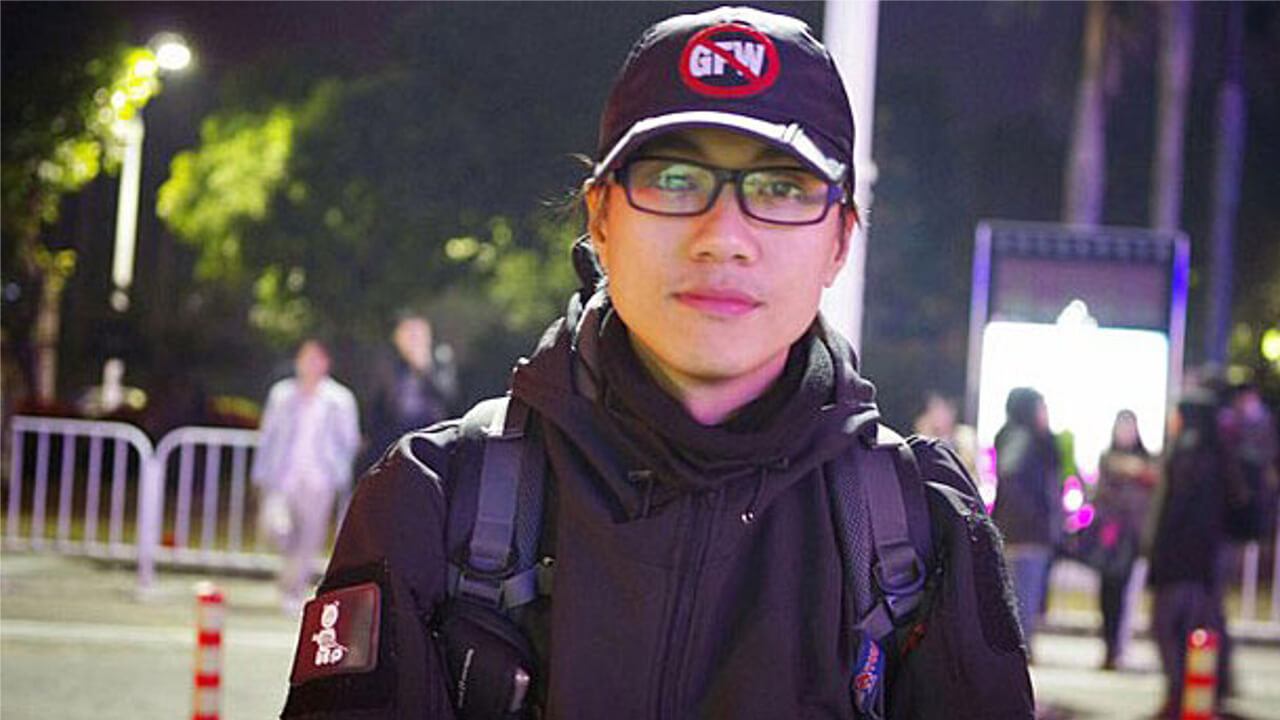 Authorities in the southern Chinese province of Guangdong on Thursday secretly tried a prominent anti-censorship campaigner on subversion charges after holding him for more than a year, RFA has learned.
Zhen Jianghua was initially detained at his home in Guangdong's Zhuhai city on the night of Sept. 1, 2017 on suspicion of "incitement to subvert state power."
He stood trial in Zhuhai on Aug. 10, according to a brief statement that appeared on the Case Information Disclosure website of China's state prosecutor, the People's Procuratorate, but which was later deleted, sources said.
A cached copy of the statement was still accessible via Google search on Thursday.
"Defendant Zhen Jianghua stood trial in open court on Aug. 10, 2018 at the Zhuhai Intermediate People's Court on charges of incitement to subvert state power," the Aug. 23 statement said.
"The case was prosecuted by the Zhuhai People's Procuratorate."
Initially held under criminal detention in the Zhuhai No. 1 Detention Center, Zhen was later taken to an unknown location by state security police, to be held under "residential surveillance," where he was denied permission to meet with defense attorney Ren Quanniu, who had been appointed by his family.
Ren had told RFA in March that he was concerned that Zhen, who ran an anti-censorship website called Across the Great Firewall, could be being tortured or mistreated in the absence of visits from family or lawyers.
Ren said he was denied permission to meet with Zhen on the grounds that the case touched on matters of "national security."
Zhen had registered his website overseas to elude ruling Chinese Communist Party censorship, and offered information about censorship, and circumvention tools for accessing the internet beyond the complex system of blocks, filters and human censorship that make up China's Great Firewall.
News of his trial also appeared briefly on the Baidu search engine's "Snapshot" function, a source told RFA.
"Some friends saw this pop up from an online search for his name [on Wednesday], but it was deleted a few hours later, even from Baidu Snapshot," the source said.
"We didn't expect this to happen so suddenly, because his family were informed in July that the trial would likely be in August, but they knew nothing about it," the source said.
"Then suddenly, he stood trial on Aug. 10. … His family were shocked and surprised by this."
A Hong Kong-based activist who has repeatedly called for Zhen's release told RFA that the Chinese authorities are increasingly using such tactics in the trials of peaceful dissidents.
"This isn't surprising, because … the Chinese Communist Party has been using secret methods to put dissidents on trial for a long time now, because they daren't let it be public," the activist, who gave only a nickname Ni Ke, said.
"If they allowed them to be public, then a lot of people would show up to observe and support, and there would be a lot of journalists," Ni Ke said.
"They know that what they are doing makes no sense … and they are afraid that the international community will find out about it, so they put them on trial and send them straight to prison."
Zhen, 33, once known by his online moniker GuestsZhen, was detained when he went to bring money to detained activists after taking part in a memorial event marking the death of late Nobel peace laureate and political prisoner Liu Xiaobo last July.
According to the overseas rights group, Frontline Defenders, Zhen had also worked as a technical consultant with Human Rights Campaign in China, an advising expert with Chinese Wikipedia, and a project officer of a HIV/AIDS prevention education project in Zhuhai, run by the Hong Kong AIDS Foundation.
He had previously been detained by state security police for traveling to Guangdong's rebel village of Wukan following a crackdown by armed police in September 2016, on suspicion of inciting protests there, the group said.
The ruling Chinese Communist Party has moved to curb the use of circumvention tools like virtual private networks (VPNs) since the beginning of 2017, deleting swathes of foreign content not previously approved by the government under a draconian new cybersecurity law.
London-based rights group Amnesty International issued an Urgent Action alert on Zhen on Thursday, saying he could now face up to 15 years in prison for running his website.
"Zhen Jianghua is a human rights defender with over 10 years' experience working for marginalized communities in China and has been detained several times as a result of his activism," the group said in a statement on its website.
He is currently being held in the Zhuhai No. 2 Detention Center, and concerns remain that he is "at risk of torture and other ill-treatment," it said.
Reported by Yang Fan for RFA's Mandarin Service, and by the Cantonese Service. Translated and edited by Luisetta Mudie.
Source: Copyright © 1998-2016, RFA. Used with the permission of Radio Free Asia, 2025 M St. NW, Suite 300, Washington DC 20036. https://www.rfa.org.