After parents are locked up in transformation through education camps, their children end up in the government's hands – mistreated, malnourished, and depressed.
by Xiang Yi
Gulina (pseudonym), a 9-year-old Uyghur girl from southern Xinjiang, who used to be cheerful, now often weeps bitterly. The smile has gone from her face ever since she was sent a local boarding school.
"She very much misses her parents who have been taken to transformation through education camps, and she was sent here," a former teacher in the school told Bitter Winter. "She used to be a good student, healthy and happy. But her mood has turned dark, she became skinny, and she cannot concentrate in the class nor when she does her homework. She is in bad spirits. When I asked her if she was sick, she just shook her head."
Over 40 Uyghur children live and study in the boarding school together with Gulina because their parents are detained in Xinjiang's internment camps, along with Kazakhs, and other ethnic minorities. According to the government data, nearly half a million Uyghur children have been sent to special boarding schools, and the CCP aims to build one or two such institutions in each of Xinjiang's 800-plus townships by the end of next year.
"Students in boarding schools have more time to study, but this doesn't mean that they get better grades. On the contrary, their academic performance becomes worse," the teacher explained. "They live in fear and are in no mood to study."
The only thing that makes Gulina happy is a visit to her relatives' home once every two weeks. "When the day comes, she is usually absent-minded, she cannot wait to leave the school," the teacher continued. "The first thing she does that day is to give me to sign her application to leave for the weekend." According to the school regulations, all students who want to leave the campus must get the head teacher's signed permission and take a photo together.
For students who don't go to visit their relatives, the school arranges to watch indoctrinatory films that praise the Communist Party and help erase their ethnic identity.
"Students are usually given a ladle of rice and vegetables for their meals, they are always hungry," the teacher went on to describe the conditions in the boarding school, where she felt helpless not being able to help these children. Whenever she asked them if they felt filled and satisfied, the children would lower their heads and whisper "No."
According to the teacher, the school gives each child a tube of toothpaste and a bar of soap for half a year. They can only drink tap water, which is not suitable for consumption and can make them sick. Hot water is provided only in limited amounts, and only when it gets cold.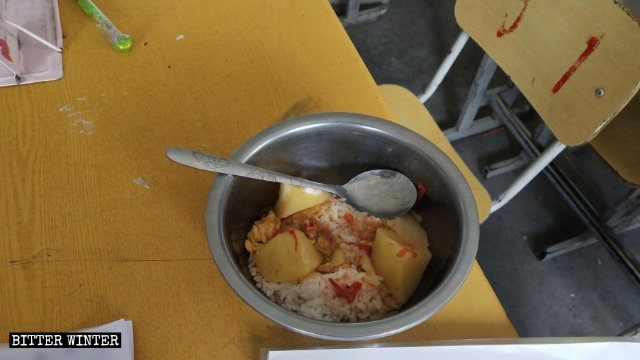 A primary school teacher from central Xinjiang told Bitter Winter that there are nearly 50 Uyghur students in his class, most of whose fathers were in camps, and their families lived only on the government's subsistence allowance of 300 RMB (about $ 43) a month. When the school required students to pay over 80 RMB (about $ 11) for uniform, mothers of some students called to say they couldn't afford it.
"A mother called me and said that her husband was away, and the family doesn't even have money for food, so the uniform was out of the question," the teacher remembered. "The woman goes out early every day and returns late to do odd jobs to make ends meet. She has no time to take care of her 8-year-old daughter, who cooks meals and goes to school by herself. I see that she wears dirty clothes, she is stressed, seldom speaks, and barely smiles in class."
In Korla, Xinjiang's second-largest city, people often notice a police officer accompanying a group of Uyghur children, aged from 3 to 6, who are being taken to a welfare house. Their parents are interned in transformation through education camps, so they have to go to the welfare house after school, not home, where they would be loved and cared for by their families.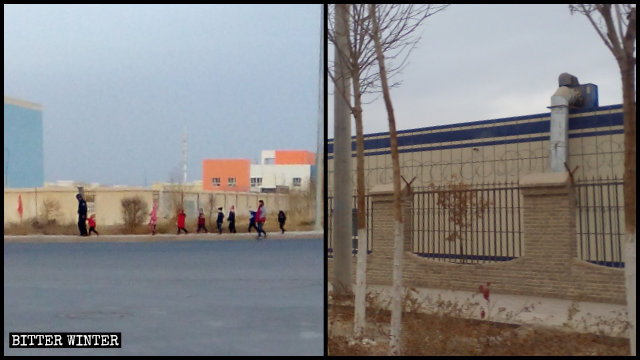 Source: Bitter Winter