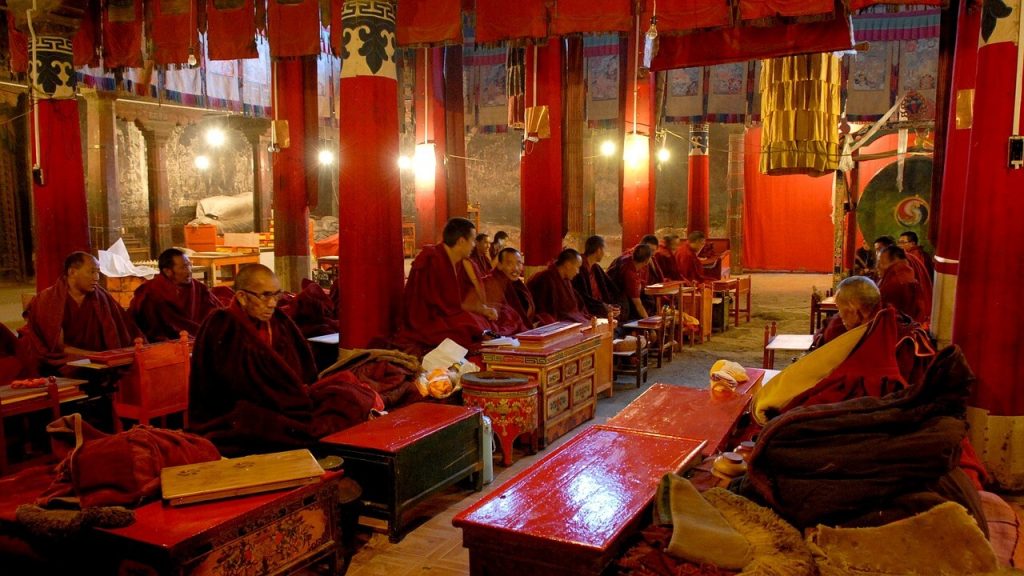 In a new move aimed at bringing Tibetan Buddhist monasteries more closely under the control of the Chinese state, authorities are now grooming carefully chosen monks to learn and represent the views of the ruling Communist Party, a rights group said this week.
The program is part of a campaign of "Sinicization of religion" launched during the first term of Chinese president Xi Jinping, New York-based Human Rights Watch said in an Oct. 30 news release.
Under a "Four Standards" policy introduced this year in China's Tibet Autonomous Region, monks and nuns must demonstrate not only religious learning, but also "political reliability," "moral integrity," and a readiness to play "an active role" in blocking Tibetan protests against Chinese state policy, HRW said.
Speaking to RFA's Tibetan Service, Sophie Richardson—China director at Human Rights Watch—called the new policy an attempt to turn Tibetan Buddhist practitioners into propagandists and "cheerleaders for the regime, which is deeply problematic."
"I think that if these kinds of policies continue unabated, or if they accelerate, you will see in Tibet what's already happened in Xinjiang, which is that the practice of [religion] as its adherents understand it and want to practice it will effectively become illegal," Richardson said.
"I think that Xi Jinping's goal is to refashion beliefs and institutions and policies and practices in ways that ensure that the Communist Party remains in power, and that he in particular remains in the leadership," she said.
A new approach
The Four Standards policy follows earlier attempts, deemed largely unsuccessful, to reshape monastic life in Tibet by introducing work teams into the monasteries to conduct political training and by requiring monks and nuns to denounce exiled Tibetan spiritual leader the Dalai Lama, HRW said.
And later efforts brought in thousands of party cadres to manage the monasteries themselves, the rights group said.
Tibetans attending teachings by the Dalai Lama in India have since been detained for reeducation on their return to Tibetan areas of China, and senior monks trained in Indian monasteries have been banned by Chinese authorities from teaching.
"Politics, law and history" are now a required part of the training for senior religious teachers, called Geshes, seeking qualification under Chinese law, HRW said, citing Chinese media reports.
Now, the use of specially trained monastics to promote the views of the party and state may prove more effective than earlier campaigns, China's Global Times newspaper said in a recent report cited by Human Rights Watch.
"They have a better understanding of the thoughts and habits of their group," the state-linked paper said.
Reported by Tashi Wangchuk for RFA's Tibetan Service. Written in English by Richard Finney.
Source: Copyright © 1998-2016, RFA. Used with the permission of Radio Free Asia, 2025 M St. NW, Suite 300, Washington DC 20036. https://www.rfa.org.