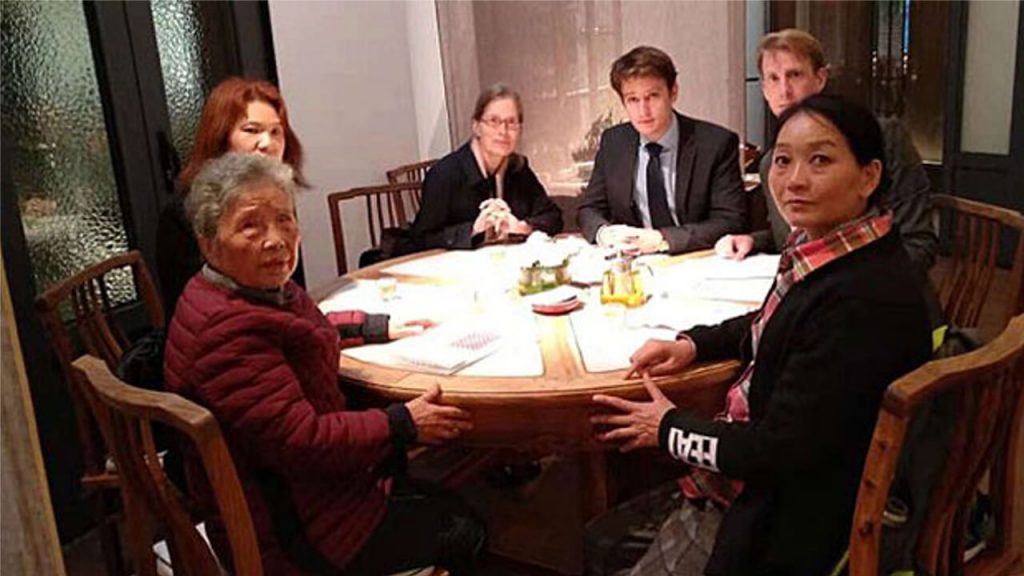 Authorities in the southeastern Chinese province of Guangdong have announced a probe into the defense lawyer of detained rights activist Huang Qi, in a move that could remove his ability to represent his client, RFA has learned.
Huang's defense attorney Liu Zhengqing received notification of proceedings against him from the government-controlled Lawyers' Association in the provincial capital, Guangzhou, where he lives.
The notice says Liu has been accused of breaching regulations in the police-run Mianyang Detention Center in the southwestern province of Sichuan, where Huang is being held, when he visited him on July 30.
Liu reportedly handed over cigarettes to Huang during the meeting, the notice cited "the plaintiff" as saying. Sources said this is a commonly accepted practice in Chinese law enforcement.
The move comes after Liu accused Mianyang prosecutors of beating Huang about the head last month in a bid to force him to confess to "leaking state secrets overseas," a charge which Huang's mother has said rests on very flimsy evidence.
The investigation means Liu now faces the suspension or cancellation of his license to practice, which is granted by his local justice bureau.
"Now they are starting on me," Liu said in a post to a lawyers' group on social media that was seen by RFA. However, he was unavailable to comment on Wednesday, suggesting he may already be under pressure from the authorities not to speak to the media.
The official named as the case officer at the Guangzhou Lawyers Association, Niu Jingzhi, declined to comment when contacted by RFA on Wednesday, on the grounds that he was handling other cases.
Meetings with diplomats
Meanwhile, Huang's mother Pu Wenqing is continuing her campaign to discredit the prosecution's case against her son, arriving in Beijing this month to petition the Supreme People's Court.
She also met with diplomats from a number of embassies in Beijing.
"Several Beijing-based diplomats from various countries met with us," Pu said in an interview on Tuesday. "I told them about Huang Qi's case."
"On Oct. 12, I went to the Supreme People's Procuratorate, which refused to accept my complaints," she said. "I also went to the petitions office of the [ruling Chinese Communist Party's] Central Commission for Discipline Inspection, but they wouldn't accept my complaint after reading through the files."
"Today, on Oct. 16, I went to the Supreme People's Court, but they wouldn't take the complaint either," she said.
High-profile case
Canada-based lawyer Zhu Shengwu said Huang's case is a very high-profile human rights issue that is internationally recognized.
"Huang Qi himself has refused to make any concessions, so the Communist Party really has a big headache here," Zhu said. "They have always believed that having Liu Zhengqing as his lawyer has strengthened Huang's resolve, as well as supporting his mother, so they want him out of this case as soon as possible."
"This sudden investigation into Liu Zhengqing has nothing to do with the probity of the law. It has everything to do with there not being a human rights lawyer like Liu Zhengqing to keep up the fight on behalf of … Huang and others," Zhu said.
Huang, who was formally arrested by the state prosecution office in Sichuan's provincial capital, Chengdu, in December 2016 on charges of "illegally supplying state secrets overseas," is in very poor health, with deteriorating kidney function.
His trial has been repeatedly delayed by the authorities, amid fears that he may die in detention.
Pu has previously said she has documentary evidence that the authorities are deliberately carrying out an act of revenge on Huang after he helped some of the most vulnerable groups in China lodge official complaints against the Communist Party and local governments.
Reported by Ng Yik-tung and Lau Siu-fung for RFA's Cantonese Service, and by Qiao Long for the Mandarin Service. Translated and edited by Luisetta Mudie.
Source: Copyright © 1998-2016, RFA. Used with the permission of Radio Free Asia, 2025 M St. NW, Suite 300, Washington DC 20036. https://www.rfa.org.