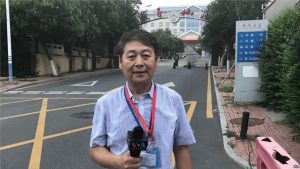 Chinese authorities detained a Voice of America Mandarin Service correspondent and a multimedia journalist working for VOA for at least six hours Monday evening. The two journalists were taken into custody as they attempted to interview a retired Chinese professor who was taken away by police during a live television interview with VOA nearly two weeks ago.
Correspondent Yibing Feng and VOA contractor Allen Ai were taken into custody in Jinan, Shandong province after talking to professor Sun Wenguang, 84, through the closed door of his apartment. Sun told Feng details of his detention and thanked VOA for allowing him to express his freedom of speech on the air.
Police who were in the apartment building attempted to interrupt the interview and then separately detained both reporters. The VOA reporters said they were taken in separate vehicles to undisclosed locations on the university campus by men who identified themselves as contract security guards. They were freed before dawn Tuesday unharmed.
"I was just released from the hands of secret police in Jinan, with all my cell phones destroyed by them," Feng wrote in an email to his editor. "They separated Allen from me during these hours."
Feng later clarified that the phones are structurally intact, however they are currently inoperable.
After spending hours in a car with two men, Ai was driven to the outskirts of Jinan and released early Tuesday. He said that the men scanned and downloaded all of his electronic devices before letting him go.
"It is outrageous that two journalists have been detained for nothing more than doing their jobs," said VOA Director Amanda Bennett. "It's the job of journalist to find out what's going on, to talk to people in the news, and that is all that they were doing."
She also acknowledged that "this is not the first time we've had some issues with China and our journalists."
The U.S. State Department also urged China to allow journalists to do their jobs without interference, and to allow all individuals to express their views freely.
"We are deeply concerned about reports of the detention of a VOA correspondent and contractor, and of interviewee Professor Sun Wenguang by Chinese security officials," a Department of State spokesperson said. "We strongly condemn China's worsening abuse of human rights, in particular the suppression of the fundamental freedoms of expression, association, and peaceful assembly and the unlawful detention of activists, lawyers, journalists, and civil-society leaders seeking to defend those freedoms."
Republican Congressman Chris Smith called the detention of the two journalists "brazenly heavy-handed, even by China's low standards for press freedom."
"Chinese state-controlled media have long enjoyed freedoms in the U.S. not afforded to American journalists in China, and this is becoming an acute problem because these freedoms are often exploited by the Chinese government to expand propaganda or political influence networks."
Rep. Smith called for the Trump administration to consider ways to "reduce the U.S. footprint of Chinese government-controlled media" if more journalists are detained in the future.
Chinese authorities have refused to comment on Sun Wenguang's or the reporters' detentions.
But outside analysts say the episode highlights Xi Jinping's ongoing clampdown on speech. Professor Sun spoke about the issue in an interview outside his apartment, minutes before the VOA reporters were detained.
"Here in China, we have a lack of freedom of press," the professor said. "Authorities have blocked and suppressed press freedom. Chinese authorities have a practice of trade barrier and press barrier. Why can Chinese reporters act as journalists in the U.S. freely while U.S. reporters cannot do normal journalistic work in China?" he told Yibing Feng.
Teng Biao, a former Chinese human rights lawyer and visiting scholar at New York University's Law school, said the professor's detention, followed by the two journalists', shows how China under President Xi is becoming increasingly intolerant of speech critical of the government.
"The CCP's clamping down on freedom of speech targets not only domestic media, it has also been extended to foreign media and foreign nationals."
A statement from Reporters Without Borders denounced China's arrest of the VOA reporters, saying "the persecution of independent voices has taken on dramatic proportions under Xi's rule, and the international community must not tolerate any more such blatant attacks on the freedom to inform."
Chen Guangcheng, a well-known blind civil rights activist lawyer who was harassed and detained in China for years over his legal work, said he is familiar with VOA's Yibeng Feng from his own time in detention.
"When I escaped from my hometown and was admitted to Chaoyang Hospital in Beijing, he kept calling me to find out about the situation. Although we hadn't met in person, I feel like I knew him already."
Chen Guangcheng said under Chinese law, foreign reporters are supposed to be able to travel anywhere and interview anyone they wish, without government permission. But he said authorities have long ignored the rule while harassing foreign reporters.
Source: VOA