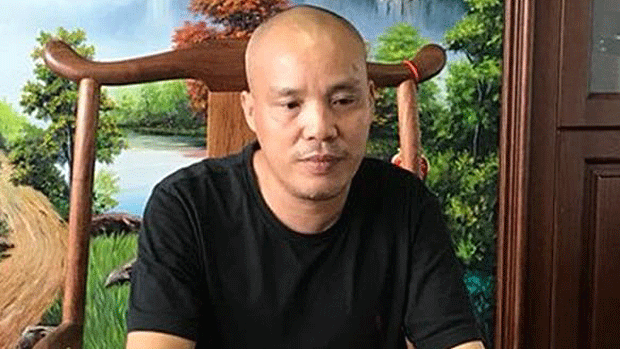 Authorities in the southwestern Chinese region of Guangxi have formally arrested an outspoken human rights lawyer on suspicion of subversion.
Qin Yongpei (also called Tan Yongpei), whose license to practice was revoked by local justice bureau officials last year, was detained in early November by the Nanning municipal police department during a raid on his Baijuying legal consultancy company.
Qin's wife, who gave only a surname, Deng, said she wasn't surprised by the decision, as her husband had been detained since the raid.
"To begin with, he was held under criminal detention, so I still held out some hope [that he might be released]," Deng told RFA in a recent interview. "But now that they have formally arrested him … it looks as if they are planning to send him to jail for a few years."
She said Qin had spoken out many times about misconduct and injustices perpetrated by police and local judicial officials, and had likely angered many within the local law enforcement community.
She said the authorities have denied Qin the representation of a lawyer hired by his family.
"They keep putting conditions on meetings and even phone calls, and they won't let the lawyer meet with him while investigations are still under way," Deng said. "The state security police have said all along that this is a matter involving national security, so they haven't approved [a lawyer visit]."
Qin and Deng have two daughters of university age, and Deng has been struggling financially since her husband was detained.
"We have no income, because I have been a homemaker this whole time, and I never had a job," she said. "Even though I'm trying to find work now, it won't be enough to cover our living expenses."
She said even Qin's friends and followers on the social media platform WeChat have been targeted by state security police for "chats."
"They are warning them not to show us any support, and they have to sign a letter promising that," Deng said. "They even seek out the family members of group chat members in the U.S., who are here in China, and threaten them too."
Call to speak out
Meanwhile, Xu Yan, wife of detained rights lawyer Yu Wensheng, has called on delegates to a government-backed "Global Lawyers Forum" in the southern city of Guangzhou to speak out about her husband's continuing detention, also on suspicion of subversion.
"I am asking that they explicitly bring up Yu Wensheng's case with other participants," Xu told RFA. "I hope that they will ask the Chinese judicial officials at the conference to end his illegal detention immediately.
Authorities in Xuzhou, a city in the eastern province of Jiangsu, formally arrested Yu on Apr. 19, 2018.
He was initially held in Beijing, but later transferred to Xuzhou and placed under incommunicado detention on suspicion of "incitement to subvert state power" and "obstructing officials in the course of their duties."
He was indicted on subversion charges on Feb. 1 and his case transferred to the municipal prosecutor, Amnesty International said at the time. He has been held incommunicado and denied access to a lawyer, and is still awaiting trial.
Lawyers' Club raided
Last January, Qin Yongpei's China Lawyers' Club was also raided by dozens of police officers, who said it was an illegal organization of banned lawyers.
Qin had set up the Nanning-based club along with a group of former rights attorneys who lost their "business license" at the hands of local justice departments, and may no longer represent clients in court.
Formally established on Sept. 29, 2018, the club's aim was to find employment and income for dozens of experienced litigators who no longer have an income in the wake of the crackdown.
The club traded as a legal services company, and had 'signed' lawyers in a manner similar to the way sports teams sign big stars. Under current regulations, Chinese lawyers need a business license to represent clients, but not to offer legal consultancy on petitions and complaints.
Reported by Gao Feng for RFA's Mandarin Service, and by Wong Lok-to for the Cantonese Service. Translated and edited by Luisetta Mudie.
Source: Copyright © 1998-2016, RFA. Used with the permission of Radio Free Asia, 2025 M St. NW, Suite 300, Washington DC 20036. https://www.rfa.org.