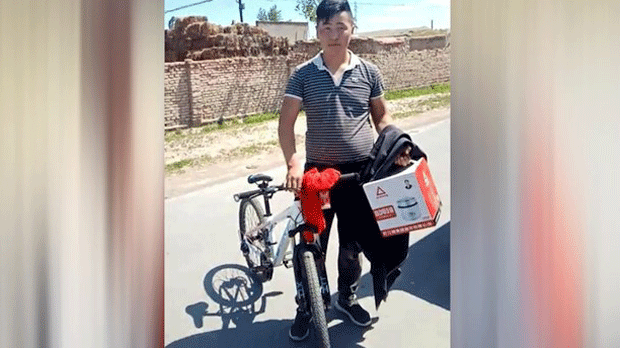 Chinese authorities in the northwestern region of Xinjiang have detained dozens of ethnic minority Muslim Kazakhs for sharing the national anthem of neighboring Kazakhstan via social media, RFA has learned.
The People's Republic of China is home to around 1.5 million Kazakhs, mostly concentrated in and around the Yili (in Chinese, Ili) Kazakh Autonomous Prefecture.
Police in Yili recently detained some 30 ethnic minority Kazakhs, charging them with "illegally disseminating foreign videos," Nurbek, a Kazakh man from China now living in Kazakhstan, told RFA.
"They arrested 30 people for sharing songs from Kazakhstan," Nurbek said in a recent interview. "It seems that one of them was sentenced to 15 years' imprisonment."
The arrests took place during July and August this year, and include that of Kastir Borat, who is just 19 years old, Nurbek said.
Kastir's cousin, who gave only a single name, Dilnur, said that Kastir had faced charges of "illegally disseminating foreign video," confirming that he received a 15-year jail term.
"My mother's sister's son Kastir was arrested on July 7 for sharing songs by Kazakhstan singers. He was only 19, and had just graduated [from high school]," Dilnur said.
Kastir's trial was held on Aug. 6, and the family was informed of the sentence on Aug. 8, Dilnur said.
"In one month, they arrested 30 people, all of them for listening to songs by Kazakhstan singers."
Kastir's family was denied permission to meet with him following the trial, and he was also denied access to a lawyer, Dilnur said.
Calls to court officials rang unanswered during office hours on Wednesday.
Threatened by police
A Muslim Kazakh resident of Almaty, Kazakhstan, told RFA that many of the families of the arrested people had been threatened by the police, who demanded money from them, but then didn't release their relative after the money was paid.
"After [one person] was arrested, the government lied to his wife, saying that they would release him," the source said. "His wife sold their house, but instead of being released, he was sentenced to jail."
"His family were locked up and the children were sent to an orphanage, leaving two elderly people in the home with nothing to eat or drink."
Furthermore, Muslims arriving in Kazakhstan from Xinjiang have said their retirement pensions were suspended by the Chinese authorities after they left Ili.
"My brother-in-law is now here in Astana, and now my his pension has been suspended," Nurbek said, adding that the couple have since acquired Kazakhstan citizenship.
But Nurbek said that many of his relatives and friends in China haven't been allowed to leave.
He called on the Chinese government to let his family settle in Kazakhstan.
Many held in camps
The ruling Chinese Communist Party has been holding more than a million ethnic minority Uyghurs, Kazakhs, and other Muslims in mass detention camps in Xinjiang since April 2017.
While Beijing initially denied the existence of internment camps in the Xinjiang Uyghur Autonomous Region (XUAR), China this year changed tack and started describing the facilities as "boarding schools" that provide vocational training for Uyghurs and other ethnic Muslim mionorities, discourage radicalization, and help protect the country from terrorism.
But reporting by RFA's Uyghur Service and other media outlets suggest that those in the camps are detained against their will and subjected to political indoctrination, routinely face rough treatment at the hands of their overseers, and endure poor diets and unhygienic conditions in the often overcrowded facilities.
Kazakhstan is a major trading partner of China, but one whose citizens are wary of Beijing's policies toward their ethnic brethren and other Muslim minorities inside the XUAR.
China has previously welcomed Kazakhs who wished to relocate from Kazakhstan, but many Kazakhs with Chinese nationality have been heading back in the other direction.
Reported by Qiao Long for RFA's Mandarin Service. Translated and edited by Luisetta Mudie.
Source: Copyright © 1998-2016, RFA. Used with the permission of Radio Free Asia, 2025 M St. NW, Suite 300, Washington DC 20036. https://www.rfa.org.