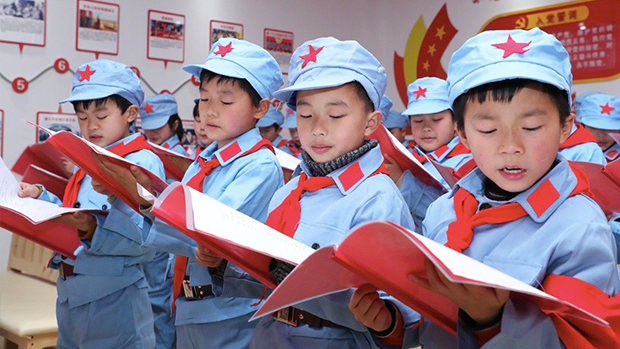 The ruling Chinese Communist Party on Tuesday published new guidelines banning overseas teaching materials in primary and secondary schools, as President Xi Jinping continued to tighten ideological controls in all areas of life.
The national teaching materials committee under China's cabinet, the State Council, requires authors, publishers and teachers to promote the "spirit of Xi Jinping Thought" in all teaching materials used from primary through to senior high school.
"Teaching materials in primary and secondary schools must reflect the will of the party and the state," the regulations, dated Dec. 19, said.
Under the new regime, teaching materials must all be submitted for political review by experts well-versed in Marxism, traditional Chinese culture and revolutionary values.
Textbooks or other classroom materials will be discontinued if there are "problems with the political direction and value orientation of the textbook content," it said.
Anyone involved in the selection, authoring and reviewing of classroom materials can be held responsible at any stage in the process for violations of the rules, and the rules explicitly ban the use of materials from outside mainland China up until the age of 16, according to a directive published on the ministry of education's official website.
"Compulsory education schools may not use overseas teaching materials," the directive states. "Senior high schools must follow national policy when selecting overseas teaching materials."
Schools are also banned from creating their own teaching materials, which must be sourced from nationally approved materials, it said.
Ideological unity from grade one on
Sulaiman Gu, a PhD candidate at the University of Georgia, said the directive likely stems from Beijing's mistrust of anything resembling a liberal education. Chinese officials have repeatedly pointed to Hong Kong's liberal studies program in government schools as being "to blame" for the huge public support for successive waves of pro-democracy movements in the city.
"Limiting access to foreign textbooks is a way to maintain ideological unity from the primary level of education upwards," Gu said. "The system knows that knowledge is its nemesis, so it has to monopolize the right to define knowledge in order to continue existing."
"The lesson it took from Hong Kong was that if it can't get a monopoly on awareness, then it will have no political security," he said.
Chen Weijian, the New Zealand-based editor-in-chief of "Beijing Spring", said he also believes that the new controls on teaching materials are a response to the past few months of popular protest in Hong Kong, where a mass movement began in opposition to extradition to mainland China, and broadened into a wider movement for political reform and accountability under Chinese rule.
"Since Xi Jinping came to power, he has wanted to get back to the Mao era, to rid China of anything from the the West, and to unify everyone's thinking in line with [party] propaganda," Chen said. "Anyone capable of independent thought will be aware of what the Chinese Communist Party is doing to try to turn back the tides of history."
"The Chinese Communist Party has concluded from the crisis in Hong Kong that you have to get them when they're very young," said Chen, adding that Hong Kong textbooks are considered the main culprit behind the movement.
Veteran political journalist Gao Yu said Beijing wants to create a generation of young Chinese people who only know how to sing the praises of the Chinese Communist Party.
'Moving backwards'
But she said the ban on foreign materials made no sense, because the party also heavily censors writings by Chinese people.
"They won't let you have foreign [books], but can you post anything by Liu Xiaobo?" Gao said. "They are fooling people by getting them at a young age and making kids so dumb that all they know is how to sing revolutionary songs."
"It shows how educational ideology is moving backwards, to the extent that they want to shut down any thinking, any thoughts at all," she said. "They also want total control of the internet and now the classrooms."
A scholar who gave the pseudonym Zhuang at Beijing's prestigious Tsinghua University said the latest round of regulations was barely necessary.
"Patriotic education is already very powerful," she said. "There are no loopholes left, and yet they still put out this sort of thing."
"The ministry of education simply do not understand what education actually is," she said. "They don't know the difference between education and propaganda."
"Education should be a process of cultivating citizens … with the knowledge and capacity for critical thought, not a training school for the government's designated successors," Zhuang said. "They are controlling education to the extent that they have completely changed its nature: I think it's terrible."
The regulations come three years after Xi told an ideological and political work conference in December 2016 that Chinese universities should start looking at a nationwide overhaul of textbook publishing, turning textbooks into a vehicle for state power and the will of the government.
Last August, the government removed references to "God" and "the Bible" from translated textbooks used in the sixth grade.
The references were removed from Chinese-language translations of four classic stories published by the People's Education Press, including "The Little Match Girl" by Hans Christian Anderson and "Robinson Crusoe" by Daniel Defoe.
Reported by Ng Yik-tung and Sing Man for RFA's Cantonese Service, and by Gao Feng for the Mandarin Service. Translated and edited by Luisetta Mudie.
Source: Copyright © 1998-2016, RFA. Used with the permission of Radio Free Asia, 2025 M St. NW, Suite 300, Washington DC 20036. https://www.rfa.org.