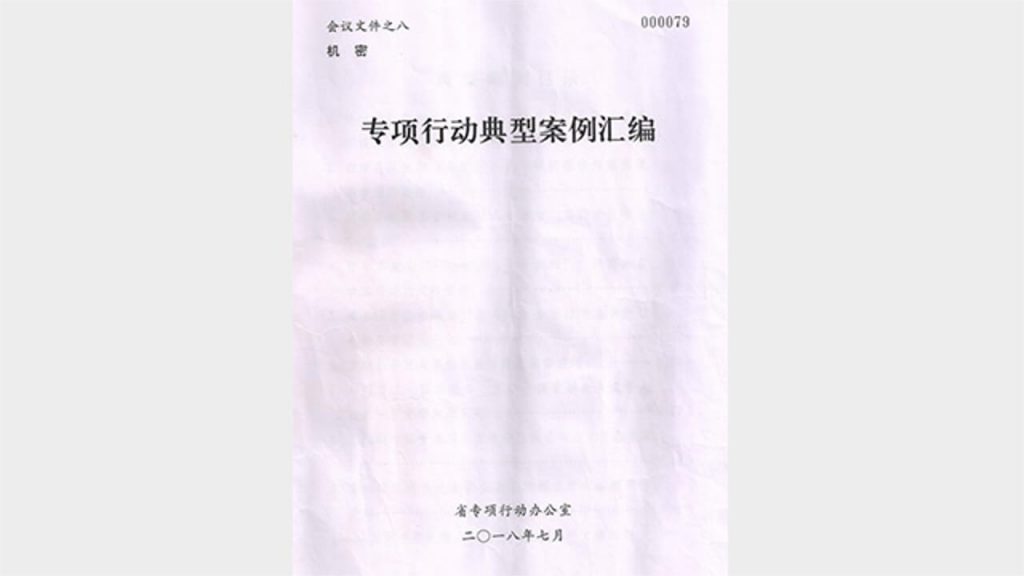 The provincial government in Henan has called for monitoring of the flow of funds at all government-controlled churches under its jurisdiction.
As per internal document adopted by the Henan Province's authorities in July this year, Compilation of Special Operation Exemplary Cases, donation money in government-controlled Protestant churches must be deposited in a state-designated account. All churches must also use a special accounting book, approved by the China Christian Council and the Three-Self Patriotic Movement, the two organizations governing the registered Protestant churches in China.
The document stipulates that three designated members of church personnel must now manage donation boxes in churches; the three should participate during the opening of donation boxes and counting the money. All the money should be recorded by accounting personnel who should also issue a receipt.
In the past, a government-controlled Three-Self church only needed to receive approval from the authorities if it was receiving a large donation. With the recent policy changes, the authorities are now fully controlling the churches' donation income, and believers can only donate to a church via a government-approved bank account.
Besides, an application must also be submitted to national regulatory authorities for church's daily expenses. Any expenditure over 500 RMB (about 72 USD) must be discussed and agreed upon and reported to the venue's management committee.
In Xihua county, for example, a special Christian Activity Venue Financial Regulatory Group has been established with an aim to control churches financial activities, including the auditing of revenues and expenditure.
The document states, "To date, bank accounts have been set up for 108 Christian activity venues throughout the county. Cash income is mostly being deposited into bank accounts on time. Both revenue and expenditure can be accounted for through a bank settlement account."
These and similar measures controlling religious institutions are executed as part of the special operation launched in Henan's counties and cities in February to ensure the implementation of the newly revised Regulations on Religious Affairs.
According to news reports, similar policies have recently been rolled out in Zhejiang as well.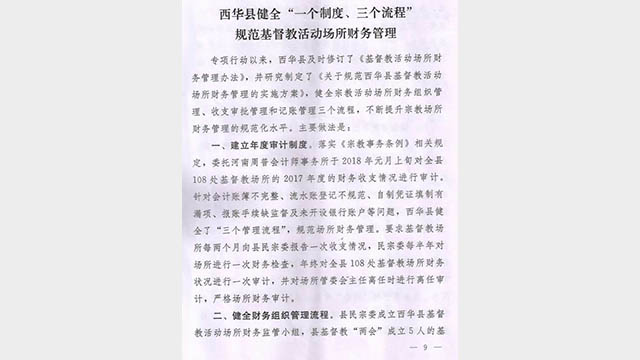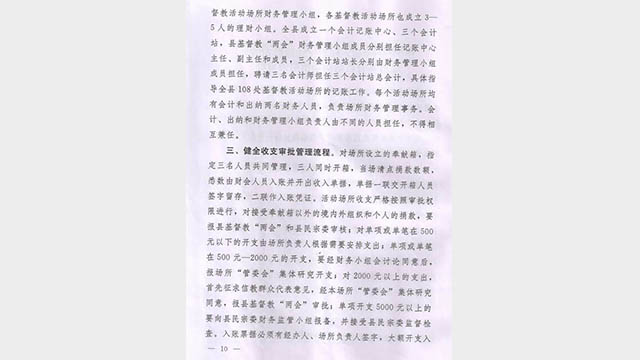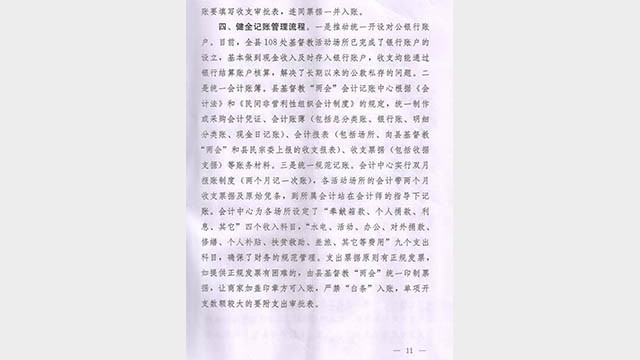 Source: BITTER WINTER / Jiang Tao