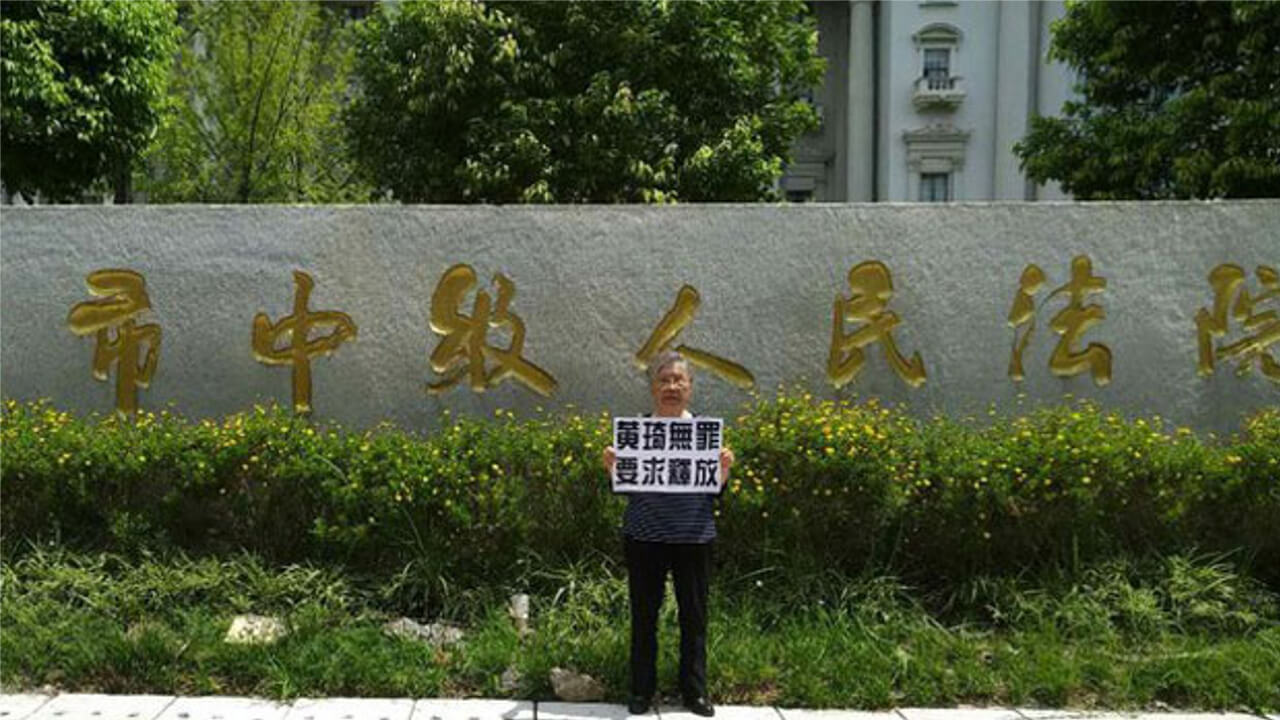 Prosecutors in the southwestern Chinese province of Sichuan have used physical violence in recent weeks to try to force ailing veteran rights activist Huang Qi, founder of the Tianwang rights website, to "admit his crimes," RFA has learned.
Apparently frustrated that Huang refuses to plead guilty to charges of "leaking state secrets overseas," prosecutors from Sichuan's Mianyang city have been beating him about the head in a bid to extract a "confession," defense attorney Liu Zhengqing said on Friday.
Huang's mother Pu Wenqing, who has repeatedly dismissed the charges as trumped-up, said her son has sustained injuries from the "interrogation" sessions.
"The prosecutor stationed [in the detention center] hit his chest with a water bottle, and he has a number of injuries to his chest," Pu told RFA on Friday. "Their aim … was to force him to confess, but he refused to do that, so they beat him."
Pu said Huang, who was formally arrested by the state prosecution office in Sichuan's provincial capital, Chengdu, in December 2016 on charges of "illegally supplying state secrets overseas," is in very poor health, with deteriorating kidney function.
"He only gets two hours' sleep a night, and he has lost weight again after already losing more than 20 pounds," she said.
Repeated calls to the Mianyang Detention Center rang unanswered during office hours on Friday.
Huang's trial has been repeatedly delayed by the authorities, amid fears that he may die in detention. Pu has previously said she has documentary evidence that the authorities are deliberately carrying out an act of revenge on Huang after he helped some of the most vulnerable groups in China lodge official complaints against the ruling Chinese Communist Party and local governments.
Huang, 55, has been held in the police-run Mianyang Detention Center for more than a year, amid fears that he may be subjected to torture or mistreatment.
'Top secret' document questioned
The case is currently pending at the Mianyang Intermediate People's Court, but his trial was canceled suddenly after being scheduled for June 20.
Pu says that one of the supposedly "top secret" documents Huang is alleged to have shared overseas comes from a local neighborhood committee office, and is highly unlikely to be genuinely "Top Secret."
The document relates to a complaint made by Chen Tianmao, a former police officer of the Mianyang Public Security Bureau, who was petitioning the authorities over his disability. Tianwang posted an article on the case, that was later picked up by overseas media.
Repeated applications for Huang's release on bail or medical parole have been ignored or turned down by the authorities.
Huang issued a statement before his detention saying that if he ever committed "suicide" in detention, that it should be regarded as homicide, because he would never take his own life. He also told his defense attorney that any attempt to force a confession out of him would end up "making a corpse."
Activists say the ruling Chinese Communist Party appears in recent years to be deliberately accelerating the deaths of political prisoners.
Nobel peace laureate and political prisoner Liu Xiaobo died in July 2017, just weeks after being diagnosed with late-stage liver cancer, and repeated requests from his family to seek medical treatment overseas were ignored.
And human rights activist Cao Shunli died in police detention on March 14, 2014, after repeated requests for her release to seek medical treatment.
Huang has already served a sentence of three years in prison from November 2011 after launching an investigation into shoddy school construction blamed for thousands of deaths during a massive 2008 earthquake.
Reported by Qiao Long for RFA's Mandarin Service. Translated and edited by Luisetta Mudie.
Source: Copyright © 1998-2016, RFA. Used with the permission of Radio Free Asia, 2025 M St. NW, Suite 300, Washington DC 20036. https://www.rfa.org.