Attacks on house churches across China intensified in the past few months, as police and government officials raid places of worship and intimidate congregations.
by Shen Xiang
On June 28, a group of four, led by the deputy secretary of a town administered by the county-level city of Leiyang in the central province of Hunan, raided a local house church.  They confiscated the church's donation box and destroyed ten Bible verses on the walls.
When the venue's director asked the officials why they were destroying and taking away the church property, the deputy secretary rudely replied that it was "the result of their disobedience." He added that it was "illegal to hold religious gatherings without a permit or joining the Three-Self Church."
On May 17, the Religious Affairs Bureau in the province's Yongzhou city shut down a local house church for "holding illegal gatherings without permits." Officials confiscated all valuables in the venue, including a computer, a photocopier, and Bibles.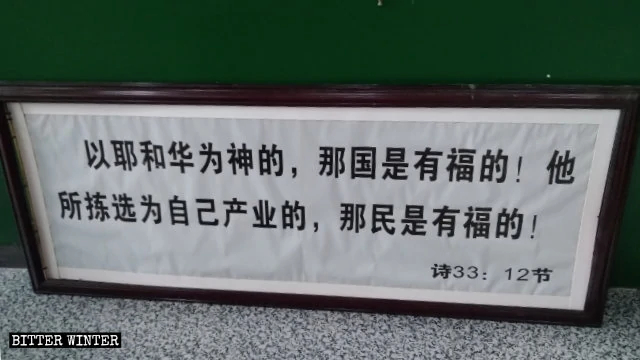 On April 19, the police in Dengzhou city in the central province of Henan raided a Sola Fide venue, confiscated its Bibles and hymnbooks, and took eight congregation members to a police station for interrogation. After his release, one of them told Bitter Winter that a police officer said to him that they "could not believe in God in China." He added that descendants of those who are arrested for practicing their faith would be implicated and prohibited from joining the army or working in public service.
The believer also revealed that half a month later, the police visited the eight arrested members at home to check if they continue attending religious gatherings. Officers warned them that they would be sentenced to three to five years in prison if they gather again.
"We don't break any law by believing in God, but the government treats us this way," the believer said with sadness. "The government wants to eliminate all religions and threatens us with the future of our family members, forcing us to give up our belief. It's really shameless."
The government of Ninghai county in the eastern province of Zhejiang has been stepping up crackdowns on house churches in the past few months.
The director of an old Local Church venue in the county's Changjie town told Bitter Winter that Religious Affairs Bureau officials visited his house every Sunday to check if he was not holding gatherings there. They threatened to arrest him and demolish his house if three or more church members were found in his place.
The venue was one of the town's shut-down places of worship in December last year. According to a source, central government officials organize secret "return inspections" to ensure that the closed house churches don't reopen. Local authorities are required to patrol the closed venues every Sunday.
The director of another house church told Bitter Winter that the local government summoned him in May. They threatened to fine him 30,000 RMB (about $ 4,300) if he was discovered holding a gathering first time, and 300,000 RMB (about $ 43,000) for the second.
A local preacher explained that due to increasing persecution and harassment, most house churches in Ninghai county were forced to disperse.
Source: Bitter Winter