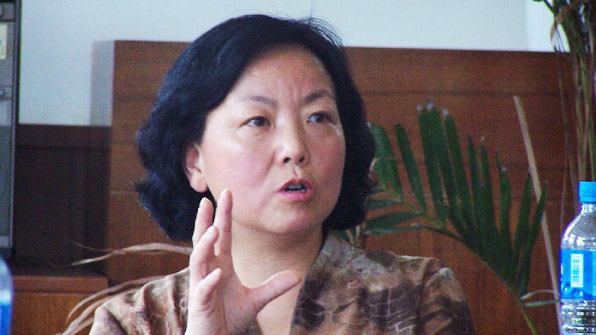 An author who is due to publish her diary of her time under coronavirus lockdown in the central Chinese city of Wuhan has been subjected to widespread online abuse and criticism from key media figures.
Wang Fang, who uses the pen-name Fang Fang, has been posting her accounts of daily life during the Wuhan lockdown on social media, drawing furious abuse from nationalist "angry youth" and the ruling Chinese Communist Party elite.
"I'm being subjected to abuse for everything I say now," Fang Fang wrote on the social media platform Weibo. "I have really had a lesson in online violence."
"The extreme left is really powerful," she wrote, comparing the attacks against her to the political turmoil of the Cultural Revolution (1966-1976).
"It's like a virus itself, which spreads from person to person."
Fang Fang began the diary on Jan. 25, day 3 of the city-wide lockdown that left millions of people confined to their homes.
She talked about her friends and family, how uncomfortable it is to wear a mask, and the deaths of coronavirus patients, as well as poking fun at her nationalist critics who crowded onto Maoist platforms to criticize her.
It was updated almost daily until March 24, when she finished it with the words "I have fought the best battle of all."
"Without their encouragement," she wrote of her critics, "someone lazy like me might have let far more time elapse before writing [the diary]."
She took a further potshot at her detractors on March 24, asking rhetorically "So what did you do during the great catastrophe of 2020? Oh, I went crazy attacking Fang Fang."
Speaking out against corruption
Wuhan Diary will be published in English by Harper Collins in August, translated by Michael Berry, according to a pre-order page on Amazon.com.
"In a nation where authorities use technology to closely monitor citizens and tightly control the media, writers often self-censor," the publisher's promotional blurb says.
"Yet the stark reality of this devastating situation drives Fang Fang to courageously speak out against social injustice, corruption, abuse, and the systemic political problems which impeded the response to the epidemic," it said, adding that ruling Chinese Communist Party censors have deleted large numbers of Fang Fang's posts.
The diary will also contain valuable lessons for other countries and cities going through what Wuhan did, according to the book's publisher.
"As Fang Fang documents the beginning of the global health crisis in real time, she illuminates how many of the countries dealing with the novel coronavirus pandemic have repeated similar patterns and mistakes," it said.
A testament to the truth
Veteran political journalist Gao Yu said the amount of vitriol slung in Fang Fang's direction is a testament to the authenticity of her writing.
And she quoted the author as saying that the authorities would never allow Wuhan Diary to be published in China, where the government controls all aspects of public expression.
"They won't bring my book out in China, so why shouldn't I go overseas," Gao quoted Fang Fang as saying in a recent tweet. "Lots of Chinese writers have published overseas. This is normal."
RFA was unable to confirm independently that the comment actually came from Fang Fang, but Gao said she believed it to be authentic.
Guangdong-based writer Ye Du said the backlash against Fang Fang indicates how little freedom of speech exists in China.
"The authorities want to eradicate any idea of a China origin or official responsibility for the coronavirus pandemic from history and public opinion," Ye told RFA. "That's why it's hard for writing like Fang Fang's to find a place in the public discourse."
Wang Fang graduated from the Chinese department of Wuhan University. She chaired the Hubei Writers Association from 2007 to 2018, and won the prestigious Lu Xun Literary Prize in 2010.
Reported by Jia Ao for RFA's Mandarin Service. Translated and edited by Luisetta Mudie.

Source: Copyright © 1998-2016, RFA. Used with the permission of Radio Free Asia, 2025 M St. NW, Suite 300, Washington DC 20036. https://www.rfa.org.